Sicilian gelato-style ice cream
While Italy probably is best known for the type of gelato broadly described in the post on Italian Style ice cream-making, the country has several regional variations. Using starch as the main stabiliser in ice cream has a very long tradition, not only in the Orient but also in Southern Italy (remember Sicily's long-standing historical influences from the Arab world? In this case, also Spanish influence is believed to have played a role). In the south, the particular ice cream base, known as crema rinforzata, consists of milk, sugar and corn starch.
Sicilian gelato typically does not use eggs or cream – the emphasis is on milk, stabilised by corn starch. Just like eggs and other stabilisers, corn starch will soak up water and prevent crystallisation, improving texture and body of the ice cream. Since corn starch is quite a neutral stabiliser, any flavours used tend to come through very clearly.
What kind of starch to use
While there will be a lot of mentioning of corn starch here, any similar starch should work as well (such as rice starch,  potato starch flour, soy starch, instant tapioca etcetera). I am personally very fond of using Arrowroot – in all respects an excellent, neutral stabiliser starch, which tends to make dairy thicken in a rather 'slimy' way. This makes for a strange sensation (which I personally like a lot!), but once the ice cream has frozen, this particular characteristic tends to go away …  at least until the melting sets in 😉  Unlike corn starch, Arrowroot will put a certain gloss to the surface of the ice cream, and there is no risk of any residual starchy-floury flavour.
UPDATES: Go here for detailed instructions on Sicilian gelato made with Arrowroot, exemplified with a delicious Orange blossom ice cream! And here is a post dealing with the use of Tapioca!
Making starch-stabilised ice cream can be a splendid option for anyone wishing to make smooth "European style" ice cream but prefer to avoid eggs, or the potential pitfalls of preparing a custard base, that generally characterise these types.
Mark Bittman wrote an article in the New York Times a few years ago which raised awareness of, and praised the virtues of corn starch ice cream. Being very fond of this base myself, I find it quite strange that corn starch-ice cream on the whole, however, tend to be so side-lined by the other traditions (American style, Italian-French style) when base recipes are discussed. This is certainly a very deserving and versatile base recipe, which ought to be tested by all ice cream lovers. (update:  Since the first publication of this post, the proud starch-tradition has received more attention, not least because of the growing popularity of Jeni's Splendid ice creams).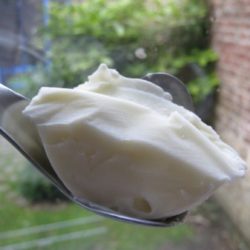 Sicilian gelato-style ice cream
Sicilian gelato, or ice cream made with starch (instead of eggs), makes for a perfect and versatile base for most flavours! Making it is easy and fairly "fail-safe", and the results are generally very smooth and pleasant.
Ingredients
700

ml

(about 3 cups whole milk) OR 350 ml (1.5 cups) cream and 350 ml (1.5 cups) milk)

125

ml

(a full 1/2 cup) sugar

3-4

tablespoons

of corn starch

pinch

of salt

1

vanilla bean

split lengthwise
Instructions
Whisk together 200 ml (about 0.8 cup) of the cold milk with the corn starch, making sure that there are no remaining lumps. Set aside for now.

Blend the remaining 500 ml (about 2.1 cup) of the milk/cream, the sugar, the salt and vanilla bean (with seeds scraped out and added) in a sauce pan. Warm until steaming hot (not boiling!) on medium heat.

Blend the corn starch mixture with the rest of the ingredients in the sauce pan. While barely reaching a boil, cook and stir for about four- five minutes, or until the mixture has begun to thicken and any possible "floury" taste (from the starch) has disappeared [and don't overcook: that would reduce the thickening powers of the starch].

Take the ice cream base from the heat and let the mixture cool down.

Refrigerate for a couple of hours, discard the vanilla bean, and freeze according to the instructions of your ice cream machine.

In case you have no ice cream machine, still-freeze the base in your freezer (see the link below the box!) - this base is perfect for still-freezing, by the way!

After the churning, place the ice cream in a freezer-safe container, cover with plastic film and a lid, and store in the freezer.
Notes
Please note that you may want to adjust the amount of cornstarch used to find the consistency you prefer. For instance, if using a relatively high proportion of cream, you may want to use less cornstarch (1-2 tablespoons, suggestively). I encourage you to experiment and find out what suits you best!
You may wish to test other starches than corn starch (you will find some alternatives on this website) but you may have to adjust the quantity.
And yes – you can do also do it without an ice cream machine! Still-freeze the ice cream as described here.  Actually, it is worth mentioning that this particular base is perfect for still-freezing – the results are usually very smooth, scoopable and just like a good ice cream should be!
Adding flavours and add-ins to the base recipe – good examples to check out!
The base recipe is a very good base for most flavours, but do check out these illustrative and well-received recipes for extra guidance: Chocolate and hemp seed ice cream, Imperial Roman ice cream, Cardamom-Cinnamon ice cream, and Saffron Raisin ice cream. They all contain different flavours and add-ins, and should give you good ideas when experimenting! And do not forget to check out the varieties that uses Arrowroot instead of corn starch, exemplified by delightful Orange blossom ice cream, or Tapioca (here in a great banana ice cream recipe)!
In case you want to check out all the recipes made with this base, search for (or use the 'tag cloud' on the bottom of the page) "ice cream with starch" – that should bring up all the relevant recipes.