Italy and France stand out as two countries with particularly long and impressive traditions when it comes to ice cream.  As can be expected, there is also quite a lot of diversity not only between these countries, but also within the countries themselves, with regard to how ice cream is made.
For a general orientation, we will forego a lot of this rich diversity and instead focus on broad, somewhat over-simplistic, general lines.
The main difference between Italian and French ice cream tends to come down to the different ratios of sugar and (butter-)fat:
French ice cream –  often perceived as "creamier/heavier" – contain more butterfat (= more cream, generally).
Italian ice cream – often perceived as "milkier/leaner" –  contain less butterfat (=less cream, more milk), less air and more sugar.
Both traditions have, however, one common characteristic feature – the generous use of eggs.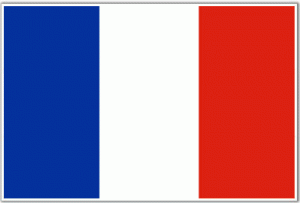 Typically, French- and Italian-style ice cream is prepared on a custard-base. This mainly involves the heating up of the dairy-egg-sugar-base to an appropriately high temperature (high enough to pasteurise all those raw eggs, while avoiding turning them into crumbled eggs).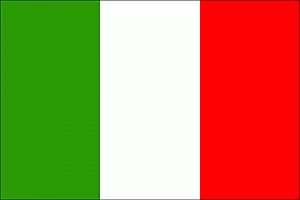 Learning to make a good custard is therefore a main requisite for anyone wishing to re-create these two smooth types of ice creams, by many considered to be the very best in the world.
Note that while the ingredients differ somewhat in measure between the base recipes, the way of preparation is the same for both.
Base recipe French style ice cream (yields about 1 litre)
Ingredients:
500 ml (2 cups) cream
300 ml (1.3 cup) milk
6-8 egg yolks
125 ml (1/2 cup) sugar
1 Vanilla bean
Base recipe Italian style ice cream (yields about 1 litre)
Ingredients:
300 ml (1.3 cup) cream
500 ml (2 cups) milk
8-10 egg yolks
150-175 ml (1/2 cup-3/4 cup) sugar
1 Vanilla bean
Preparations – or How to make custard-based ice cream  [same for the two]:
Combine the milk, the vanilla  bean (split lengthwise) and half of the sugar in a saucepan.
Heat on medium-low to just below boiling point, remove the pan from heat and set aside for about 20 minutes to let the vanilla flavour infuse the milk.
In another pan, combine the egg yolks with the remaining sugar and whip the mixture for a couple of minutes. Take the vanilla infused milk, and bring it back to heat. Before the milk begins to boil, pour some of it on to the egg yolk/sugar mixture in a thin stream while whisking steadily. This little-by-little approach is supposed to "temper the eggs", making the yolks less likely to transform into scrambled eggs when confronted with the hot milk.
While this is the conventional wisdom on how to make custard based ice cream base, some beg to differ.  According to these unbelievers, "tempering" is unnecessary. They argue that is works equally well (or better, actually, since it simplifies the process) to mix all ingredients together in one saucepan from the start and then, while stirring constantly, to carefully bring the mixture up to (absolutely no more than) 85° Celsius/185 º F).
After the tempering has been done (or not, if you go with the unbelievers), the rest of the milk/cream is added to the yolk mixture. Then, on medium-low heat (or even over a water bath, which makes it even easier to avoid mishaps) and while stirring constantly with a wooden spoon or a spatula, bring the ice cream base up to 85 degrees Celsius/185 º F: the recommended temperature to achieve pasteurisation. The obvious biggest dangers? Not stirring enough/burning the mixture/or heating the base too much, thereby ending up with lumps of scrambled eggs or worse.
In my experience, both the 'classic' (= temper the eggs) and the 'modern' method (= skip the tempering) work well, and generally create good results (while it admittedly might be more efficient to just stick to the modern method (which is somewhat faster), I still find myself alternating between the two, however).
How to know when the custard base is ready
The custard base should be brought to the so-called nappe stage.
There are tried and tested methods to check when the custard base is ready, the most commonly known probably the "is it possible to draw a line with your finger across the mixture covering the back of the wooden spoon that stays?"-test (a k a the Spoon-test). Another test is the so-called Rose-test: Dip the spoon in the base, blow some air on the custard-covered back of the spoon and check if a pattern slightly resembling rose petals is formed. The common denominator in both these tests, as you may have noted, is that the custard by now should have left the "purely liquid" stage and gained a certain 'staying stability' when it comes to consistency. Personally, I still feel most at ease with a thermometer to guide this delicate part of the process.
When the ice cream base has reached its required temperature (a maximum of 85°C/185º F), it should either (a) be taken off the stove as quickly as possible to cool down, as quickly as possible, or (b) be left on (maximum) 85°C /185ºF for at least a minute more or so, to ensure complete pasteurisation, then be taken off the stove as quickly as possible to cool down, as quickly as possible.
By the way, on the issue of the temperature to be achieved, Heston Blumenthal argues that going up to 85°C/185ºF actually sets off the eggy taste in the egg yolks,  and I seem to recall having read somewhere that he therefore prefers to stop already at 77°C/170ºF (if not for Egg & Bacon ice cream, where he deliberately would go higher than 85°C/185º F just to bring out the maximal eggy taste of the yolks).
While you may want to experiment with the temperatures, do remember that pasteurisation is there for a health reason – if you want to go lower, it would probably still be advisable to at least remain in the 82-84º C /189-183ºF-bracket.
Cooling down, ageing and freezing
When cool enough for the refrigerator, the ice cream base should be covered and preferably be left to mature over night (leave the vanilla bean in) to allow the flavours to really come out and the mixture to settle in the best way. After this, the vanilla bean can be taken out, the vanilla seeds scraped back into the base, which then can be poured  into the ice cream machine and frozen according to its instructions.
A note on display temperatures:
When enjoying Italian gelato from a commercial outlet, many people note that the ice cream served seem to be less cold and more soft than French (or American) style  ice cream. One reason for this is that a typically gelato display freezer is ventilated with cool air, thereby allowing the ice cream to be maintained and scooped up at comparatively higher temperature (at about -10 degrees Celsius/14ºF, compared to more than -20 degrees Celsius/-4ºF). This is also yet another factor that may explain why home made ice cream generally freezes more solid …
Ready to check out the recipes?
If you are particularly interested in French and Italian-style recipes, check the tags on the bottom of the page  ('custard ice cream' would be one good tag to check out, for example)