Cosmopolitan (cranberry) sorbet
Cranberries are in season, we have a new year to celebrate and if you long for some tangy and slightly less sweet fare after all the sweet Christmas stuff – why not test a Cosmopolitan sorbet?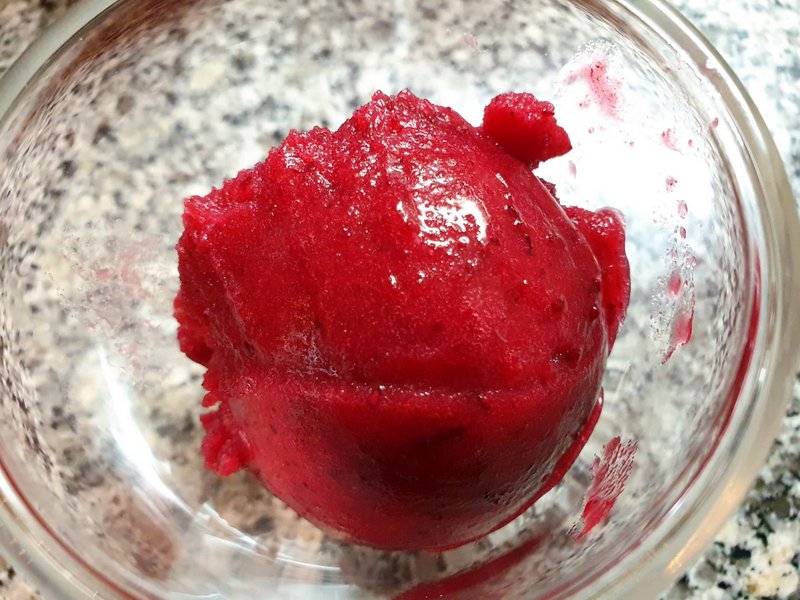 The Cosmopolitan (or simply "Cosmo") is a classic cocktail, although its history (like so much else of culinary history) remains a matter of debate. The modern popularity is in no small part thanks to the American romantic comedy "Sex and the City": the leading ladies always seemed to end up with Cosmopolitans in their hands when they were out partying.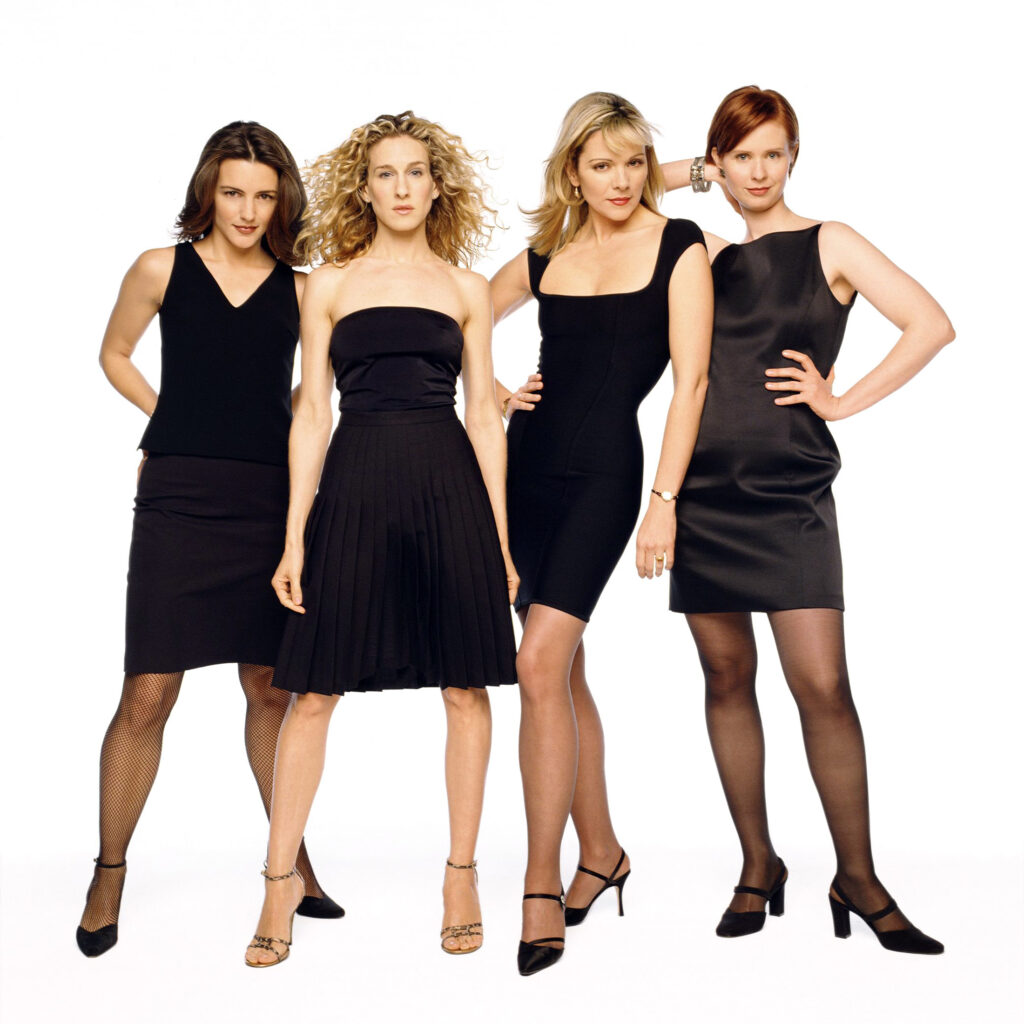 Great Cosmo fans: "Sex and the City" leading ladies Carrie Bradshaw (Sarah Jessica Parker), Samantha Jones (Kim Cattrall), Charlotte York (Kristin Davis) and Miranda Hobbes (Cynthia Nixon).
The Cosmopolitan sorbet: not as boozy as you'd think
One of the main difficulties with alcohol in frozen desserts is that it affect the consistency and makes it harder for the ice cream to freeze properly (the latter can be a good thing, but if you end up with slush that never freezes …). Another drawback is of course that not everyone want to have alcohol in their desserts.
This recipe, closely based on one by Morfudd Richards (of Lola's on Ice-fame), treads a middle way: there is some alcohol (vodka, as in the cocktail) but some of it is bound to evaporate during the making. And instead of adding any Cointreau or Triple sec liqueur, we will simply add a little lime juice and orange juice! And cranberries, of course!
Cranberries are naturally sour and a lot of sugar is often added when they are turned into juice. Our sorbet – made of fresh cranberries – will remain rather tangy and refreshing, so if you are seeking something markedly more sweet you would either have to up the suggested sugar content or ponder a different recipe. Judging by the reactions in my household, this is clearly a rather "adult" flavour and would – much like the cocktail – probably not go down too well if you have hate things bordering the sour side 😉 .
For ice cream makers, another good thing about cranberries is that they come quite packed with pectin (gelatin's vegetable "cousin"): something which will help ensuring a nice and stable consistency!
Preparing the sorbet
Start by rinsing the cranberries. Put them in a shallow pan and add the water, the vodka and the sugar.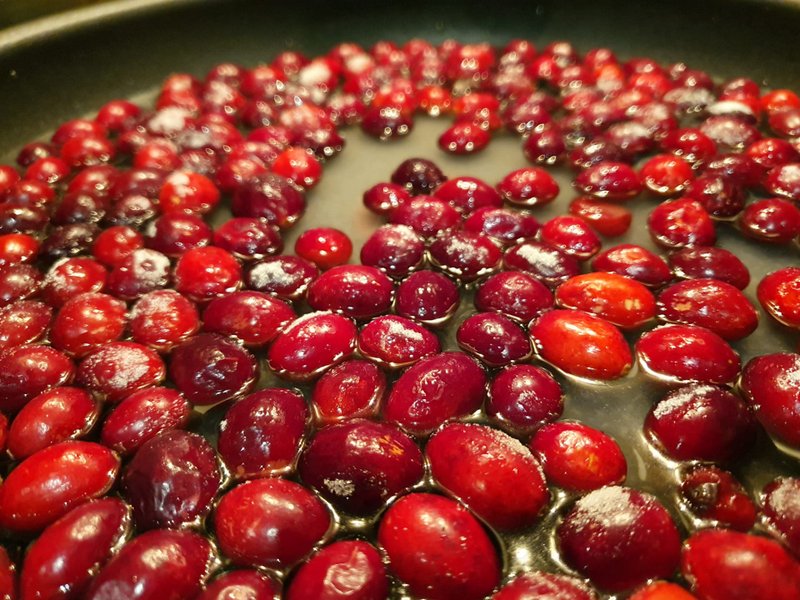 Bring close to the boiling point. Then turn down the heat and let simmer for about five minutes until you hear the cranberries pop (yes – they really do!).
Then take off from the heat, let cool down and put everything in a blender and purée away!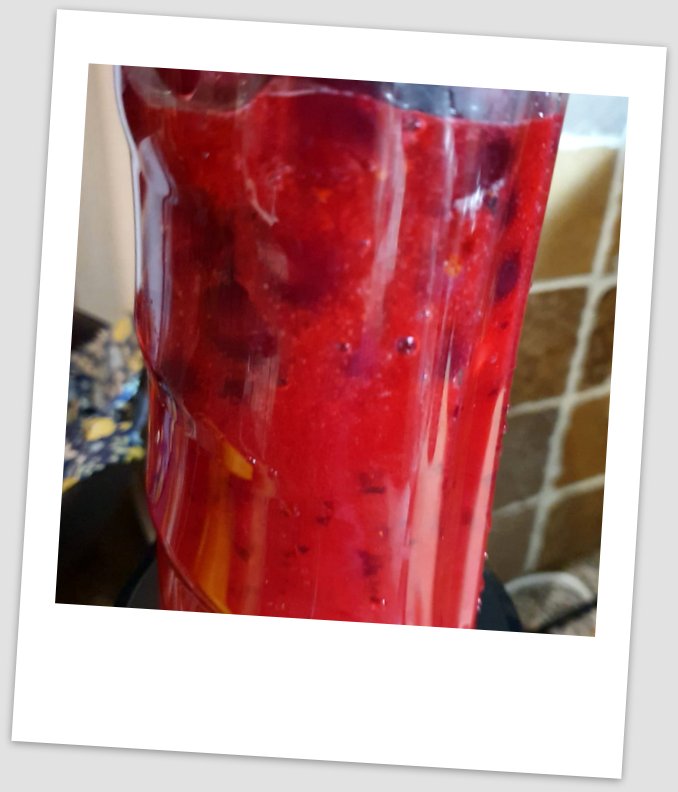 If you don't mind some residue cranberry pieces in your sorbet, the base is almost finished now. If you prefer your sorbet smooth, however, do pass the puréed base through a sieve.
Now, add the lime and the orange juice. If you have the time, leave the base to chill in your refrigerator for a couple of hours or so before churning it.
A refreshingly tangy sorbet to enjoy in style
Cranberry lovers are guaranteed to be pleased, and the relatively small amount of alcohol involved should not cause you any trouble either (unless you end up consuming massive amounts, of course). True to its cocktail roots, the sorbet should appeal to all of us who like things a bit tangy and on the sour side. [which meant that this was one of those flavours that divided my family 😉  ] The consistency is also very nice but if you plan on keeping it in the freezer for a longer time though, remember to bring it out about 15- 20 minutes before serving!
So, as a nice, adult contrast to all those overly sweet things you have grown tired of by now – why not give the Cosmo sorbet a try? 
Cosmopolitan sorbet
By:
Anders@icecreamnation.org; after a recipe by Morfudd Richards
A refreshing and tart Cranberry sorbet - just what you need when you've grown tired of too sweet stuff and want to put an adult spin to your frozen dessert 😉
Ingredients
400 gram fresh cranberries
400 ml (1.7 cup) water
100 ml (2/5 cup) vodka
200 gram sugar
about ½ lime's worth of juice
about 2 tablespoons fresh orange juice
Instructions
Rinse the cranberries, put them in a shallow pan together with the water, the vodka and the sugar.
Bring to just below the boiling point, stir, then reduce the heat and simmer until you hear the cranberries pop (should probably take about five minutes or so).
Allow to cool, then but in a blender and purée.
[If you like your sorbets smooth, strain the purée]
Add the lime juice and the orange juice.
Preferably let the base chill in your refrigerator, then churn in your ice cream machine (or still-freeze in your freezer).