Christmas Pudding ice cream
Christmas is coming, so why not celebrate with a very British Christmas pudding ice cream! But doesn't it take weeks to bake one of those puddings? That's true so unless you already have one, we'll focus on the stuff that provides most of its signature flavour: the delicious mincemeat – a very Christmassy combination of raisins, mixed candied fruit peel, sugar and exotic spices!
The British Christmas pudding (also known as plum pudding or "pud") supposedly has a history that goes all the way back to medieval times. The recipes have varied widely over time and exactly what goes into the pudding often remains a matter of family tradition to this very day. Some dislike the pudding and find it overbearingly heavy – luckily, our ice cream will escape that hurdle so read on even if you consider yourself a sceptic!
The present-day "cannon ball-version" stems from the Victorian era, and British colonialism ensured that the "pud" was spread wide and far – including to Australia, to New Zealand and to South Africa. Empire-strengthening PR efforts in the 1920's began spreading the Christmas pudding recipe of the royal family within the British Empire: something which also lead to a certain "streamlining" of the recipe. Purists still consider that a proper Christmas pudding should be prepared weeks in advance, allowing ample time for the flavours to mature and the pudding to be soaked with the alcohol of choice.
But we don't have time for that now. And luckily, our ice cream will be ready overnight!
Two ways to make Christmas pudding ice cream: The cake way 
Let me first state the obvious: if you already have a piece of Christmas pudding, you can of course simply chop it up and add it to any pleasant ice cream base you like! Personally, I like the easy Philadelphia (American)-style base which I think is perfect for cookies.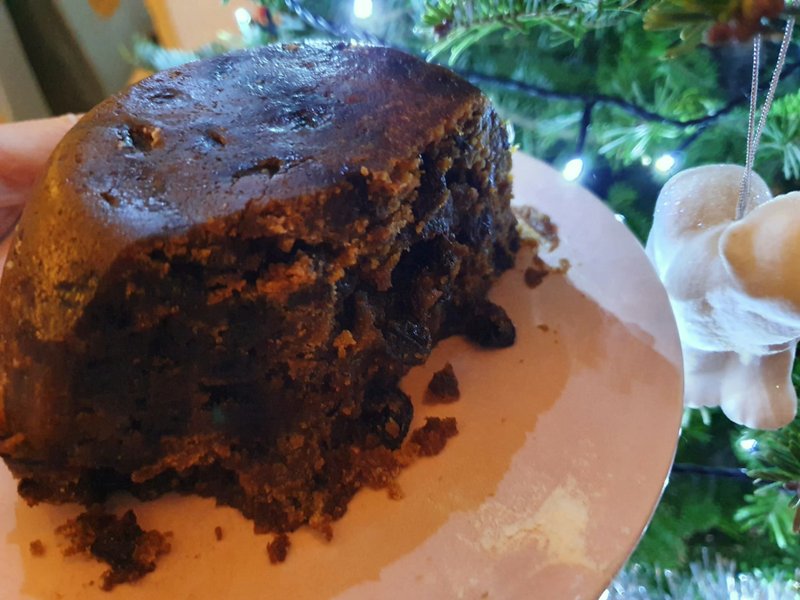 … and the "stuffings only-way"!
But what if you don't have a pudding? Or – like me – had one, but ate it all before I got around to making the ice cream?
Don't worry: the ice cream we will be making now is based upon the flavourful main stuffing of the Christmas pudding: Mincemeat – a very British well-chopped mix of candied fruit peels, raisins, exotic spices and sugar. It can be store-bought, but this may only be a convenient option if you already live someplace where Christmas puddings also are readily for sale.
Luckily, it is possible to make mincemeat ourselves. There are many, many recipes out there, so if you have a personal favourite, that should also work perfectly!
(if you buy yours, or use a different recipe, you may want to exclude the suet: this clearly non-vegetarian inclusion of animal fat is traditionally part of the mincemeat, but can happily be excluded in this ice cream recipe!).
Just like Christmas puddings in general, our mincemeat will improve in flavour-depth the longer you let it soak. Still, you should be able to get a good result even if you only let it sit overnight.
To keep the mincemeat company, we will combine it with a neutral custard ice cream base. While I think that the egg-based custard fits well (Christmas puddings also contain eggs, for starters), you can of course also use other ice cream bases if you like: the egg-free Sicilian gelato type should be one perfect alternative!
Let's start with the mincemeat: Measure up the raisins and the candied fruit peels and chop them up. Add the sugar and the spices. Grate a piece of apple and pour over some brandy (or armagnac, or sweet sherry, whichever you fancy or have at hand). Not fond of alcohol? – try adding some sweet apple juice instead!
By the way: the alcohol does not only add to the flavour-depth but will also act as a de-freezer, making your final ice cream end up softer than usual (so it will consequently also need more time than usual to "firm up" in your freezer): good to know if you prefer your ice creams to be firm rather than soft.
When you are done, put your mincemeat aside and let it soak overnight (or even longer, if you have the time to spare).
Now, let's turn to the custard base.
We will take the Modernista approach – combining the dairy, the sugar and the egg yolks from the very beginning. Bring this mix to the so-called Nappe stage (approximately in the 82-84º C /180-183ºF-bracket), ensuring proper pasteurisation. Take the base off the heat and let it cool down. Since we ideally should let the mincemeat soak overnight, the ice cream base should spend the night in the refrigerator: making sure that it is really cold when it comes to the churning will speed up the process – always a good thing, as this will reduce the risk of nasty, big ice crystals forming in the ice cream.
Towards the end of the churning or right after, mix in the mincemeat. Put the ice cream in a freezer-safe container, cover with plastic film and let firm up a couple of hours or more.
A Christmas ice cream worth its pudding!
Christmas is said to be a time for traditions, and what could be more traditional than a British Christmas pudding ice cream? By focusing on the flavourful ingredients, the ice cream not only looks good – it also provides the alluring complex and rich blend of exotic spices, fruits and raisins in a surprisingly "light" way: great news for those who tend to find the puddings themselves too sturdy! The custard base gives the tasty traditional flavours full roam, and ensures that the ice cream has a pleasant texture and scopability.
In short – if you harbour any positive feelings about Christmas puddings, I believe you'll find this sweet ice cream version most pleasing indeed!
Christmas Pudding ice cream
By:
Anders@icecreamnation.org
A very British Christmas pudding ice cream - with all the right traditional flavours minus the heaviness of the pudding itself 😉
Ingredients
For the mix-in:
250 gram mincemeat [the British fruit-spice mix one, preferably without any suet!]
OR (if you have no mincemeat at hand):
90 gram raisins (preferably equal parts of sultanas, currants and "ordinary" raisins)
60 gram mixed candied fruit peel OR candied orange peel
2 tablespoons of light or dark brown sugar
½ teaspoon ground nutmeg
½ teaspoon ground cinnamon
¼ teaspoon ground cloves
½ teaspoon allspice
grated zest of 1 orange
⅓ of an apple (grated)
For the soaking of the mincemeat/your fruit-spice mix:
60 ml (1/4 cup) brandy or armagnac or sweet sherry (like Pedro Ximénez)
[don't want to use alcohol? - use some sweet apple juice instead!]
For the ice cream base
400 ml (1.7 cup) whole milk
400 ml (1.7 cup) cream
5 egg yolks
80 ml (1/3 cup) sugar
pinch of salt
Instructions
In case you don't have any ready-made to use, start by preparing the flavourful "mincemeat":
Chop the raisins and the candied fruit peels finely, add the sugar, the grated apple and the spices.
Pour over and mix with the alcohol of your choice and set aside to soak, at least overnight.
(If you are in a hurry and want to speed up the flavour-fusion a little, you could put your mincemeat in your micro-wave for 30-60 seconds before setting it aside).
The ice cream base
Mix dairy with the egg yolks and the sugar in a sauce pan and whisk well.
Put on the stove and gently bring the mix to the "Nappe stage" (= in the temperature bracket of 82-84º C /180-183º F).
Take the base off the stove, let cool down and preferably chill in your freezer.
Churn the chilled base in your ice cream machine, or still-freeze using your freezer.
Towards the very end of the churning or just after it has finished, mix in the mincemeat and ensure that it is appropriately distributed in the ice cream.
Return the ice cream to the freezer to stabilise at least a couple of hours or more (the ice cream is nice also freshly churned, but those who prefer their ice creams to be firmer should wait a little 😉 )