Cucumber ice cream (Victorian style)
Cucumber – as a sweet ice cream?! Yes, indeed! Come and join me on a tour back to Victorian times, and meet the extraordinary Agnes Marshall – the Queen of Victorian ices! 
Victorian ice creams
Under Queen Victoria's reign (1837–1901) Britain was one of the world's most powerful and wealthy empires, underpinned by the industrialisation and vast imperial holdings. It was also a class-based society, so the overwhelming majority of people could only dream about luxurious desserts like our Cucumber ice cream.
However, thanks to the technological advances and a wealthy and growing middle class tended to by business-minded food entrepreneurs like the formidable Agnes Marshall, this was also the time when ice creams started to become more readily available in broader segments of society.
Thanks to the impressive moulds so common at the time, the ice creams were often presented  in a myriad of extravagant and decorative shapes at the fancy dinner tables.
Ice creams did not only serve as desserts, and our cucumber recipe could well have served as a refreshing palate-cleanser between dishes (I assure you that it works surprisingly well on its own too, though)!
Artificial food colouring may be frowned upon by many today, but in the Victorian days this was something new and very popular. Cucumbers may be naturally green but that does not translate into any green ice cream – at least not without added colouring.
Agnes Marshall – The Queen of (Victorian) Ices
Agnes Bertha Marshall, the era's undisputed Queen of Ices, was by most standards a quite remarkable person.
She ran a "culinary business empire" which would have been impressive even in today's era of marketing-minded celebrity chefs.
Agnes was a trained master chef in her own right, but also operated a renowned cooking school, and an employment agency for cooks. She also sold food stuff, kitchen equipment and accessories – including those of her own design, such as her famous, patented ice cream machine! Realising the importance of marketing, she lectured wide and far, published a weekly paper and four cook books. The first one, published in 1885, was her soon-to-be legendary "The Book of Ices".
The Book of Ices is, to my knowledge, available in at least two modern reprints – both are good, and the recipes still definitely worth it. One reprint  is titled Ices and Ice Creams , but if you can get your hands on the charming re-print by the Metropolitan Museum of Arts, titled "Ices Plain & Fancy", that one has a great introduction to the world of Victorian ice creams and culinary habits and trends in general, and to Agnes Marshall in particular.
Agnes mastered all the "usual" ice cream recipes but also had a knack for inventing quite outlandish creations. Crème glacée au Foie Gras à la Caneton – based on goose liver, cayenne, jelly and frozen eggs, all preferably moulded in the shape of a duck!) Or what about fish curry ice cream? She also foresaw what today has become liquid nitrogene-ice cream making, and was the first to publish a recipe for ice cream cones – about two decades before their supposed-first invention at the 1904 World's Fair in Missouri, USA.
Following an earlier horse riding accident, Agnes died in 1905, at the age of 49. Despite all her accomplishments, the writers of culinary history largely passed her over and she soon became quite forgotten. Luckily, Agnes has been "re-discovered" in recent years, returning to take her rightful place in the pantheon of ice cream pioneers.
The Cucumber recipe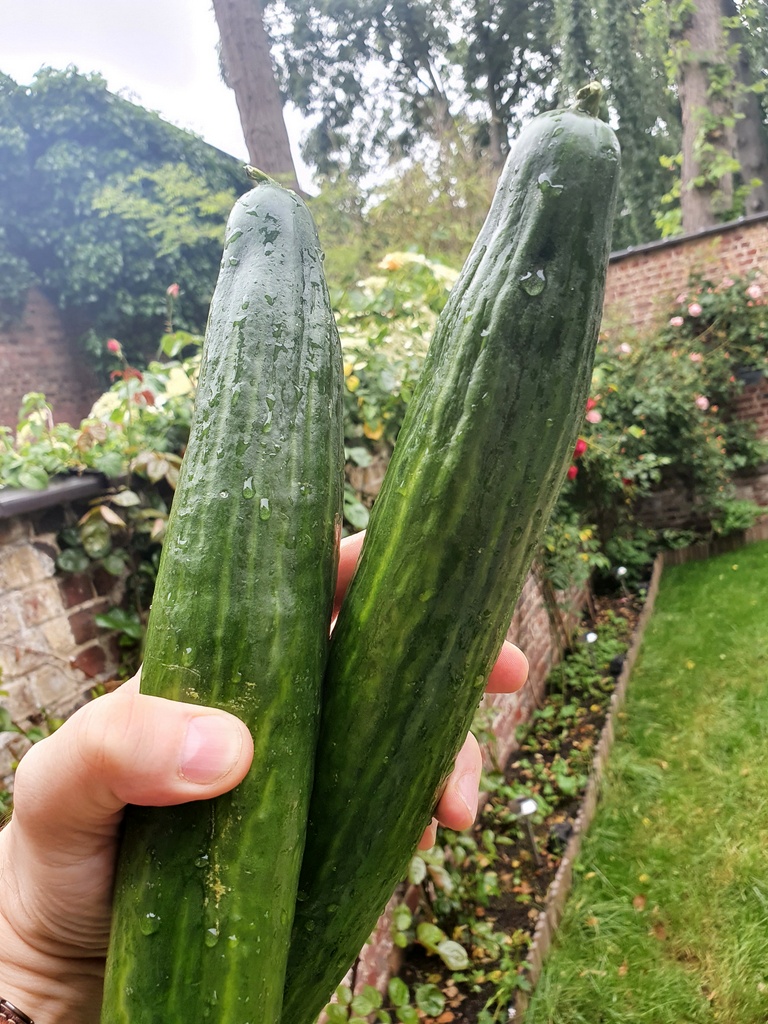 The recipe is actually very simple. All we'll need is some cooked and puréed cucumber, sugar, ginger brandy (or ginger wine), lemon juice, and sweetened cream or a custard. And some fine food colouring to ensure a nice, cucumber-green colour!
Ginger brandy, once believed to be both an aphrodisiac and good for digestion, may be a bit difficult to come by these days: I made my own, using a DIY recipe from Serious Eats:
DIY Ginger brandy
In brief summary: split a vanilla been, peel and cut in thin slices about 60 gram ginger root, and boil together with 360 ml (1.5 cup) water and 240 ml (1 cup) sugar. Reduce the heat and let simmer for about 20 minutes until the ginger has become soft. Let the syrup cool down. Zest an orange and mix the peel with the syrup and 360 ml (1.5 cup) brandy. Put in a glass container (like, a bottle), shake and seal. After one day, remove the vanilla bean, strain the rest through a coffee filter one day after that, and let sit for yet another day to "let the flavours mellow". Store as any liqueur; should keep for a year, but discard if it develops "off flavours or a cloudy appearance".
If you want to see the ice cream made in true Victorian style, do have a look at this funny clip on Youtube from Audley End House and Garden.
Below, I'll make it with modern equipment and I recommend that you do the same (making a purée of the cooked cucumbers is so much easier with an immersion blender than "pounding" the cucumber!). Let me stress, though, that all the core aspects of Agnes Marshall's recipe still works remarkably well, as does the great majority of her good and sound advice on ice cream-making!
Start with the cucumber …
Peel the cucumber and remove any seeds.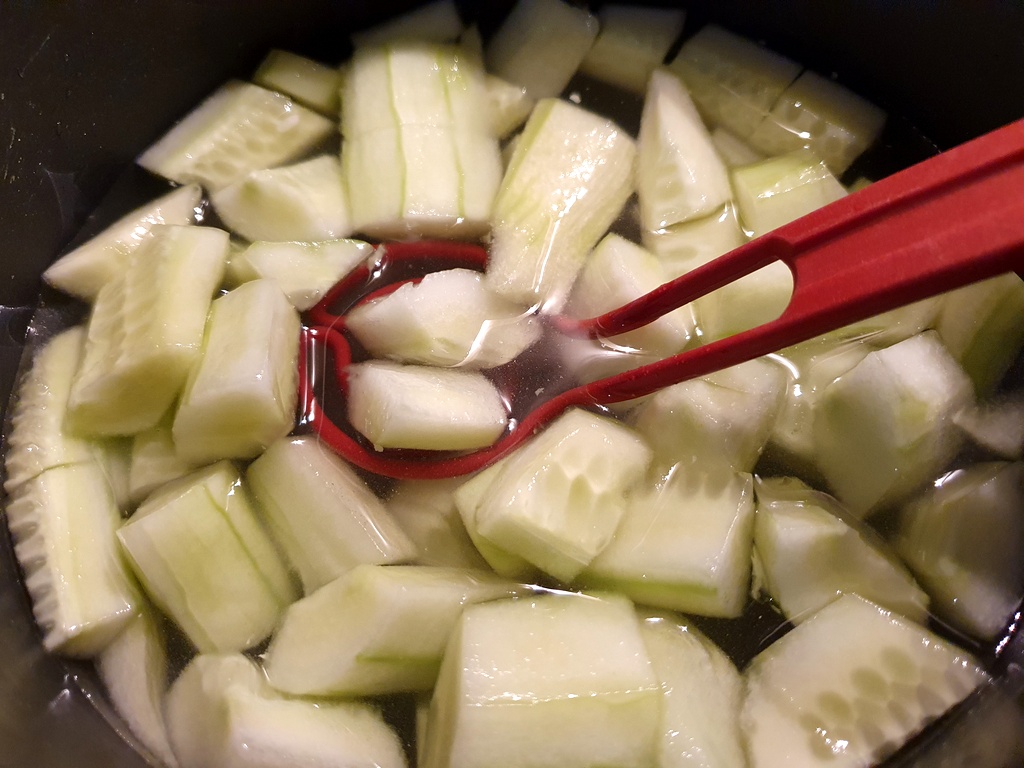 Slice the cucumber in pieces, put them in a saucepan together with the sugar and the water. Cook until tender.
Once the cucumber is cooked, a modern person would let it cool down and then purée it all with an immersion blender or similar.
Once the cucumber has been turned into purée, add the ginger brandy, the lemon juice … and some nice, green food colouring!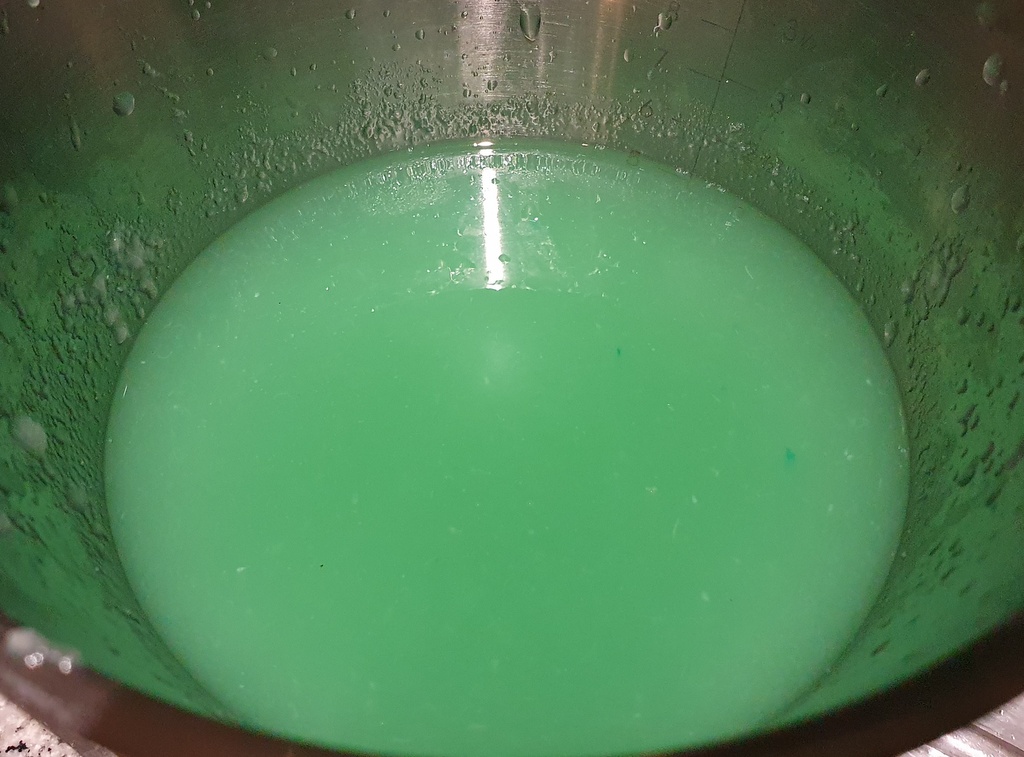 Next, prepare the sweetened cream
Sweetened cream is really just that: cream sweetened with sugar. When frozen, Agnes called it "plain cream ice" or "crème glacée", and it serves as one of her base recipes – pretty much a recipe that would fit in very well in the great Philadelphia ice cream tradition of uncooked bases, in other words.
However, if you abhor Philly-style ice creams and wish to stick to cooked, custard based ones instead – you can! Agnes worked with several base recipes, and you can certainly (with her blessing) add our special cucumber purée also to a custard base. Sieve the purée first if you're worried about solid left-overs.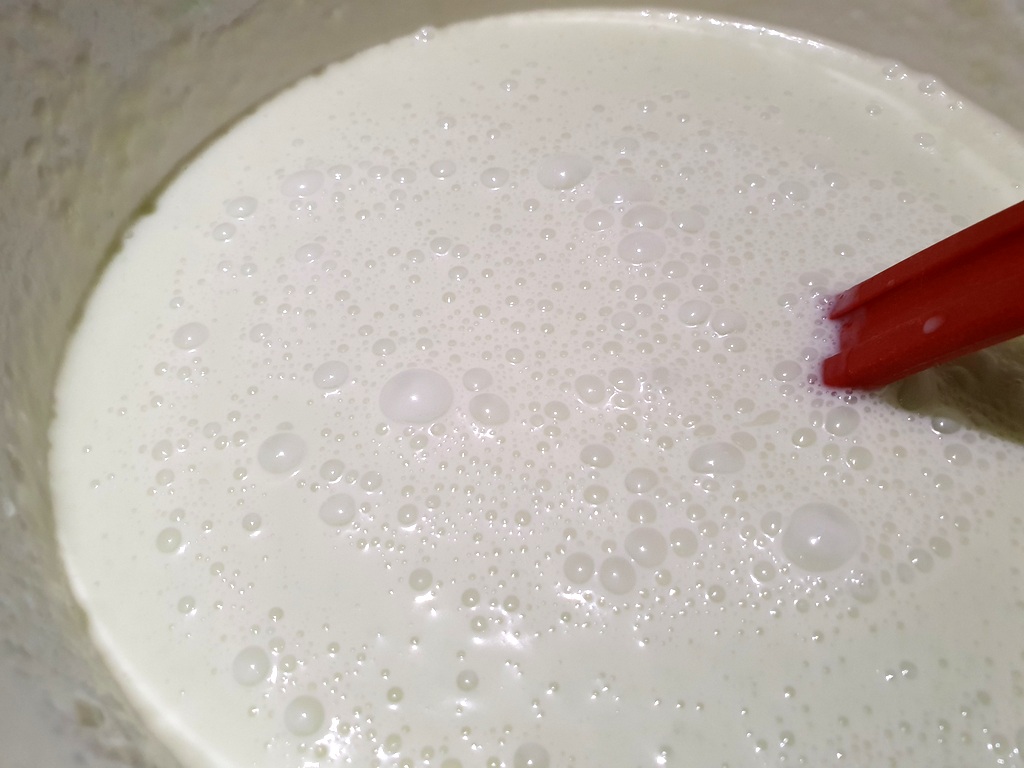 Bringing it all together
Now it is time to combine our sweetened cream with the cucumber-ginger brandy & lemon juice purée. Whisk, and the base is ready for churning.
We may not have access to Agnes Marshall's patented ice cream machine, but any modern era machine should work perfectly!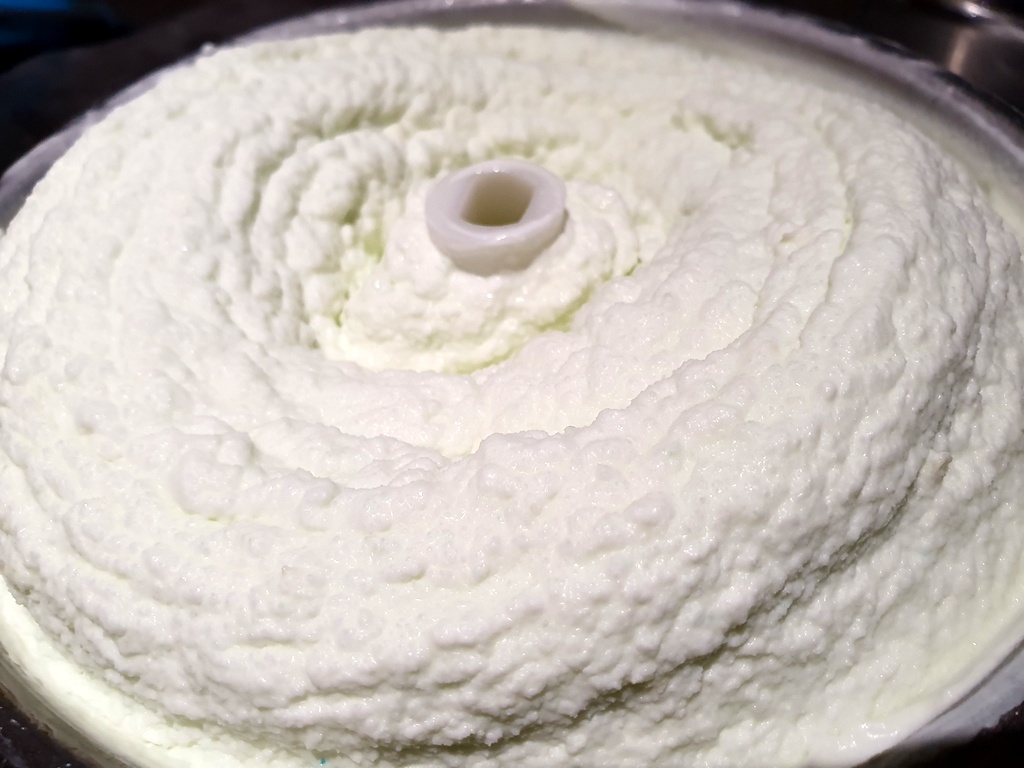 Cucumber Ice Cream – standing the test of time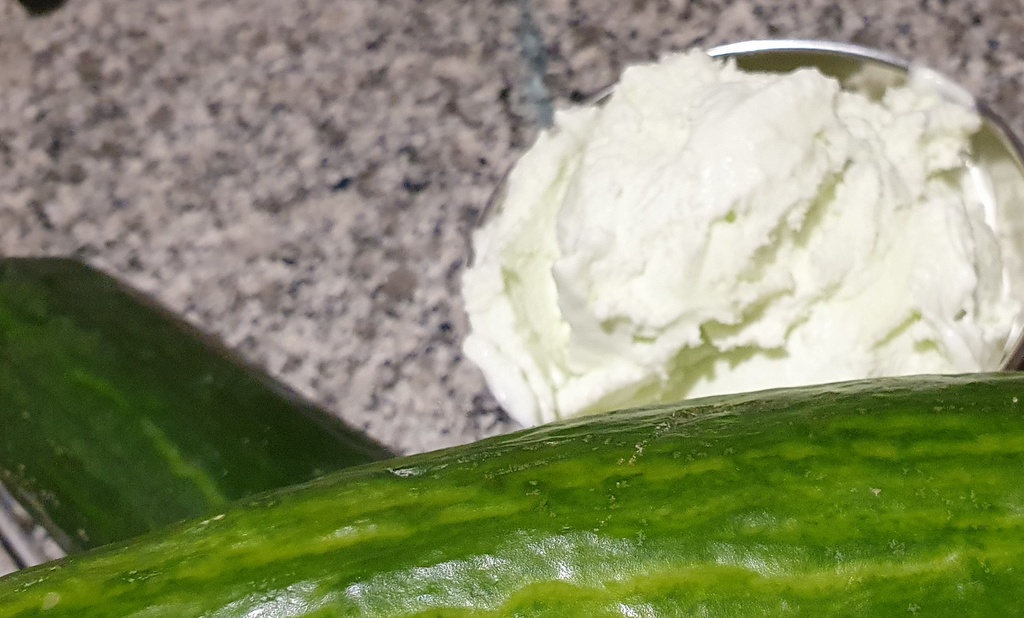 When I first heard about Cucumber ice cream, I believed it to be merely an eccentric oddity. Imagine the surprise when both myself and my delighted testers realised that this actually was a very pleasant and clearly out of the ordinary ice cream. And while the ginger brandy and the lemon juice add to the overall impression, it does come with a subtle but clear core flavour of cucumber.
If you want to challenge your friends and loved ones, this ice cream is also a perfect one for "guess the flavour" – difficult to pinpoint until someone comes up with the right answer! And this is much more than a faithful replica of "ordinary dull cucumber". Personally, I associated the overall flavour more with some kind of undiscovered "wild cucumber" – sweet and full of sparkly energy: a perfect summer ice cream.
As noted, the overall texture leans towards "slightly grainy" which is quite typical for many Philadelphia-style ice creams. Still, it keeps surprisingly well in the freezer although (again, like Philly ice creams in general) I'd recommend to enjoy it sooner rather than later.
I don't think I've ever tried anything quite like it, so all you jaded ice cream makers who feel that you've "had them all" should definitely give it a go! 
Cucumber ice cream (Victorian style)
By:
Anders@icecreamnation.org, after a recipe by Agnes B Marshall
This recipe comes courtesy of the Queen of Victorian Ices - Agnes B Marshall. While cucumber as a sweet ice cream flavour may seem eccentric in our days, it is a surprisingly nice, refreshing and summery ice cream!
Ingredients
1 large cucumber
about 115 ml (4 ounces/ ½ US cup) sugar
about 275 ml (1/2 pint / 1⅕ US cup) water
A "wine glass" Ginger brandy (optional; about 3-4 tablespoons should probably do fine)
Juice of 2 lemons
a little green food colouring (optional but an integral part of the original recipe)
about 475 ml (1 UK pint or about 2 US cups) sweetened cream (= add about 115 gram/ ½ cup sugar to the cream)
Instructions
Peel and remove any seed from the cucumber. Slice in pieces and put in a saucepan.
Mix in the water and the sugar and cook the cucumber until tender.
While the cucumber still is warm, purée it (the Victorians would have pounded the cucumber to soften it a little, then pushed it through a sieve: a handheld blender will do perfectly, although you still may use a sieve for a cucumber-solids free base).
Add the ginger brandy, the lemon juice and the green food colouring. Sieve the purée-part of the base (see above).
Add the sweetened cream and mix well.
Freeze as per your liking (as usual, it is recommended to let the base cool down and preferably chill in the refrigerator for a few hours before churning in your ice cream machine. The same preparations are recommended before still-freezing the base if you're using your kitchen freezer instead of an ice cream machine).
Notes
PS. If you prefer, you could also add the finished special cucumber purée to a custard ice cream base of your liking (this is even set out as an option in Agnes Marshall's own recipe)