Belgian Abbey Beer sorbet
Beer sorbet – something you'd make for fun and novelty rather than for flavour, right? I kind of thought so too … before this delicious creation changed my mind!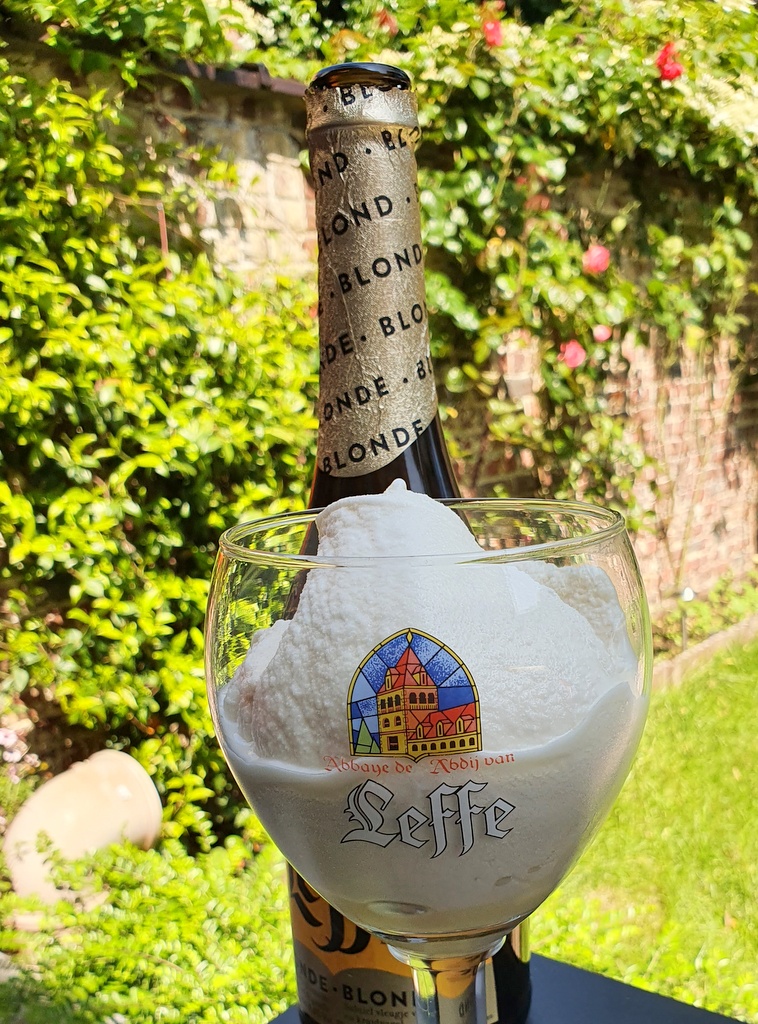 On beers, sorbets and Belgian monastic beers
As avid ice cream makers know, it is possible to make sorbets out of almost anything. As long as sufficient sugar is added, most liquids can easily be turned into frozen desserts! This also applies to beers.
The big question, though, is if the end result really is something you'd want to taste?
In other words, will your particular favourite beer – if turned into a frozen dessert – really make you happy … or rather make you regret that you simply did not drink it as it was ? 😉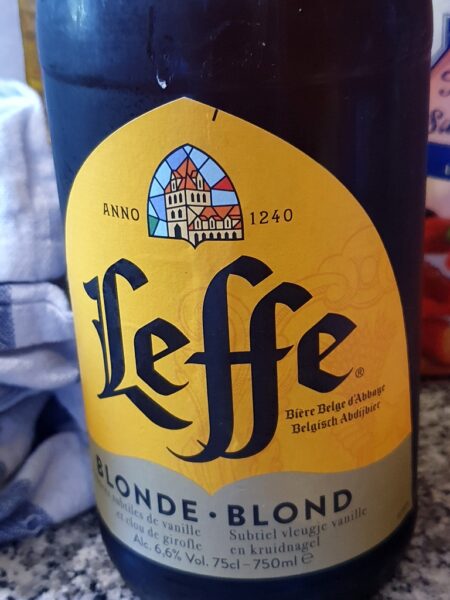 While you ponder your own preferences (you may run along the lines of this recipe and adapt it to whatever favourite beer you like!), I decided to go with one of my own favourites: Leffe blond.
Leffe is a Belgian so-called Abbey beer, which means that its historic roots are in the beer-production once carried out by monks in the Belgian abbeys. These days, however, Leffe is no longer manufactured by monks. On the plus-side, this also means that Leffe today is relatively widely accessible also internationally.
Leffe blond has been described as a amber beer with an elegant, subtle and soft taste. Hints of vanilla and clove add to the base ingredients of pale malt, hop and yeast. I would add that it has a certain "medieval-style" pleasantly rounded sweetness, which also counterbalances the typical bitterness inherent in most beers.
In other words, I thought that it would be a perfect beer for a sorbet!
The (very) simple steps of making the sorbet
The preparations are very simple indeed: mix half of the beer with the sugar and warm on low heat until all has been combined. Take off from the heat, add the rest of the beer, the honey, the lemon juice and let this base cool down and preferably chill. Then churn in your ice cream machine.
Yes, it really isn't more complicated than that!
Why add honey? Well, partly because I thought that its "inverted sugar"-qualities would make for some added overall softness but mainly because I thought that its particular sweet flavour would go very well together with the beer.
A quick word on the alcohol: Leffe blond contains a whopping 6.6%. In other words, better reserve this sorbet for adults! Also – be prepared for a somewhat longer churning time than for "ordinary" sorbets. Since alcohol acts as an anti-freeze, you may want to put the sorbet in the freezer to firm up a bit before serving, should you prefer a less soft serving consistency.
And if you don't like to use alcohol, why not make an alcohol-free beer sorbet? As alcohol-free beer is likely to freeze easier (because of their lack of alcohol), you may consider to use a little extra sugar to ensure good final softness. Do the egg test and act accordingly 🙂 !
Better safe than sorry, or Checking the sugar content of your base
Having the right amount of sugar is important in all sorbets – as avid readers know, this is not just a matter of sweetness but about the overall consistency: with too little sugar, your sorbet will likely freeze unpleasantly rock-hard. And with too much sugar, it might not freeze properly at all …
While the proportions given in this recipe should work for Leffe blond (and many other beers), you might want to check that the overall sugar in your specific base is good enough before churning it: this is even more important if you decide to try this recipe but want to use some other beer than Leffe blond.
The simple "Egg test" should typically be enough: check how well the egg floats (or not) in your base. If needed, add either a bit more sugar or more beer until you've got the sugar concentration right!
An illuminating, impressive beer sorbet
I must confess that I did not believe that this sorbet would turn out so well!
Offering it as an aperitif is one great way of serving it, and most friends who have tried have been equally positively surprised. 
The pleasantly rounded Leffe Blonde makes for a perfect "base beer". The sorbet flavour is delicious and impressive: rich, balanced, complex and yet sweet enough to perfectly fit the bill as a frozen dessert. The overall consistency is light and very nice, with some of the general softness no doubt ensured by the alcohol.
In fact, I'd say there is a great chance that even those who normally don't appreciate beer much could like this sorbet! And since it is so very easy to make it, why not get yourself a couple of bottles and test for yourself? Just be warned, though: the experience may change any negative preconceptions about beer sorbets you may have for good!
Belgian Abbey Beer sorbet
By:
Anders@icecreamnation.org
Using Leffe blonde - one of the many famous Belgian "abbey beers" - we'll make a delicious and richly flavoured beer sorbet so nice that it likely will please even those who normally don't like beer that much 🙂
Ingredients
600 ml (2½ cups) beer (Belgian Leffe blond, preferably)
200 ml (about ⅘ cup) sugar
50 gram honey
juice of 1 lemon
Instructions
On low heat, warm half of the beer with the sugar until solved. Take off from the heat.
Add the honey, the juice and the rest of the beer.
If you want: check that the sugar content is OK (for instance, by using the "Egg test" as a simple rule of thumb-measurement)!
Let the base cool down/chill, then churn in your ice cream machine until finished.
Notes
Depending on the alcohol-content of the beer, churning/freezing it may take slightly longer than usual, and you may want to let the sorbet "firm up" a bit in the freezer right after the churning before you serve it!