Blueberry Marzipan ice cream
May is here! Let's celebrate the lighter times ahead, unchain our love for almonds and make this luscious Marzipan Blueberry ice cream!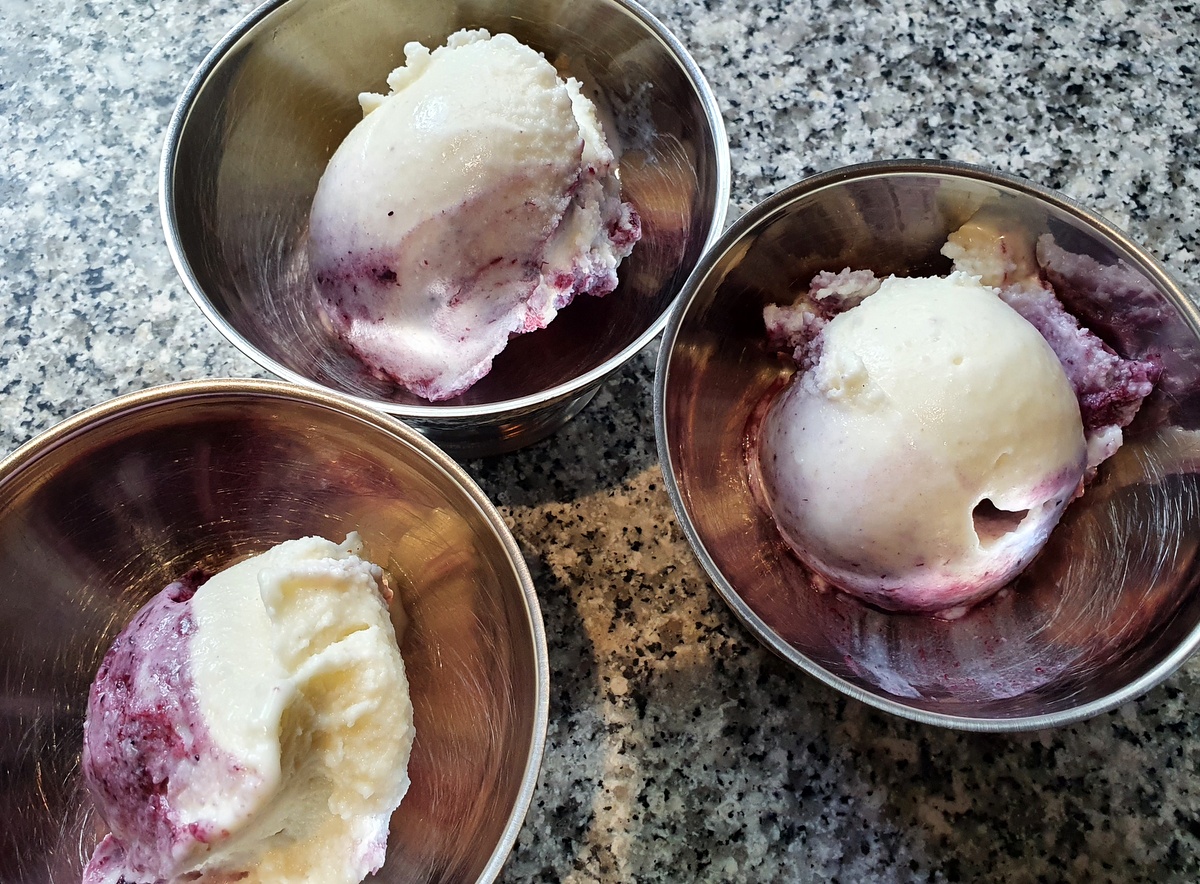 On Walpurgis Night, marzipan and the inspiration for this ice cream
Walpurgis Night is traditionally a big thing in Sweden, celebrated in happy spirits around huge bonfires. While named after St Walpurga (or "Valborg" in Swedish), an 8th-century German abbess and saint, the medieval Christian roots were grafted onto pagan, even older, festivities. Heralding the onset of the warm season, these aimed to ward off evil and witches, boost fertility and pave the ground for the growth to come.
"So what?" you may rightly ask. Well, the direct inspiration for this ice cream came from a mouth-watering picture of a pastry which I came across just a few days ago. The creation was a Walpurgis pastry spin on the emblematic Swedish "Princess cake", still covered in marzipan but now also with blueberry jam and cardamom.
For a marzipan-lover like myself, the attraction was immediate! The delicious combo simply craved to be transformed into an ice cream!
I won't bore you with a long history of marzipan (just follow this link to wikipedia for that): deliciously composed of almonds and sugar, this pastry delight is believed to go as far back in time as Saint Walpurgis herself, if not even further. Since Marzipan is so central to the pastry that inspired me, I decided to adapt my favourite marzipan ice cream recipe. In short, this recipe uses quite a lot of sugar but no eggs. We will also add a little of my favourite exotic spice, cardamom.
Should you wish to cut down on the sugar, do like I did and swap out up to a third of the white sugar for some birch sugar (xylitol): a great non-sugar sweetener that works very well in ice creams (just don't feed it to your dogs – they can't handle it).
In the absence of eggs, we will add a little Agar agar to ensure a good overall consistency. Agar agar is a rather natural stabiliser derived from seaweed or red algea. It is also quite effective so here, "less is definitely more": I would suggest that you don't go beyond 1 gram (about 2 levelled teaspoons) per batch (of about 1 liter/1 quart).
For the blueberry jam – try to find a good one with plenty of fruit. I was fortunate to find my favourite "wild blueberries" jam in store, with a berry content of 55 %.
As usual when dealing with jams, remember to adjust the total amount of sugar if needed: in case your jam contains more than about 40 % sugar, I recommend that you cut down a bit on the rest of the sugar in the ice cream accordingly.
The Marzipan ice cream base
Preparing the base is very simple: Put together the milk, the cream, the ground almond, the ground cinnamon, and the sugar (possibly replacing some of it with birch sugar/xylitol).
Heat until close to a boil, then add the Agar agar!
The heat is required for triggering the gelling qualities of the Agar agar: whisk well and let simmer close to the boiling point for a few more minutes (like 4 minutes or so). Then, take off from the stove and let cool down.  Unlike for instance gelatin and corn starch, Agar agar does not lose its stabilising powers when exposed to prolonged heating. Later, once the base has cooled down to about body temperature, the gelling effect should begin to show.
Once the base has cooled down, let it chill in the refrigerator for a few hours or over night. Then churn in your ice cream machine (or still-freeze in your ordinary freezer).
Now, the time has come to add the blueberry jam!
You may of course add the jam directly into your base towards the end of the churning. That way, the ice cream will come out uniformly blue.
However, I desired a more rippled visual effect!
For a nice ripple: level your freshly churned Marzipan ice cream flat in a freezer-safe container. Spread out the blueberry jam evenly on top, then take a fork or a knife and "swirl" your way through the ice cream! Continue until you feel satisfied with the ripple!
Now, to bring all this goodness together, put a lid on the container and let the ice cream "firm up" a few hours in your freezer before serving!
A proper sweet tribute to the lighter times ahead!
Rich, very sweet and unmistakably marzipan in nature, this yummy ice cream offers a delightful tasting experience. But there is more than mere marzipan – the blueberries and the subtle cardamom provide pleasant additional layers of flavour complexity! 
And yes, the overall consistency is smooth and soft – thank the Agar agar and the sugar for that. Even after several days in the freezer, the ice cream remains very scopable (largely due to the high overall sugar content). Finally, and since we also "eat with our eyes", I must confess that I loved the rippled look! 
So – with a royal ice cream like this, who needs pastry ? 😉 
Blueberry Marzipan ice cream
By:
Anders@icecreamnation.org
A festive blueberry- and cardamom spin on my favourite Marzipan ice cream recipe!
Ingredients
500 ml (about 2½ cup) whole milk
100 ml (about 2/5 cup) cream
300 ml (about 1¼ cup) sugar, ALTERNATIVELY 200 ml (about ⅘ cup) sugar and 100 ml (about 2/5 cup) xylitol (birch sugar). NOTE: If your jam contains more than 40% sugar, reduce the amount of added sugar accordingly!
75 gram (about ⅘ cup) ground blanched sweet almonds
about ½ teaspoon ground cardamom
1 gram Agar agar (2 levelled teaspoons ... or less!)
75 gram good quality blueberry jam
Instructions
Add milk, cream, sugar/xylitol and the ground sweet almonds in a saucepan and bring to an almost-boil. Then add the Agar agar and whisk.
Keep close to a simmering boil for about 4 minutes or so.
Take off from the heat and let the base cool down, then chill in your fridge.
Once cooled/chilled down, whisk, then churn the ice cream base in your ice cream machine (or still-freeze, using your freezer).
IF YOU DON'T WANT RIPPLES: Towards the end of the (machine-)churning, add the blueberry jam and let the churning finish.
IF YOU WANT RIPPLES: Once the churning is finished, put the ice cream in a freezer-safe container. Level and spread the jam evenly over the ice cream. Take a knife or a fork and swirl until you are satisfied with your rippling.
To firm up your ice cream before serving (notably if you decided to go for ripples), put the container (with plastic film and lid over) in the freezer for a few hours.