Delicious Date ice cream (oriental style)
Ever been blown away by a new ice cream? That happened to me when I first tasted this oriental delight, based on dates, goat's milk and exotic spices!
So – sit up on the magic carpet and let's go!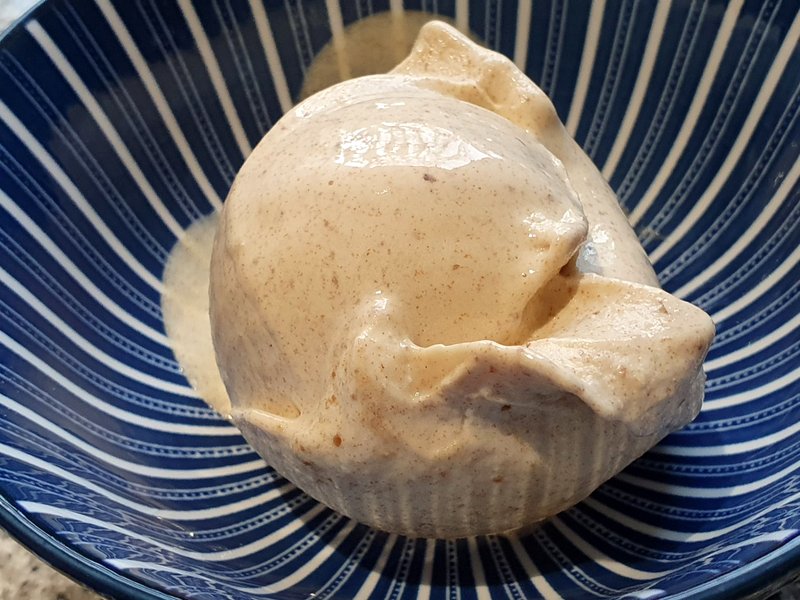 On Dates and Date ice cream
According to some ancient stories, descendants of Noah planted the first date palm in the oasis of Medina (in current-day Saudi Arabia) after the Flood. Noah or not, many consider the date palm to be native to the Persian Gulf, where the dates – historically a staple food – still are important. And for many people, dates are the traditional first thing to eat when breaking the day's fast during the month of Ramadan: not a bad choice for replenishing energy, since a fully dried date consists of up to 70 percent sugar!
From my (admittedly general and oversimplifying) post on Oriental style ice cream, you may remember that different starches – rather than eggs – often are used as stabilisers. This holds true also for this Date ice cream (or, in Arabic, Buza 'Ala-Tamr). The recipe I've used comes courtesy of Anissa Helou: I first saw it in her book "Sweet Middle East", but it can also be found in her more recent "Feast: Food of the Islamic World"). While Helou's recipe allows for the possible use of salep, I stuck with the much more accessible and less biodiversity-harming corn starch. If you like, you can also garnish the finished ice cream with slivered or coarsely ground pistachios and rose petals: however, in my humble view, the ice cream is complex and delicious enough to be enjoyed just as it is!
Dates are, of course, the central part here. While Helou recommends the Khlass or Bhari types, I can personally vouch for the great results I got with Medjool dates! In a pinch, use whatever nice and soft/semi-soft dates you can get hold of! And since dates are so sweet, you will notice that we won't need to add that much extra sugar.
As for the dairy, I decided not to go "all-in goat" and also use goat's cheese. However, in addition to some crème fraiche, we will be using goat's milk. And even those who may feel sceptic about goat's milk should try this one out: this is not a "goat milk ice cream" – the many other flavours will ensure that it remains a harmonious part of something bigger than that!
[NB: If you cannot easily get hold of goat's milk, do use a substitute (like cow's milk), although the overall result will be different].
As for spices, we will be adding cardamom, a little rose water, and a pinch of the world's most expensive one: saffron.
Before we start, there is one piece of kitchen equipment that I really recommend you have handy: a good food processor to process the dates!
The making of the ice cream
Start with the dates: remove any pits and set aside for now. We will soon run the dates together with some of the base in the food processor!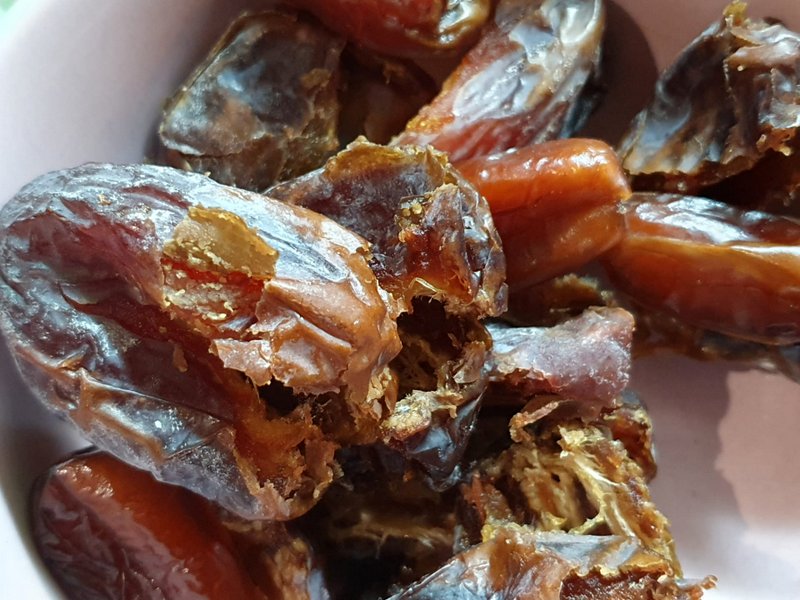 Making the milk base is easy.
As we will use cornstarch as our main stabiliser, start by mixing it into about 100 ml (less than 1/2 cup) of cold goat's milk: what we want to avoid is that the starch clumps together, and dispersing it in a little of the cold milk is the first step. Put this cornstarch/goat's milk slurry aside for now: we will soon add it to the rest of the base.
Put the remaining goat's milk, the sugar, and the saffron in a saucepan and bring to an almost-boil: to properly "activate" the corn starch, we'll need to bring the base to about 95° C (203° F).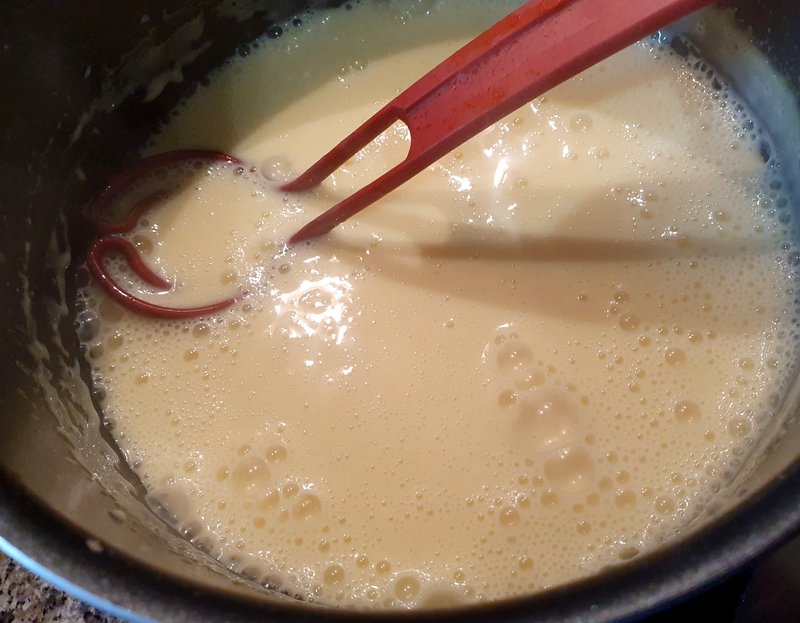 Now, whisk in the cornstarch-milk slurry.
Keep the base on near-boil heat for about 5 minutes, whisking occasionally, until the base has thickened and no trace of corn starch flavour remains. Prolonged cooking (and stirring) will actually reduce the "thickening" (stabilising) power of corn starch, so be sure to avoid that!
Thanks to the saffron, the base should by now also have taken on a pleasant, pale yellow colour.
Remove from the heat, add the rose water and the ground cardamom and let cool down.
Now, it is time for the dates!
Put them – and the crème fraiche –  in a food processor. Process until smooth: if your food processor is like mine, it will be easier when you add about a cup or so (about 240 ml) of the cooled-down milk base.
Continue processing the mix, possibly adding more of the remaining milk base, until the whole mixture is smooth and rather creamy.
Transfer to a bowl, adding any possible remaining milk base. Whisk until well blended – your date ice cream base is now ready!
Preferably chill your base in your refrigerator for a couple of hours or overnight. Then churn in your ice cream machine until finished!
No ice cream machine? Use your household freezer and still-freeze your ice cream (go to this post for some useful hints on how to best do that!)
Oriental love at first taste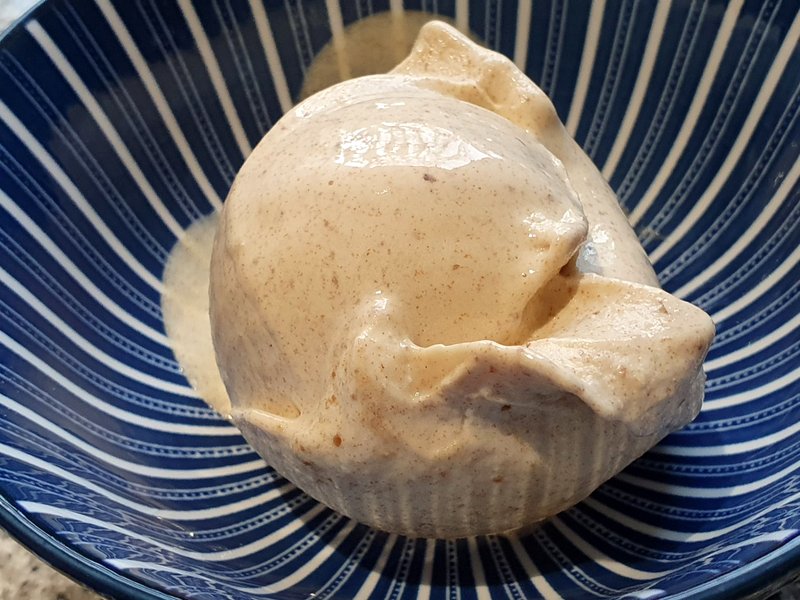 As I mentioned, this exotic date ice cream really blew me away: Magic carpets may be in short supply these days, but when I took a bite and closed my eyes, I could easily imagine myself savouring some sumptuous delight straight out of "Arabian Nights"!
(Yes, I know that ice cream as we know it had not yet been invented at that time. But such trivialities wouldn't really pose much of a problem for genies and magic lamps, right?)
Granted, I am generally fond of oriental flavours but what really got me was the sweet richness and complexity of it all: the dates, the goat's milk and the exotic spices really unite and make up something bigger than just the sum of their parts. The texture and consistency of the ice cream is also very nice, even after a couple of days in the freezer. 
This is indeed one of those exquisite ice creams that really proves the truth in one of my favourite sayings:
"Life is better with ice cream!" 
Date ice cream (oriental style)
By:
Anders@icecreamnation.org, based on a great recipe by Anissa Helou
Delicious, sweet and rich in flavours - this ice cream might not make wishes come true, but will most certainly take your taste buds on a magic carpet ride!
Ingredients
about 30 gram (1/4 cup or 4 tablespoons) cornstarch
720 ml (3 cups) goat's milk
75 gram (about 2/5 cup) organic cane sugar
Pinch of saffron threads
2 tablespoons rose water
2 teaspoons ground cardamom
340 gram pitted dates (Medjool is great, although Khlass is supposed to be the best)
200 ml (about ⅚ cup) crème fraîche [or goat's cheese, if you prefer to go "all-in goat"]
(optional add-ons for the serving: a couple of tablespoons of slivered or chopped pistachios and/or some dried and unsprayed rose petals)
Instructions
Whisk the cornstarch into about 100 ml (less than ½ cup) of cold goat's milk.
Put the remaining goat's milk, the sugar, and the saffron in a saucepan and place over medium heat.
Bring to an almost-boil and slowly whisk in the cornstarch-milk slurry. Keep the base on the heat for about five minutes or so, whisking occasionally, until it has thickened and no flavour trace of the corn starch remains.
Remove from the heat and add the rose water and the cardamom. Let cool down.
Put the dates and the crème fraiche [or goat's cheese] in a food processor. Process well, adding about 240 ml (1 cup) or more of the milk base, and continue until the mixture is creamy and smooth.
Pour in a bowl, adding any remaining milk base, and whisk well.
Let chill in your refrigerator for at least a couple of hours and preferably overnight.
Churn in your ice cream machine (or, if you have none, still-freeze in your household freezer).
Before storing the ice cream in your freezer, pour in a freezer-safe container, cover with plastic film and put on a lid.
Notes
The name of the ice cream in Arabic is Buza 'Ala-Tamr