The Lady in Vanilla White – Belgium's iconic Dame Blanche
The Lady in White – Belgium's signature ice cream dessert has a haunting name, but it is easy to see why this particular combo of sweet, pale vanilla and rich, dark chocolate has enjoyed such lasting popularity. But did you know that she actually may be Danish?
Belgian Dame Blanche – the origins
You might think that coming up with a combination of vanilla ice cream and warm chocolate could happen anywhere. And you could probably be right. But that won't stop us from taking a look at the existing ice cream lore about Dame Blanche. It seems that the name goes back to an opera from 1825 with this very name!
According to some, the French chef legend Auguste Escoffier – an avid opera-lover – invented an ice cream dessert around 1825 to honour the opera La Dame blanche (by François-Adrien Boieldieu). The popular opera wasn't very scary but did have a quite good-natured ghost – who eventually turned out to be quite alive and lovable, just in time for the opera's romantic ending.
However, it seems that Escoffier's dessert was far more advanced than the vanilla ice cream and chocolate-creation we usually think of these days (from what I've read, Escoffier's creation consisted of almond ice cream, white peach and white currants, framed by a greenish-white lemon sorbet).
The link to Belgium? I have no idea, except for the fact that Paris is less than an hour's train ride from Brussels, the capital of Belgium. And while the Belgian underground organisation Dame Blanche was part of the resistance against the German occupiers during the First World War, I have not found anyone making that linkage to the ice cream dessert.
So – back to the vanilla-and-chocolate version of today.
There are variations, of course. Several versions add whipped cream on top of the ice cream and the hot chocolate sauce but personally, I find that a bit too rich! (if you are a cream-lover, however, feel free to indulge!). Others add whipped meringue, chestnut paste and other extras, but let's stick to the basics here!
… or is this ice cream dessert actually from Denmark?
In Germany and Switzerland, this dessert is called "Coupe Dänemark", which suggests Denmark as the origin. According to an "alternative origin-story" – impossible to verify, like so much other ice cream lore – the dessert was invented out of necessity at the famous fun fair Tivoli in Copenhagen. One night, supposedly, a dessert-craving visitor to Tivoli's restaurant came so late in the night that all the desserts were sold out. The inventive chef improvised with the few remaining ingredients still available – some vanilla ice cream, a piece of chocolate (quickly melted) and, according to some, some whipped cream.
A truly Belgian vanilla base
There are many recipes for vanilla, and I tend to think that you can never have too many 😉
If you have a favourite of your own, feel free to use that one. Myself, I decided to honour this particularly Belgian ice cream dessert by going for a truly Belgian vanilla ice cream!
So today, we will walk in the footsteps of Belgian master chef and three Michelin star-holder Pierre Wynants – in his active days ruler of the near-legendary Belgian restaurant "Comme chez soi". Fortunate to have been there myself, and so impressed that I ended up buying Pierre Wynants' cookbook "Creative Belgian cuisine", I quickly turned the pages until I found his vanilla ice cream recipe!
Generally speaking, this is a classical custard based vanilla. Noteworthy is that Wynants only cooks (and pasteurizes) the milk-egg yolk-sugar (and vanilla) parts: the cream is added afterwards –  a slight modification I have seen some other cooks also use. If nothing else, this trick ought to speed up the cooling down/chilling part which is so important for a good end-result.
Otherwise, Wynants uses the traditional, "staged" way of making a custard base: notably, he sticks to first whipping the egg yolks with the sugar, and only then mixing this with the dairy.
While I dare to think that this actually is quite unnecessary, I dutifully went with this "staged" approach out of respect. However, the "Modernista approach" where you basically mix everything together from the very start should work just as well (although you still could hold back on the cream for the later stage, just like Wynants suggests).
The chocolate sauce
Belgium is famous for chocolate, and a real Dame Blanche should be served with warm chocolate. And "classic" Dame Blanche only requires dark, melted chocolate of good quality!
As you may know, chocolate does not require very high temperatures to melt – you can actually even melt chocolate in your microwave oven. However, if you want to do it in a more classic way, go for a swift water-bath ("bain marie"). Oh, and no need for fancy kitchen tools there – I usually search out a metal bowl or similar and place it in sauce pan with warm/simmering water: break the chocolate in smaller pieces (will reduce the time it takes to melt it!) and be prepared to whisk around a bit with a fork or something: that's all!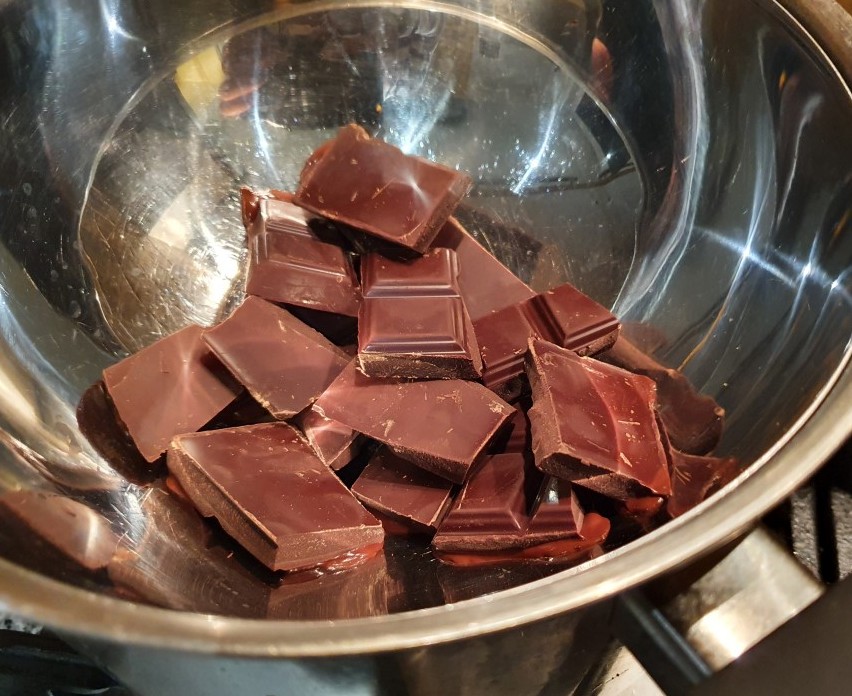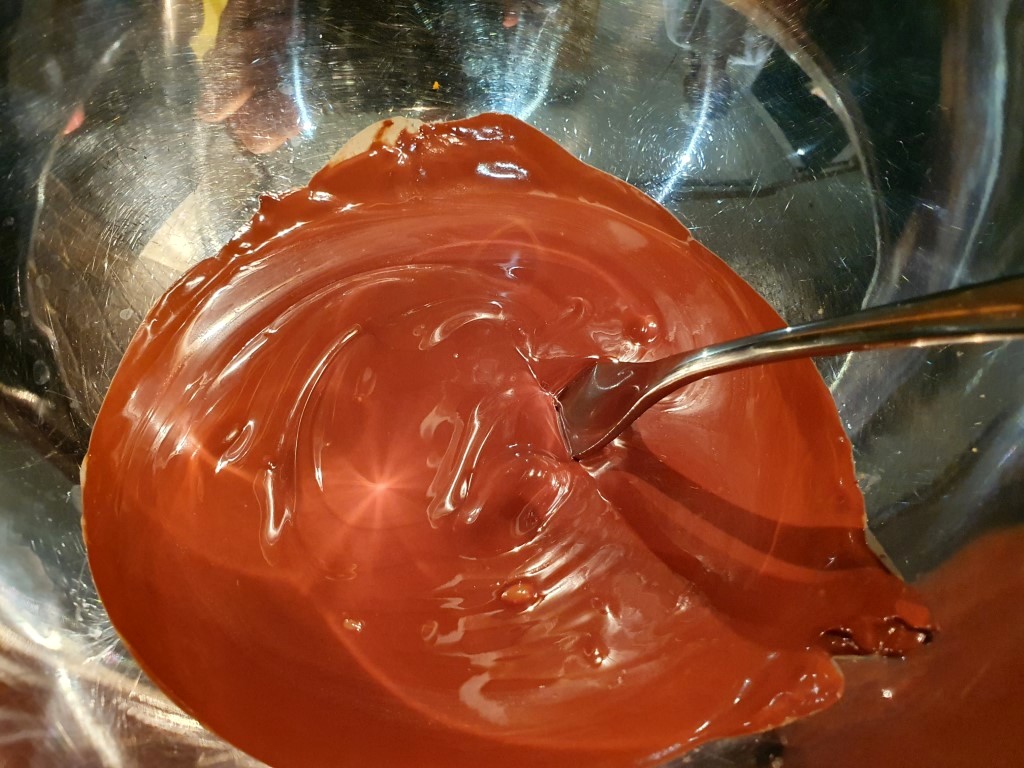 The only drawback with a melted chocolate-only sauce is that it – quite naturally – cools down and firms up about as soon as it hits the cold ice cream. In other words, if you want to keep your chocolate fluid, go with a more elaborate chocolate sauce!
And if you want to test a truly exclusive one, I have added Pierre Wynants' own chocolate sauce recipe below!
Dame Blanche brilliance

Simplicity can be a beautiful thing, and Dame Blanche is a good example. As we know, genuine vanilla ice cream is an exquisite treat, and the pairing with chocolate is a classic for good reasons. The Belgian vanilla ice cream is top-notch: luxurious and still slightly "light" (in a good sense) for a custard based ice cream. While the classic companion to the ice cream is pure melted chocolate, it is clear that this chocolate won't stay molten very long once it meets up with the cold. For those who prefer more liquidity, use a more elaborate chocolate sauce instead! And for all those who love whipped cream, why not add a dollop on top of your Dame Blanche? There you go – you're ready to go continental in style!
PS. Did you know that there also is a dessert called "The Black Lady"? And yes – you guessed it: Chocolate ice cream with molten white chocolate!
PPS. If you like opera, you can find that "Dame Blanche" on, for instance, Spotify 😉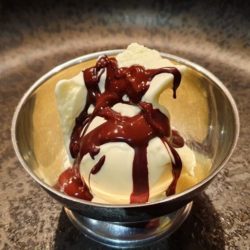 Dame Blanche - Belgian vanilla ice cream with chocolate sauce
The most Belgian of all ice cream desserts, but quite well-known in other parts of the world too! The combination of wonderful vanilla ice cream and a sumptuous chocolate sauce is classic combination that never gets boring! By the way, in certain other parts of the world, this particular combo is known as "Coupe Dänemark".
Ingredients
500

ml

(about 2.1 cups) whole milk

250

ml

(a good 1 cup) cream

(preferably about 45 % fat)

5

egg yolks

140

ml

(3/5 cup) sugar

1

vanilla pod

(sliced and scraped; all to be used)

about 200-400

gram

good quality dark chocolate

(for the sauce; amount depending on how much ice cream you plan to serve)

(optional)

some whipped cream

(to use as topping at the time of serving)
For Pierre Wynants' chocolate sauce
10

gram

(about 1 level tablespoon) cocoa powder

15

gram

sugar

15

gram

butter

15

gram

coffee

300

ml

(about 1 1/4 cup) water

100

gram

bitter or plain chocolate
Instructions
Split the vanilla pod. Scrape out the seeds and mix both them and the pod with the milk.

Mix the egg yolks with the sugar and whisk well.

Bring the milk to the boil. The whisk it - little by little - into the egg yolk-sugar mix.

Return to the stove. Gently bring it to "Nappe stage" (= in the temperature bracket 82-84º C /180-183º F).

Take it off the stove and add the cream.

Let cool down and preferably chill.

Remove the vanilla bean. Churn in your ice cream machine, or still-freeze using your freezer.

When about to serve the dessert, melt the chocolate (for example in a water-bath) and drizzle over the vanilla scopes. If you like, add some whipped cream on top too!
Chocolate sauce à la Pierre Wynants
Bring the water to the boil. Grind the coffee.

When the water boils, add the coffee; remove from heat and let infuse for 10 minutes. Strain through a filter.

Gently melt the chocolate in a sauce pan.

Mix the (softened) butter and the cocoa powder in another sauce pan. Add the sugar and mix well.

Pour the coffee on the chocolate little by little, mixing and ensuring proper dilution of the chocolate.

Add the coffee-chocolate mix with the butter-cocoa-sugar mix: work them well together.

While whisking, bring it all to the boil. Strain through a sieve and allow to cool.

Before serving, stir well once again.