Mochaccino ice cream (vegan)
Jump to recipe
This ice cream version of the famous coffee-choco drink combines flavours in a way capable of seducing even non-coffee lovers. Yes, the happy marriage between the chocolate and the coffee flavours is a winner, particularly when meshed with the delightful coconut used as the base. That's right – no dairy nor any eggs are needed for this one. But don't worry –  If you think that all vegan ice creams are dull and second-rate, prepare to be positively surprised: this great ice cream has it all!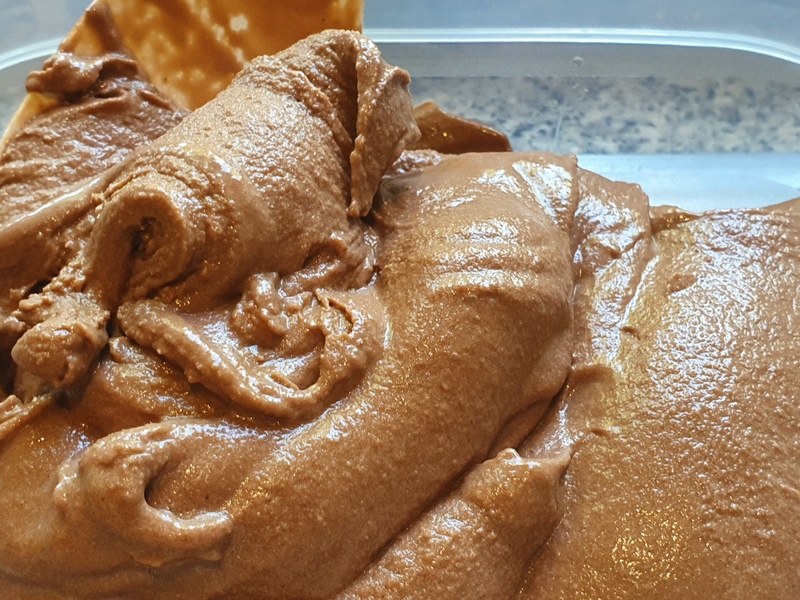 On Mochaccino
As we all know, there are plenty of coffee types in the world. Just the "Italian varieties" like capuccino, espresso, ristretto etcetera could easily fill a poster. However, the popular Mochaccino (or Mochacino, or caffè mocha) takes its name from the city of Mocha in Yemen, a famous early trading hub for coffee in the 15th century and for a few hundred years onwards. 
So what is it then? A Mochaccino is roughly speaking a chocolate-flavoured coffee latte: the proportions differ, but one fairly common recipe prescribes twice as much espresso coffee as chocolate. And if you like, you could also add some nice spices to the coffee, like cinnamon or cardamom. This recipe takes a few liberties with the basic proportions … and substitutes milk in favour of coconut milk!
On this recipe … and on vegan ice creams in general
The recipe follows closely one by a certain Jackie Dodd which I was fortunate to come across some time ago and became curious to try.
Vegan ice creams can be quite difficult to get right: many of the vegan "milk and cream-replacements" lack sufficient amounts of fat, and this tend to harm the overall consistency.  For this recipe, we will be using coconut milk of the "creamy" type =  one which contains, preferably, around 20 % fat. This fat is important for getting a good final result!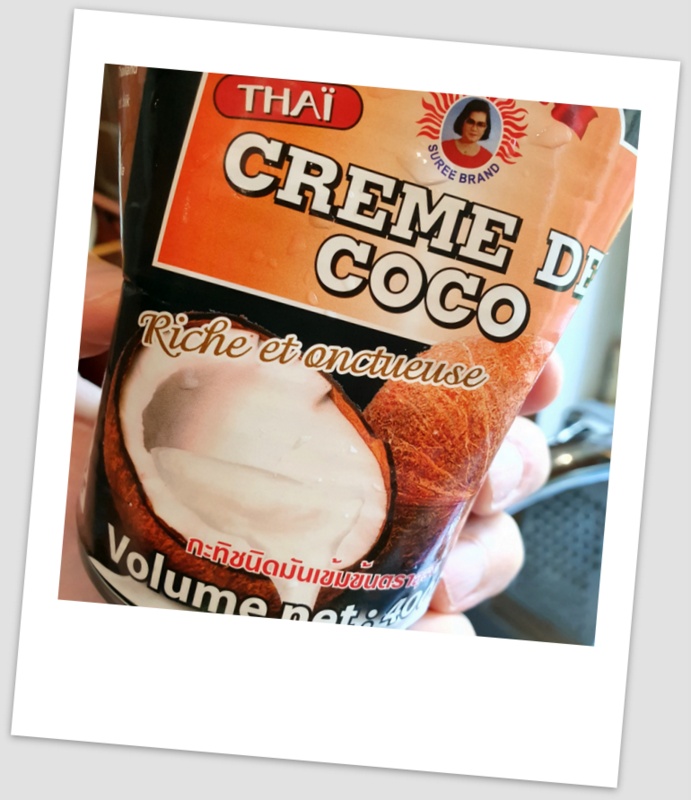 Coconut milk is a rather common base for vegan ice creams. Its particular flavour does not always go well together with every flavour but in this recipe, it is just perfect! Seldom have I experienced a more "blessed" combination of flavours than the coffee, the cocoa and the coconut in this ice cream!
On the sugar-front, I decided to substitute some of the caster sugar with my favourite sugar-substitute xylitol (which not only sweeten but also improve the consistency of the ice cream) but this is optional. 
The coffee I used was instant espresso powder. In a pinch, you could try to use "ordinary coffee" but the advantage of using instant coffee powder is that we don't add any further liquid to the ice cream base. This, in turn, means that we have less overall water to worry about and reduces the risk of getting unpleasantly large ice crystals in our ice cream when it freezes. 
The cocoa powder (of the dutch-process type) used in the recipe can well turn the whole project into chocolate ice cream, particularly if you decide to reduce or eliminate the coffee powder. And if that is what you prefer – do go for it! However, even if you may not be so keen on coffee, I would still encourage you to experiment and add, say, perhaps only half of the suggested amount of instant coffee powder or so: the ice cream will basically still remain a "chocolate ice cream" but you will get one with a somewhat more complex flavour.
While optional, I think that a cinnamon stick adds yet some more complexity to the flavour: just add it to the other ingredients (and remember to take it out before churning the base!).
How to do it – and very easily so!
This recipe is one of those where you basically only need to mix all ingredients together, heat it a little to ensure that flavours and ingredients combine well, and then you're done!
(Well, you still have to cool down, and preferably chill, the base and churn it but that is about it!)
Start by mixing the sugar(s) with the coconut cream.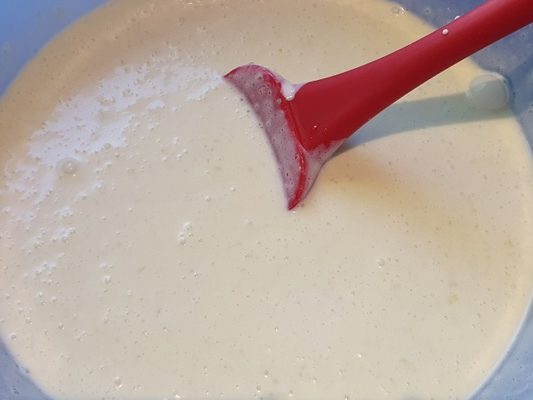 Now add the cocoa powder, and then follow up with an equal amount of instant espresso coffee powder. Then add a cinnamon stick and finally a good pinch of salt.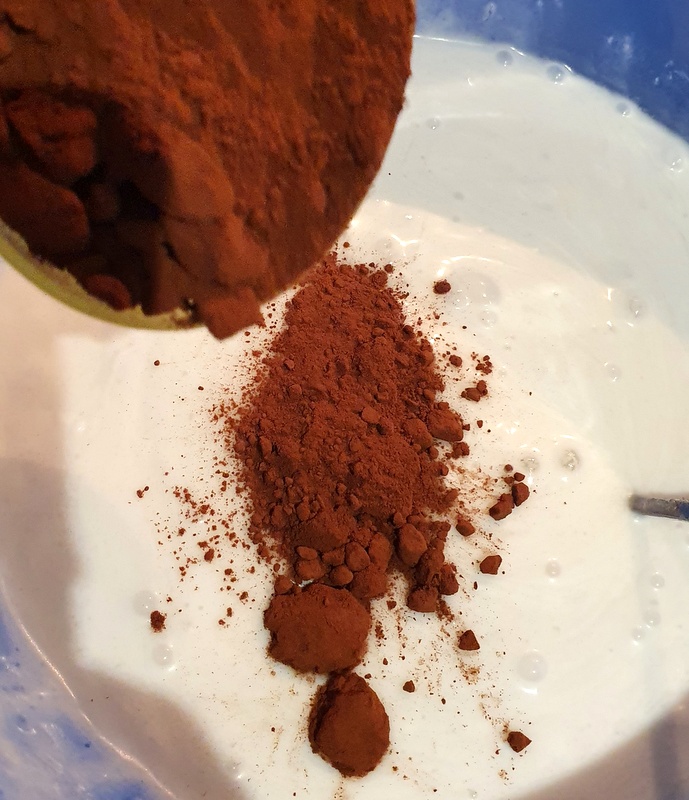 When the cocoa powder, the instant coffee powder, the cinnamon stick and the pinch of salt have been added, mix everything well and put on the stove to simmer close to an "almost-boil" for about 8 minutes (continue to whisk regularly throughout the process).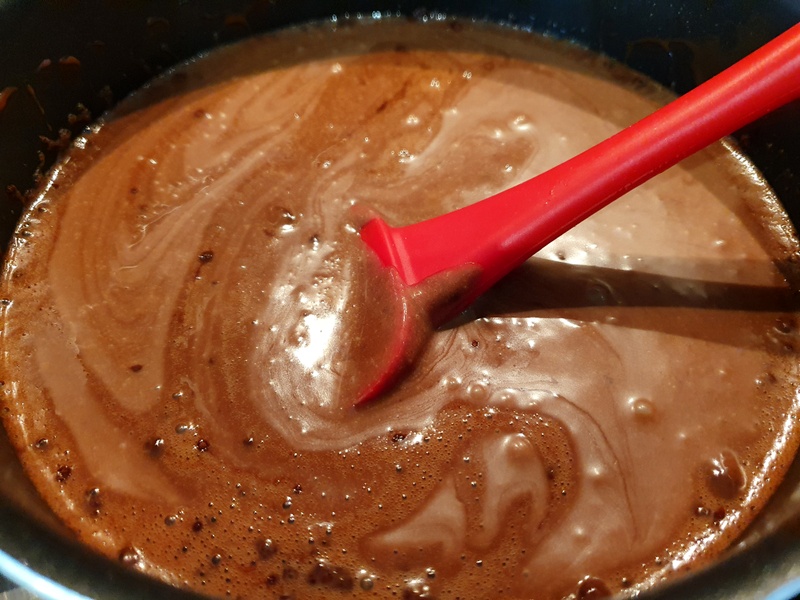 Once the base has cooled down (and preferably has chilled for at least a couple of hours), churn it in your ice cream machine! Oh – and don't forget to remove the cinnamon stick before you churn! (I can tell from personal experience that it makes for a rather stiff and unwelcome add-in in the final ice cream 😉 )
If you have not ice cream machine, try still-freezing the ice cream in your ordinary household freezer: go here for some useful advice on how to best do that!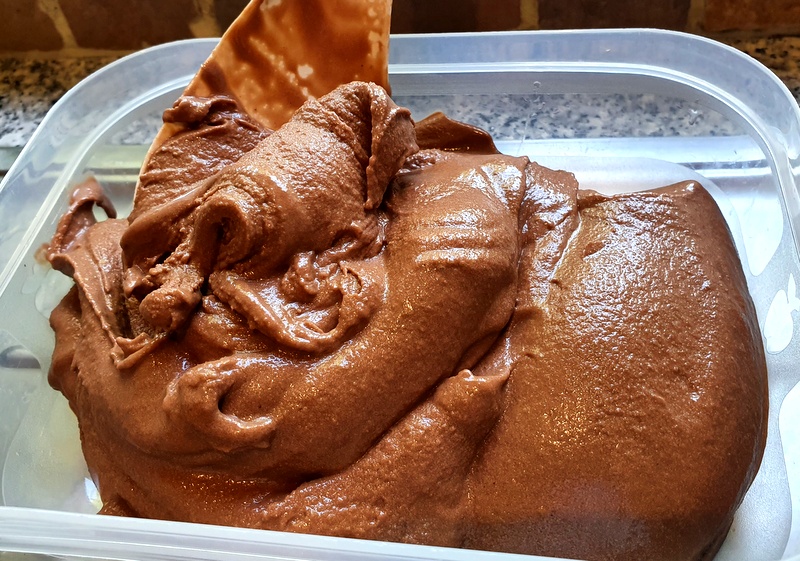 A truly wonderful ice cream!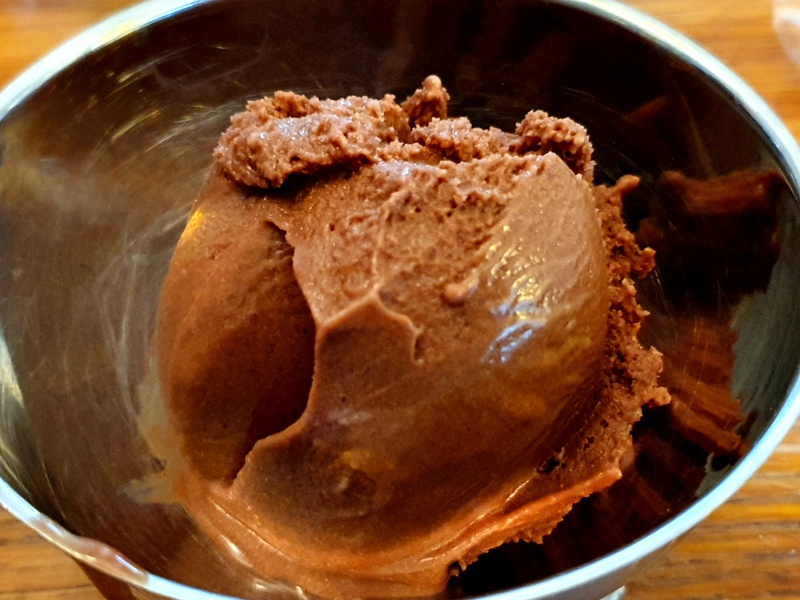 Forget the possible prejudices you may have about vegan ice cream being boring and second-rate! This one is – in all its stunning simplicity – simply delightful! I was personally overwhelmed by how incredibly well all the flavours combine with each other – and how tantalisingly good this ice cream tastes! Oh, and the overall consistency and texture of the ice cream were great too!
The rest of the family were equally impressed, and the ice cream has already made it to our short-list of personal favourites: no small task in a household were so many ice creams pass by 😉
---
Mochaccino ice cream (vegan)
A surprisingly delicious blend where the flavours of the cocoa, the espresso and the coconut cream come together to create a delightful ice cream pleasing to the most sophisticated of connoisseurs. And if you believe that vegan ice creams are boring and second-bests, this gem will change your mind 😉

Notes
No ice cream machine? Try making this ice cream in your "normal" household freeezer ("still-freezing): Go to this post for useful tips on how to best do that!

Ingredients
800 gr coconut cream (about 2 tin cans; fat content preferably around at least 20 %)
250 ml (1 1/4 cup) caster sugar OR 200 ml (slightly less than 1 cup) caster sugar and 50 ml (1/5 cup) xylitol
about 100 ml (a heaped 1/2 cup) cocoa powder (good quality, Dutch process)
about 100 ml (a heaped 1/2 cup) instant espresso coffee powder
1 cinnamon stick
a good pinch of salt
Instructions
In a sauce pan, mix the coconut cream with the sugar(s), then add and mix in all the other ingredients (cocoa powder, coffee powder, cinnamon stick, pinch of salt).
Bring the base to an almost-boil, whisk regularly and let simmer for about 8 minutes.
Take off from the heat and let cool down and – preferably – chill for at least a couple of hours.
Remove the cinnamon stick and churn in your ice cream machine.