Midsummer Blueberries ice cream
Midsummer has a very special place in my heart. At Swedish altitudes, the Summer Solstice – the shortest night of the year – seldom turns completely dark, and experiencing such a white night can be both mystical and dreamlike. The Swedish tradition goes back to pagan days and ancient fertility rites, so no wonder that the Midsummer Night still has a certain nimbus of blue magic and mystery!  And what better treat to accompany us at this magical time of the year than a truly enchanted Blueberry yoghurt ice cream!
Blueberries on my mind
Yes, I know! There is already a quite similar blueberry recipe on this site, and I encourage everyone who has not tried it to do so. But that recipe counts on the availability of blueberries (fresh or frozen) and I wanted to test what would happen if I used blueberry jam instead of actual berries. Now, this may strike you as a bit odd: why go for jam instead of berries? Well, some people may have more difficulties to get hold of berries than of jam. But there is also another aspect – much of the cultivated blueberries on sale in shops (fresh or frozen) these days are simply too bland, and lack the true flavour of the much superior wild blueberries!
As it turned out, I recently had the fortune to find an Italian (!) jam based on wild (!) blueberries, reminding me how much more the wild blueberries taste compared to the cultivated!
On the jams and the (few) other ingredients to use
As usual when it comes to ice creams, the better ingredients, the better the final results: go for the best jam you can get hold of!
Particularly, check the proportion of fruit, which should be as high as possible. My precious jam came with 56 % blueberries, which I'd say is a very good fruit content for a jam.
Now, jams are – roughly speaking – a mix of berries, sugar and (usually) some kind of stabiliser (like pectine). This is fine, since ice creams can benefit not only from the berries but also from the sugar and (if present) the stabiliser. What you need to do, however, is to adjust the amount of sugar you intend to add to the ice cream: since the jam will bring quite a lot of sugar, you may otherwise end up with a sickeningly sweet end result!
There is scope for personal preferences here – my wife was quite fond of a version where no sugar (at all) had been added expect for what came with the jam (except for a tablespoon of corn syrup which I added almost on a whim). Personally, I preferred a second, sweeter version with slightly more sugar added (in my case, birch sugar/xylitol, but if you don't have that, you can simply add a somewhat larger amount of ordinary white sugar).
The rest of the ingredients are straightforward: thick, Turkish style yoghurt will bring a touch of pleasant tartness to the ice cream and will, together with the cream, ensure both a pleasant mouthfeel and a good overall consistency. Oh – and we will also whip the cream to increase the amount of air in our ice cream, further improving the consistency. Since the jam most likely will contain some stabiliser of its own (like pectin, gelatin's vegan cousin), there is no strict need for adding any inverted sugar or alcohol, and particularly not if you plan on enjoying the ice cream freshly churned!
The three easy steps to an enchanted ice cream
Since there is no cooking involved – only mixing – it is really easy to make this yoghurt ice cream:
Whip the cream
Mix in all the other ingredients
Churn in your ice cream machine – Finished!
If you have no ice cream machine, you can try making the ice cream in your household freezer: it will take some time but can be done! Go to this post for useful tips on how to best do it!
Midsummer Blueberries … mmm!
This ice cream has a pleasantly smooth consistency and a delicious blueberry flavour! The pleasantly tangy youghurt ensures a freshness which cream alone cannot offer, and frames the berry-flavour very nicely. While the ice cream can be stored, I think it is at its very best when freshly churned – the puffy softness is seductive! (if you prefer a slightly firmer ice cream, by all means let it rest in the freezer for a while!). Once again, it seems clear that even a very simple recipe can produce truly delicious results! This frozen blue goodness should put a smile on your lips regardless of whether it is Midsummer or any other time of the year 🙂 !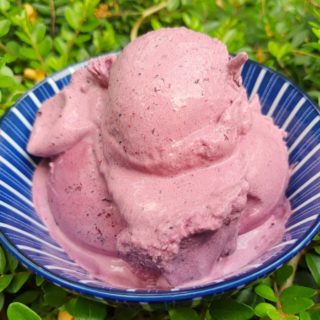 Midsummer Blueberries ice cream
A pleasant and summery Blueberry Yoghurt ice cream based on jam. If your jam consists of at least about 125 gram sugar, there should be no need to add much extra sugar to the base (if your jam is considerably sweeter, though, you should consider adjusting the recipe by adding more dairy or using less jam to avoid a too sweet end-result)
Ingredients
about 250 ml (1 cup)

thick, fat (about 10 %) yoghurt (such as Turkish yoghurt)

about 250 ml (1 dl)

whipping cream

about 250 gram (2 cups)

blueberry jam of good quality (= preferably 50 % fruit or more)

about 75 ml

sugar or 50 ml xylitol [depending a little on the sugar content of your jam]

about 1

tablespoon

lemon or lime juice

(optional) about 1

tablespoon

1 tablespoon inverted sugar (like corn- or glucose syrup or their likes)

(optional) 1

tablespoon

kirsch (or similar hard alcohol)
Instructions
Mix the blueberry jam with the lemon juice and the sugar (and the inverted sugar, if using).

Whip the cream.

Blend the sweetened jam-mix with the yoghurt and the whipped cream [ and the alcohol, if using]

Churn in your ice cream machine (or still-freeze in your freezer).

Enjoy fresh, or store in a freezer-safe container (cover the ice cream with some plastic film before putting on the lid and it will keep much better).
PS. Want to learn more about Swedish midsummer? Check out this hilarious video from pre-COVID times!