Blueberry Summer Solstice yoghurt ice cream
Ah – Swedish Midsummer is upon us again! As plenty of Swedes prepare for the festivities (typically centred around partying, eating and – definitely – drinking), we, too, will turn to Mother Nature for some blue delights. No, I'm neither referring to Smurfs, melancholic love affairs, nor to pagan frolicking with forest spirits like the Hulder. I'm talking about blueberries! 
Blueberries which we will turn into a mouth-watering yoghurt ice cream – perfect both for joyous summer days  and nights!
Avid readers might have expected me to – yet again – take Midsummer as an excuse for shamelessly promoting my eternal summer favourite the Rhubarb yoghurt ice cream. While I still wholeheartedly recommend everyone to try that fan-tas-tic recipe too, today's post will also be very summer-like! And easy to make! And absolutely delicious!
Blueberries on my summer mind
Blueberries are not only irresistibly tasty, they are also low in calories, high in nutrients and packed with vitamins and antioxidants. And they are well suited for ice creams –  the pectin they contain (a functional vegetarian 'cousin' to gelatin), will contribute to a nice overall ice cream texture.
In order to preserve as much as possible of the "fresh blueberry"-sensation, I opted for a Philadelphia-style ice cream, requiring no heating/cooking. This type of preparation is clearly less "sophisticated" than  custard-based French or Italian types of ice cream.  But while I personally adore all types of ice cream, I find it difficult to beat the simple Philadelphia-style when it comes to maintaining the natural freshness of fruits and berries.
Simplicity in extremis – how to mix it all together
Both fresh or frozen blueberries will work for this recipe. For the rest, you will only need cream, yoghurt, sugar and a little lemon juice (optionally, for additionally improved frozen consistency, you could also add some inverted sugar and a tiny amount of alcohol).
Think you can mix those things together? Good – because that is really all you have to do!
Yes – it really is that simple! 
If you still need details, I would suggest to begin by puréeing the blueberries together with the sugar and the lemon juice. Then add the milk, the cream and the yoghurt. Whisk until the mix is smooth.
If using alcohol and/or inverted sugar, you can add that to the mix now too. I should add that, since these optional ingredients mainly are there to really ensure a nice, scoopable consistency to the frozen ice cream, there is little need for them in case you plan on eating the ice cream shortly after making it. In case you plan on storing it in the freezer for some time, or – in particular – if you are making this ice cream in your freezer without an ice cream machine, the inverted sugar and/or the alcohol make more structural sense. You could, of course, also consider adding 25-70 extra ml (0.1-0.3 cup) sugar, although that will make the ice cream taste comparatively more sweet.
Whisking done? Good – now pour the mix into your ice cream machine!
If you don't have any ice cream machine: Go here for some good advise on how to make ice cream in your freezer!
In Blueberry Heaven
How can such a simple recipe be so very good? Tasting this summer dream, it is clear that simplicity in no way has compromised quality! 
I love blueberries, and quickly fell in love with this ice cream. And I was not alone – gathered friends and relatives opted for second and third helpings, praising the frozen delight until there was nothing left. The nice consistency, the freshness, the delicious and rich blueberry flavour … it all came together and formed a blue, brilliant and berry-rich joy! And using yoghurt instead of going all-out on cream makes a lot of difference. The tartness of the yoghurt adds a marked freshness to the overall berry flavour which is most pleasing. So – quickly get hold of some blueberries and treat yourself, your loved ones and any passing hulders to the blue goodness!
PS. Want to learn more about Swedish midsummer? Check out this hilarious video!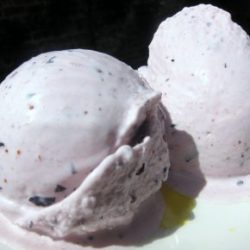 Blueberry Summer Solstice yoghurt ice cream
Despite its stunning simplicity, this quick recipe delivers a truly delicious blueberry yoghurt ice cream!
Ingredients
about 250

ml

(1 cup) thick, fat (about 10 %) yoghurt (such as Turkish yoghurt)

about 250

ml

(1 cup) cream

about 250

gram

(2 cups) blueberries (fresh or frozen)

about 1

tablespoon

lemon juice

about 125

ml

(1/2 cup) sugar

optional: about 1 tablespoon inverted sugar (like agave nectar, corn syrup or their likes)

optional: 1 tablespoon kirsch (or similar hard alcohol)
Instructions
Purée the berries and mix with the lemon juice and the sugar(s).

Blend the sweetened purée with the yoghurt and the cream [ and the alcohol, if using]

Churn in your ice cream machine (or still-freeze in your freezer).

Enjoy fresh, or store in a freezer-safe container (cover the ice cream with some plastic film before putting on the lid and it will keep much better).