Slimmer Vanilla – a (gelato-)base recipe!
Do you like Italian gelato?  If so, read on about a splendid recipe I have found!  
Many people who say they dislike vanilla probably suffer from too much exposure to 'fake'  vanilla flavours  (like vanillin, or worse).  Real, genuine vanilla ice  cream is anything but boring – a real and exquisite treat.
Apart from being a flavour in its own right, the reason for vanilla's enduring popularity is probably that it goes so well together with myriads of other flavours and add-ins: a perfect ice cream base recipe, in other words!And while vanilla continues to be the world's most common/popular flavour, it can be made in sooo many different ways!
Avid readers may already have read about vanilla, its myth and history, or seen the post on one of my favourite vanilla base recipes (that mainly falls within the French ice cream-making tradition).
But today, we will take a look at a slimmer, Italian gelato-type vanilla that really turned out very nicely!
The recipe comes from a real ice cream-gold mine – the book "Il Gelato" by Fernanda Gosetti. I had actually read good things about this book (a veritable no-nonsense ice cream-bible) long before I got my hands on it. It first came out in Italy in the 80's and may be hard to find these days. Myself, I was incredibly lucky and by chance happened to stumble upon a Swedish translation (!) in a second-hand shop.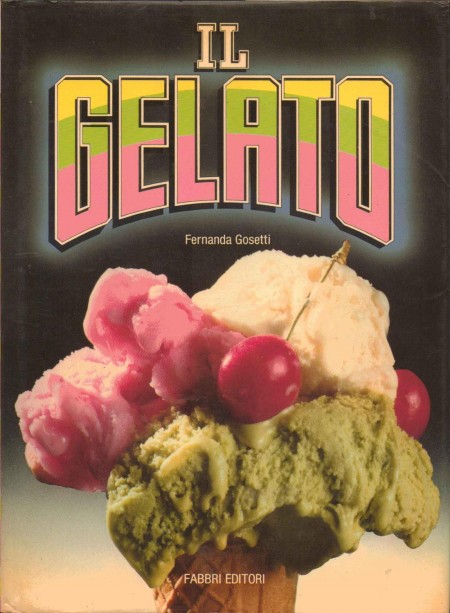 As you may know, Italian gelato is often characterised by being composed of relatively more milk than cream (as opposed to French, or American ice cream-base types), and quite a lot of sugar and eggs. Fernanda Gosetti's vanilla base, true to style, does have a milk-to-cream ratio of 1 to 5 –  very gelato-like indeed.  Still, the number of eggs required is not overly excessive (6 egg yolks for a batch of roughly 1 litre of ice cream), nor is the amount of sugar.
Relatively speaking – and in the world of ice creams – I would therefore rate this as a quite slim ice cream base: good news for ice cream-epicureans worried about too many creamy calories.
Preparing the ice cream
I have rather faithfully included the steps recommended by Fernanda Gosetti below (see the recipe box). Generally speaking, it follows the usual custard-based process so common for Italian and French-type ice cream-making.
In case you belong to the kitchen school that does not believe in the need for tempering eggs, you could just mix everything together in step 2 below, and then heat it up "straight to the end".
When the actual cooking is done, remember to allow the ice cream base sufficient time to cool down in the refrigerator – this is not only a matter of temperature. Allowing the base to "ripen" for at least about 4-5 hours (and preferably overnight) before churning it will improve the final consistency and flavour of the ice cream.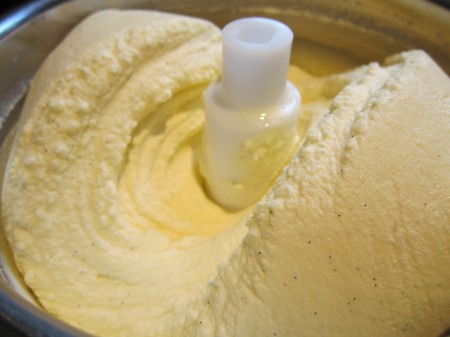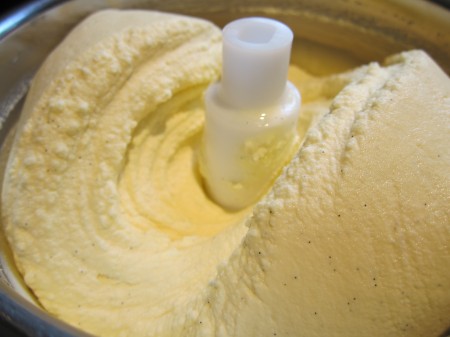 This vanilla recipe is a true gem! Much lighter in the mouth than more cream-based types, but with a genuine, clear vanilla flavour,  a smooth gelato texture and pleasant overall consistency.  Next time you long for Italy – look no further than this recipe!
And remember: In case you long for  something else than 'plain' vanilla, this recipe will still serve as a  very good base for plenty of other flavour/ingredients you might want to try:-)
Slimmer Vanilla - a new base recipe!
By:
Anders@icecreamnation.org
Gelato-style vanilla base recipe à la Fernanda Gosetti, found in the classic book "Il Gelato".
Ingredients
5 egg yolks
125 ml sugar
450 ml milk
100 ml cream
1 vanilla bean (note that the original recipe only calls for ¾ bean, so if you prefer a milder tone of vanilla, you may want to cut back to that)
Instructions
Whisk together the egg yolks and sugar in a bowl.
Cut the vanilla bean lengthwise, scrape out the small seeds and put all together with the milk and the cream in a saucepan. On low heat, bring to a close boil. Remove the vanilla bean stalk-pieces (but keep them on the side - they'll be reinserted later!).
Slowly and little by little, pour the hot milk/cream into the egg-sugar mixture, whisking all the time ("the tempering stage").
When the ingredients have been mixed, pour back the liquid into the saucepan.
On low heat, continue to whisk, ultimately bringing the mixture up to about 82-84º Celsius (189-183 ºF); the stage when you should be able to draw a line through the custard on the back of a spoon (or equivalent) that stays. For added security, use a thermometer! And remember to whisk all the time - you don't want to end up with scrambled eggs!
Take off from the heat, put in the vanilla beans again and cool down the ice cream base as fast as possible. When sufficiently cool, put in a refrigerator to chill for about five hours (or preferably, over night).
Remove the vanilla bean-parts and pour the chilled ice cream base in your ice cream machine and churn according to instructions.
Store the ice cream in a freezer-safe container with lid, making sure to cover the surface with plastic film before putting on the lid.
Notes
In case you plan on using this ice cream as a base for other flavours/ingredients, you should consider if those added ingredients will add a lot of sweetness. If so, you may want to reduce the quantity of sugar in the base recipe (in order to avoid too overly sweet end-results).