Sparkling New Year – Kir Royale sorbet
Happy New Year! 
Once again, the time has come to welcome the New Year – and for many friends of ice cream, this occasion calls for a sparkling, stylish Champagne-style sorbet!  
Avid readers may remember this blog's Sparkling wine sorbet, but in this post, we will test a variation that pays hommage to Kir Royale.
Kir Royale – the drink and its origins
Kir is a French cocktail, usually drunk as an apéritif. Originally, it was aptly called just "blanc-cassis" [white -blackcurrant, in French]. However, it later catapulted to world-fame, largely thanks to the relentless promotion of the drink by Félix Kir who was a mayor in Dijon, Burgundy. In the years following the Second World War, his efforts helped to popularise the drink, while also promoting two important local products: crème de cassis (blackcurrant liqueur) and the white wines of Burgundy.
The ingredients: Champagne or … ?
The cocktail Kir can be mixed in a number of ways. We will stay true to the (most famous) blackcurrant version, but if you don't like blackcurrant, check the very end of this post for a couple of other flavour versions to test.
But there is also the wine-type to consider. Kir can be mixed with "ordinary" white wine, but the festive versions call for sparkling wine: Kir Royale requires (genuine) champagne, whereas other types of sparkling wine will give you a Kir Pétillante ("sparkling Kir").
I did use real French champagne for this recipe, but honestly – save for the possible internal satisfaction of knowing that you are using the "real deal", I think that any better sparkling wine will do just fine! After all, the inclusion of the blackcurrant liqueur , the lemon juice and the general freezing that comes with the fact that we are making a sorbet are all factors likely to greatly diminish the finer qualities of the wine used. In other words, you can well save your money and go with a good sparkling alternative too 😉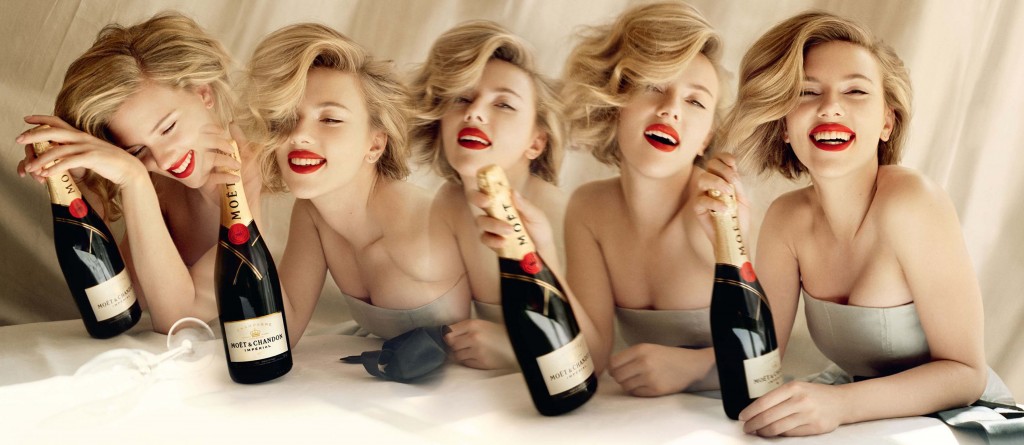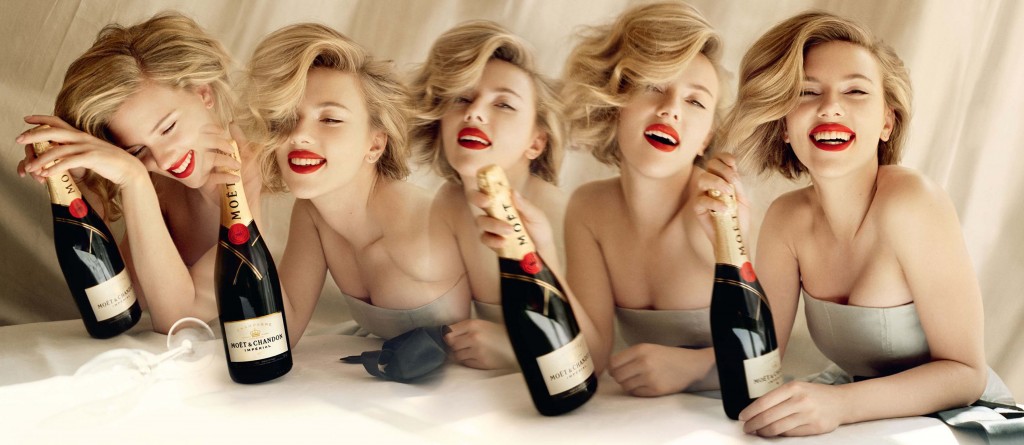 Mixing our sorbet
The making of the sorbet is straightforward – roughly speaking, we will be using about equal parts sugar syrup and sparkling wine, adding to that a smaller proportion of blackcurrant liqueur (of which Cassis de Dijon would be the "classic" choice).  To offset a too sweet overall flavour, we will also add some lemon juice. By the way, to brush up on basic sorbet-making, check out this instructive post!
However, in order to add to the sparkling quality, we will be using sparkling water for the sugar syrup – just make sure that you choose a neutral brand without any peculiar mineral taste! Also, in order to save as much of the bubbles as possible, I suggest that you make the sugar syrup by simply mixing the water and the sugar ("the hurried bartender's method") rather than by heating it.
Since the blackcurrant liquour will add quite some sugar, you will notice that I have reduced the "normal" amount of sugar used for the sugar syrup in the recipe. However, if in doubt when it comes to sorbets, use the Egg test or equivalent to check the sugar content for the optimal  sorbet ratio!
This is clearly a sorbet best served fresh and relatively soon after the making – adding some inverted sugar will improve the consistency and texture but if you would like to add a further boost, you could use the simple but effective addition of a raw, whipped egg white. Given the potential health hazards of adding raw eggs, you could also opt for the safer (and, frankly, superior) alternatives of adding some Italian meringue or – skipping eggs completely – the vegan alternative Aquafaba!
A Royal Sparkling treat!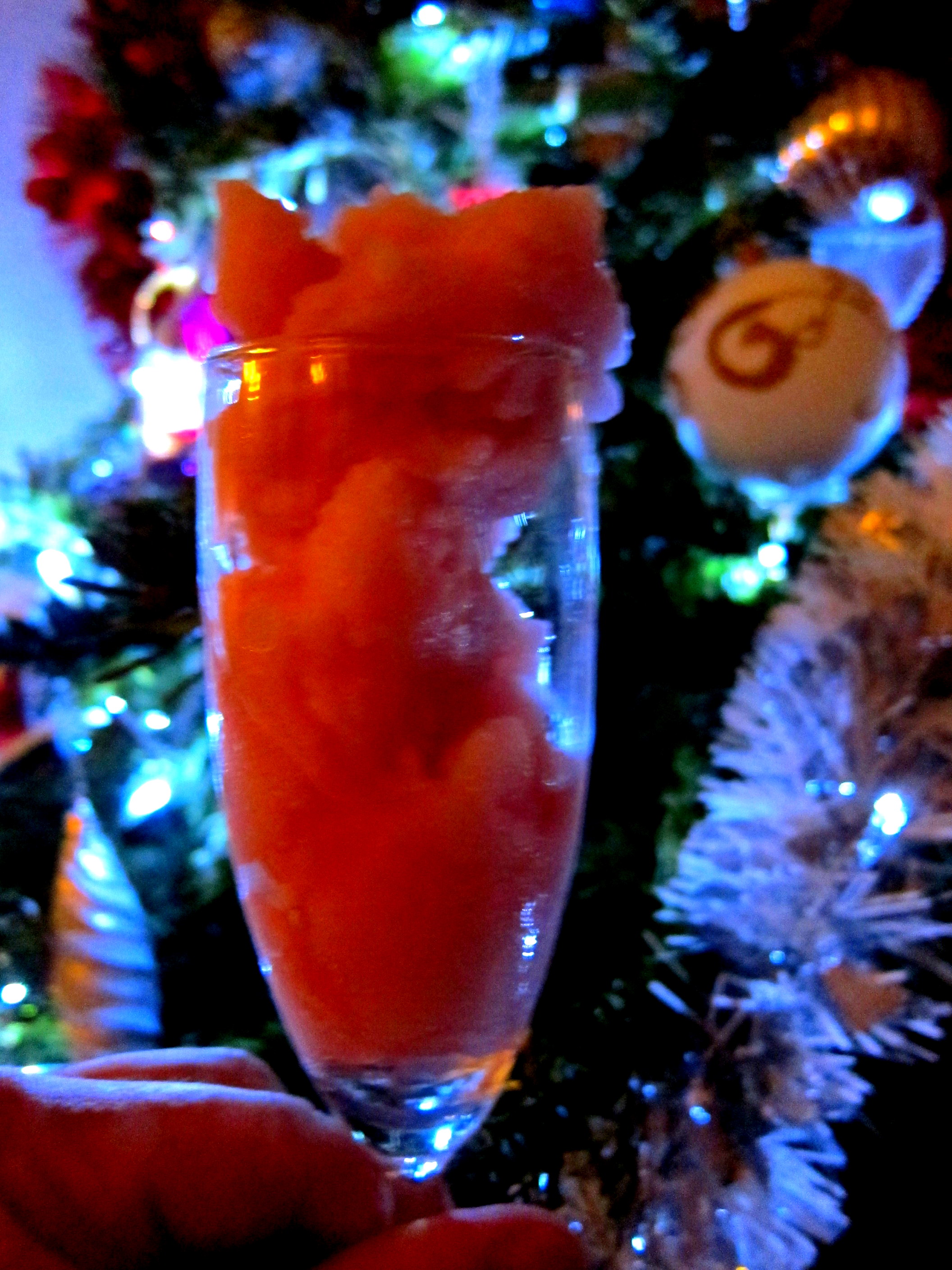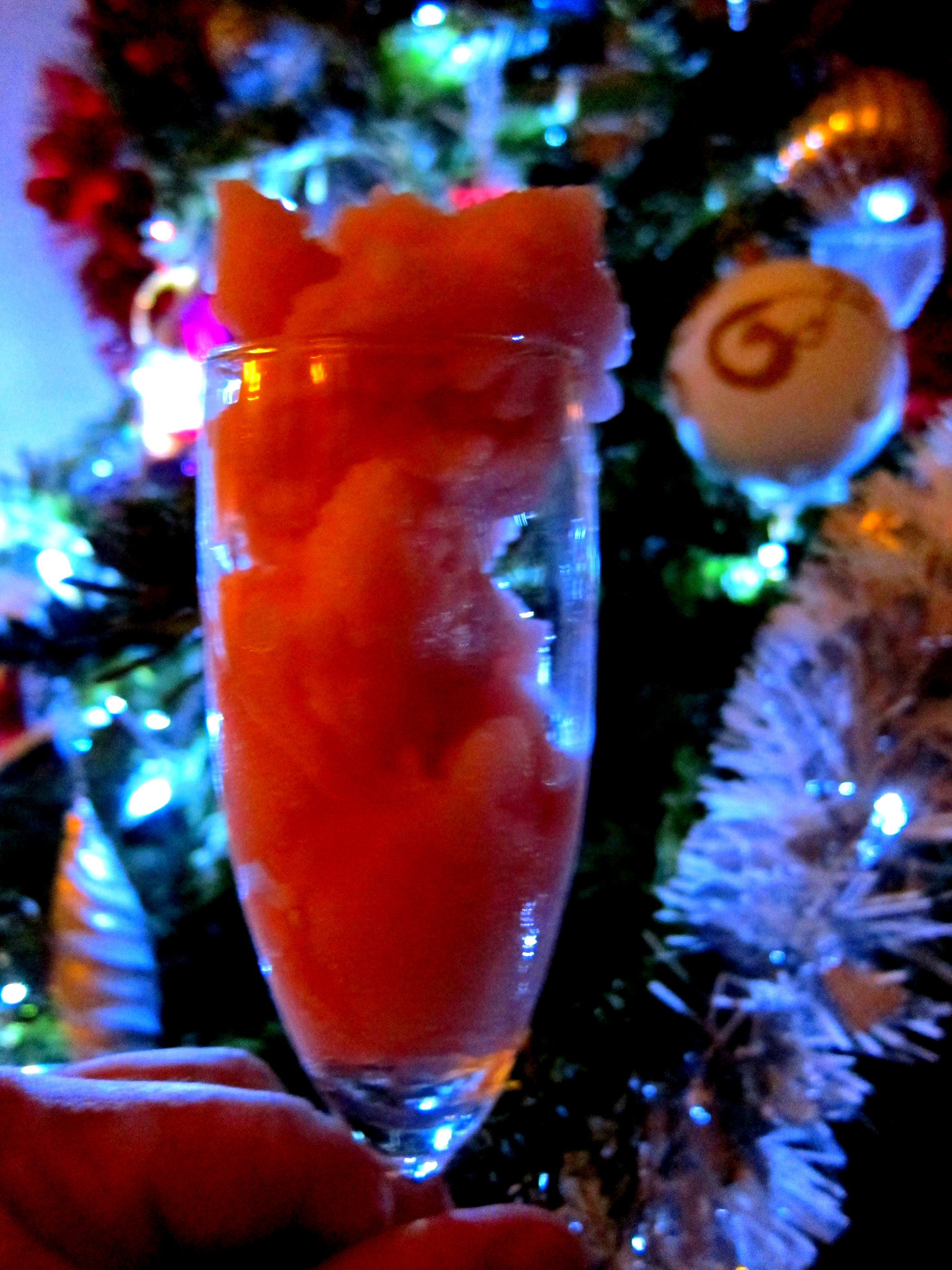 Kir Royale sorbet – is there a better, classier way to celebrate the New Year? While providing the nice qualities of sparkling wine sorbets in general, the blackcurrant will also ensure the happiness of those who may prefer something more than "just" sparkling wine in general as the flavour. 
Not fond of blackcurrant? Why not test another type of liqueur then, like peach or raspberry? Both of these "approved" Kir-versions have fancy French names which you can use to dazzle and impress your guests: Kir Pêche (for the peach) and Kir Impérial (for the raspberry).
Happy New Year!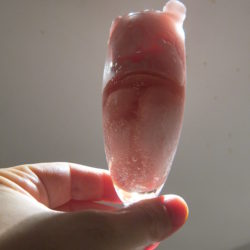 Sparkling New Year - Kir Royale sorbet
A classy French-inspired frozen treat, based on sparkling wine and blackcurrant liqueur. Not fond of blackcurrant? - Swap it for some peach- or raspberry liqueur!
Ingredients
500

ml

(about 2.1 cups) sugar syrup (made up of 200 ml (about 4/5 cup) sugar, 2 tbsp lemon juice, 250 ml (about 1 cup) sparkling water)

400-500

ml

(1.7-2.1 cups) sparkling wine of good quality (real Champagne optional 😉 )

100

ml

(about 0,4 cup) blackcurrant liqueur (like Crème de Cassis).

2

tablespoons

inverted sugar like corn syrup, agave nectar or similar

Juice of 1 lemon (about 6 tablespoons)

optional: 1 whipped-up egg white, or some Italian meringue or some aquafaba, for improved consistency and texture
Instructions
Mix together the sugar syrup. Beat in the inverted sugar.

Blend the sugar syrup, the sparkling wine, the liqueur, and the remaining lemon juice.

If you are cautious, check that the sugar level is appropriate (the Egg test should give a good enough indication).

Churn in your ice cream maker according to instructions (avoid overchurning!)

[if using a raw egg white, whip it lightly-stiff and add to the sorbet base towards the end of the churning. If using Italian meringue or Aquafaba, also add these towards the end of the churning].

Consume on the spot or put in freezer-safe container, cover with plastic film and lid, and put in the freezer.

As this sorbet does not store well (especially if not "boosted" with egg white/Italian meringue/Aquafaba), it should preferably be enjoyed soon after preparation and not saved for a later day!
Notes
Using egg white/Italian meringue/Aguafaba all provide additional stability to the sorbet, which could be something to consider if the sorbet is to be stored for some time before serving. In other words, there would typically be no particular need to add anything if the sorbet is to be enjoyed the same day it is made.
Also - beware that using raw egg whites can be a health hazard: to be avoided, especially when serving children, pregnant women (two groups that ought to avoid alcoholic stuff anyway ...) and the elderly!