Polka (stick candy) ice cream
Stick candy – most of us have probably cherished memories of sucking at lollipops and their hard likes. So why not mix some of this candy into a delicious ice cream? And we'll be using the very best Swedish stick candy available – Polkagrisar!  [but any good stick candy will do, in a pinch 😉 ]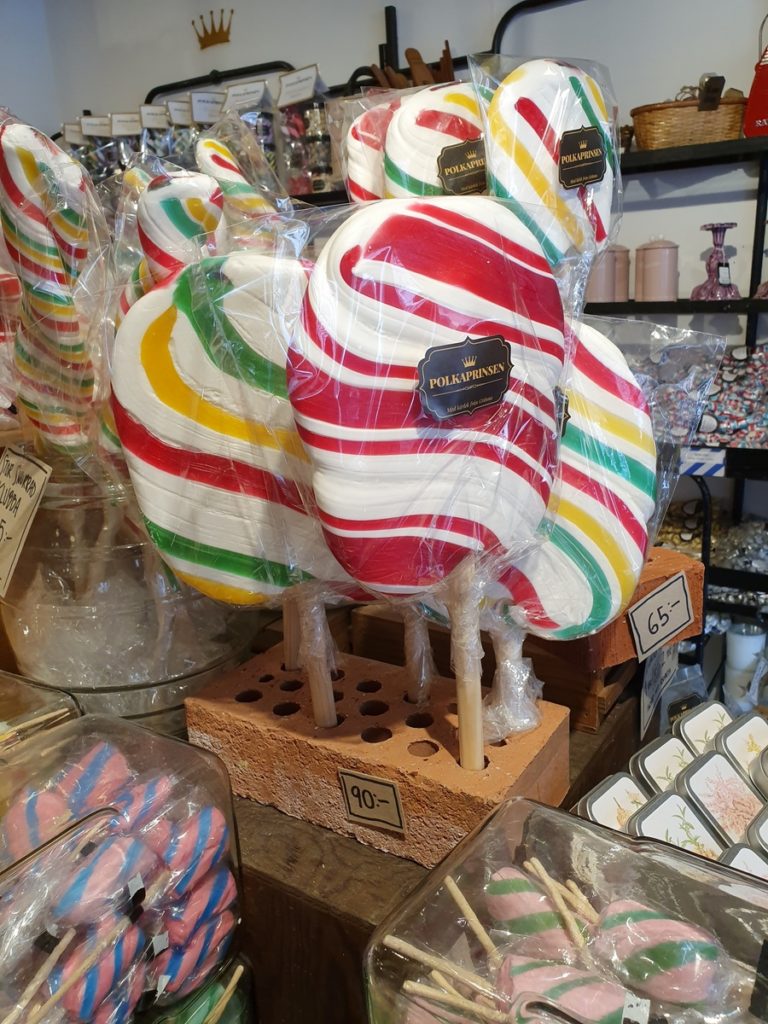 Stick candy – candy with a past
Stick candy has a long, long history and generations of kids mesmerised by lollipops and candy canes can attest to its enduring popularity!
Basically composed of a mix of sugar, water, some vinegar or cream of tartrate and flavouring, the history of this particular hard candy goes back to at least the 1600's.  Some claim that the first candy canes were invented in Germany around 1670.  (in the US, stick candy history is said to have begun in the 1830's). But the art of shaping sugar mixed with water and flavouring, and turning it into hard candy also developed elsewhere. For example, every Swede knows that the best polkagrisar ["polka pigs") come from the idyllic little Swedish town Gränna.
In 1859, the industrious widow Amalia Eriksson began a production of polkagrisar which would put the small town on the world candy map. Today, about 150 years later, the basic elements of the peppermint sticks  still remain the same (sugar, water, vinegar, peppermint oil). However, the classic red-and-white peppermint stick no longer rules supreme: these days, you can have your polkagris in a myriad of other more or less exotic flavours and colours.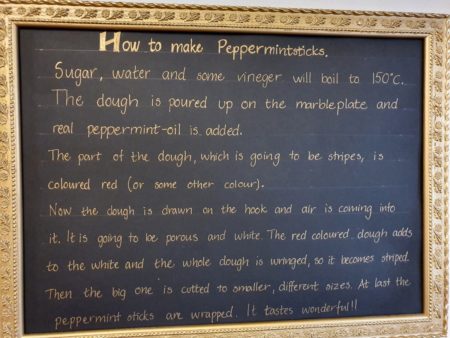 If you would like to make your own stick candy, you could take a look at this blackboard with instructions in English which I found in one of the oldest Gränna candy workshops.
Of course, it looks so very easy when the professionals do it. I decided to simply buy myself a bag of smaller pieces, already then thinking about making polka ice cream!
An ice cream base well suited for candy: Philly-style!
While you could use basically any ice cream base, I have a special soft spot for the American (Philadelphia) style base when it comes to hard candy (or cookies). This makes our preparations exceedingly easy: aside from crushing the stick-candy to suitable size, we only have to mix some sugar with milk and cream straight from the kitchen refrigerator. Then churn this mix in your ice cream machine until finished. Afterwards, calmly stir in the roughly crushed hard candy!
Oh, and true to my habits, I added some natural yoghurt to the cream and the milk: this in order to add a sense of dairy "freshness" and counterbalance Philly-style ice cream's tendency to sometimes come across as "too creamy" on the palate.
Time to break down the candy!
For the stick candy, I (of course) went with the Swedish Polkagris-stuff. You can certainly use other types of hard candy, but I suggest that you choose something with nice and distinct flavours! As noted, the Polkagris signature flavour is peppermint, which works perfectly in this ice cream!
Time to stir in the candy …
Nothing stops you from adding the candy pieces already during the later stages of the churning. However, you might as well churn the ice cream to finish and then simply stir in the candy before putting it in the freezer (or enjoying it right away).
Polka candy goodness
The Polka ice cream is a real treat for anyone remotely interested in candy. For those of us with a more active interest, it is even better!
Since I used the Swedish polkagris candy, the principal flavour was peppermint – deliciously administrated through the delectable pieces of crushed candy frozen into the ice cream. The consistency of the ice cream is very good – partly a consequence of the sugar and cream in the base, and partly because of the sweet candy itself.
So, next time you come across some good hard candy, consider making an ice cream out of it: Candy-lovers of all ages will surely be delighted!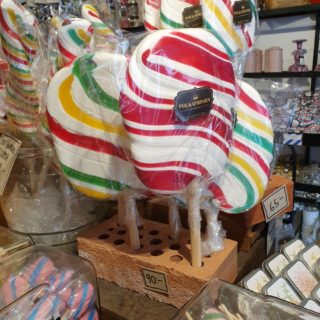 Polka (stick candy) ice cream
Stick candy, here the Swedish signature type Polkagris (Polka peppermint hard candy) flavours this easy-to-make ice cream: a delight for all lovers of candy!
Ingredients
400

ml

(1.7 cups) cream

200

ml

(about 4/5 cup) milk

100

ml

(about 2/5 cup) neutral yoghurt (about 2 % fat)

About 100-125

ml

(about 2/5-1/2 cup) sugar

Optional: 1 tablespoon inverted sugar like corn syrup

About 100 gram's worth of Polkagris stick candy [or other good hard candy] broken into smaller pieces but not completely crushed)
Instructions
In a bowl, mix together the sugar(s), the milk, the cream and the yoghurt.

Crush the candy into smaller pieces, suitable for ice cream consumption: avoid crushing them to a powder (unless you are striving for a smoother ice cream without much noticeable pieces of course)

Churn the base in your ice cream machine (or still-freeze using only your freezer: see the blog for useful advice on how to best to that).

When the churning has finished, pour the ice cream in a freezer safe container, pour over the candy pieces and stir around with a knife or fork until the candy has been incorporated into the base.

Put on plastic film and a lid, and let the ice cream firm up in the freezer an hour or more before serving (for a more "integrated result" - nothing stops you from enjoying it right away ...)