Summer Strawberries ice cream
Strawberries … few would argue that this might be the most "summery" of all ice cream flavours! As the stalls near me began to showcase the first summer strawberries, there was only one thing to do: ice cream!  Curious as to whether it would be possible to make a really good thing even better, I turned to one of my most trusted recipes. Would it be possible to tweak it a little, yet still keep it super-simple to make?
Spoiler alert – Yes, it was possible. Read on, and upgrade your strawberry ice cream-making skills in time for the summer season!
Strawberries on my mind
The other day, I learned that strawberries  – botanically speaking – are fruits, not berries. It also seems that the variety we think of as "strawberry" today – the "Garden strawberry" is a hybrid species stemming from crossing of two species of wild strawberries in France as late as in the 1750s! (by the way: if you are as fond of Wikipedia as I am – support them!)
As usual, many different bases can be used for strawberry ice cream. My personal favourite, however, remains the uncooked and simple-to-make Philadelphia (American style) base: no eggs, just fresh dairy and the freshness of the strawberries preserved in all their tasty glory!
Easy steps to a great summer ice cream!
Making this ice cream could not be easier: roughly speaking, you purée the strawberries, whip some cream and mix the few ingredients together – churn it, and enjoy!
But I mentioned that I was trying to improve on my most basic and trusted Strawberry ice cream recipe, and here is how:
Start by rinsing, hulling and slicing the strawberries. Pour over the sugar (those who want to cut down on the amount of sugar could – as I did – replace a part of the sugar with birch sugar, also known as xylitol: my favourite sugar replacement  for ice cream use). Squeeze over the juice of the lemon (or a lime: both works equally well) and shake/blend the strawberries.
Set the strawberries aside to macerate for at least half an hour or longer: a process that will enhance the flavour of the berries.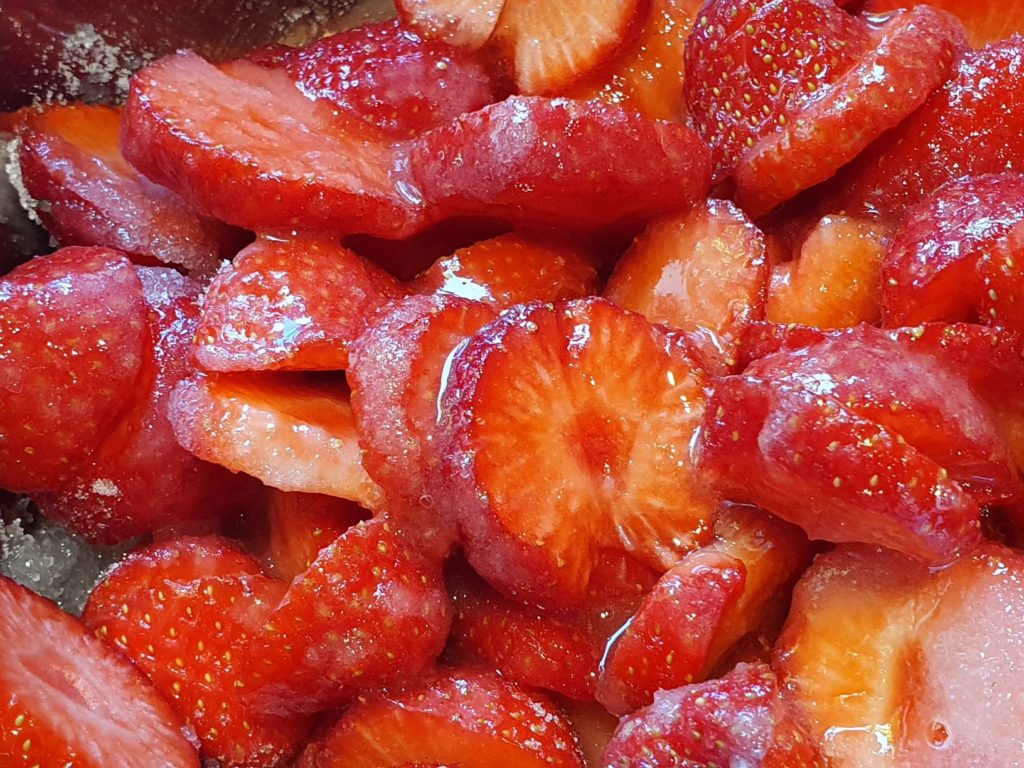 Maceration in process: pour on the sugar, mix the berries a little and squeeze over the citrus juice of your choice (lemon or lime works equally well). Set aside for at least half an hour or so.
When the maceration is over, purée the strawberries. If you are in no hurry, you can put the purée in your refrigerator to chill. Otherwise, briskly continue to the next steps and make your ice cream on the spot!
Next stop – the dairy. We  will start with the cream – the classic main actor in Philadelphia style ice creams. However, as a tweak, we will whip the cream that goes into the base. This will increase the overall amount of air in the ice cream, and greatly improve the general consistency.
To somewhat counter-balance an (overly) creamy taste which sometimes is a risk with Philadelphia style ice creams, we'll add a little crème fraîche: soured cream with a high fat content –  this in order to gain a slightly tangy touch to the overall mix.
Blend the purée, the milk, and the cream/crème fraîche together – the base is ready! 
If you like, you can add about 1 tablespoon or so of Kirsch . The Kirsch will (slightly) add to the flavour of the strawberries, and will – as alcohol does – also improve the consistency once the ice cream ends up in the freezer. The consistency improvement can also be achieved by adding some neutral hard liquor (like vodka) but  if you plan to enjoy the ice cream right away and not store it, there is really little need for it.
Churn in your ice cream machine and enjoy!
No ice cream machine available?  – Then try still-freezing the ice cream using only your household freezer and some additional labour (go to this post for helpful general suggestions on how to best to that!).
Strawberry ice cream – unparalleled summer treat!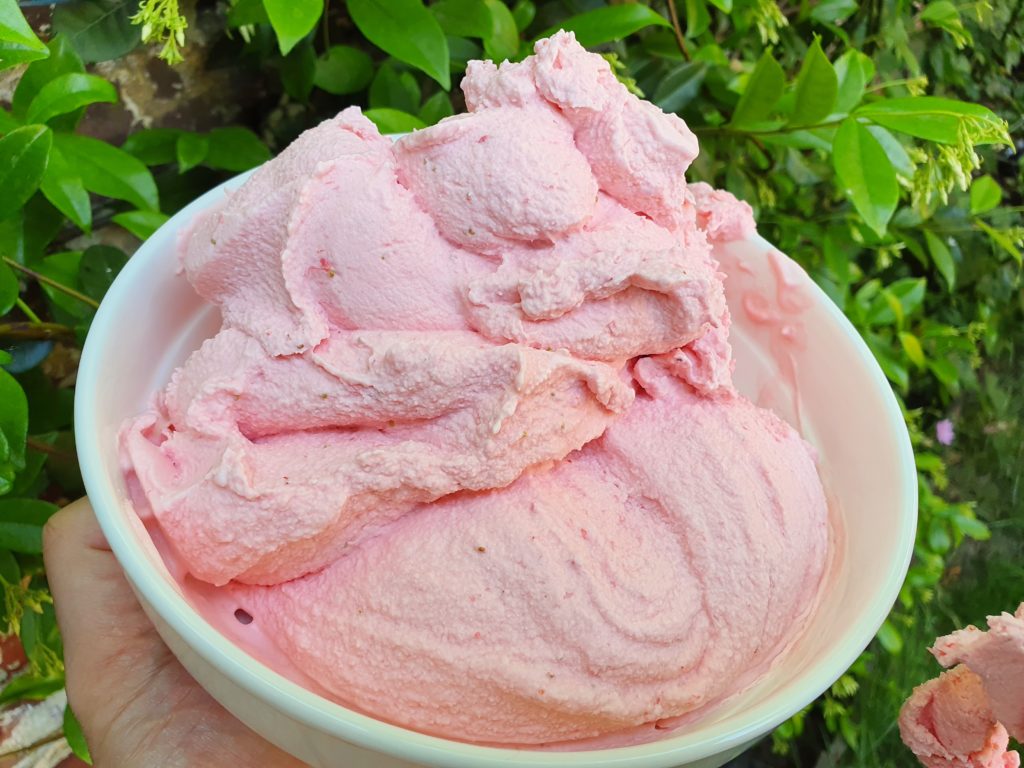 Some simple recipes never fail to astonish – this is one of them! A simple tweak like whipping the cream to be used made this heavenly strawberry dream even more fluffy and delightful. The ice cream is very nice also after spending some time in the freezer, but nothing compares to the joy of savouring it freshly churned! In poetic terms, I'd probably try to describe the sensation as something like enjoying puffy sweet clouds of strawberry summer goodness 🙂 . The ingredients are few and should be easy to get hold of.  And the result is amazing!
My son first grumbled that he didn't really like strawberry ice cream … until he had a taste and instantly converted, happily joining the family in an ice cream-eating frenzy that left nothing for the freezer. But don't take my word for it! Get yourself some strawberries and get going!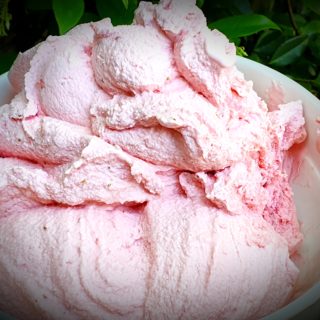 Summer Strawberries ice cream
Tweaking an old favourite recipe of mine, this summery strawberry ice cream is easy to make. The base is classic Philadelphia-style (no eggs, just fresh dairy) and the result is marvellously tasty!
Ingredients
about 250 gram fresh strawberries

150

ml

(2/3 cup) sugar

alternatively, 100 ml sugar and 50 ml xylitol - a k a birch sugar

350

ml

(1 2/5 cup) cream (35 % fat, but preferably higher. I used 40 %)

250

ml

(1 cup) whole milk

100

ml

(about 2/5 cup) crème fraîche

juice of 1/2 lemon or lime

optional: 1/2-1 tablespoon Kirsch, or a neutral hard liquor like vodka
Instructions
Rinse, hull and slice the strawberries. Put them in a bowl.

Pour over the sugar and the citrus juice. Shake well and set aside to macerate for at least half an hour or longer.

When the strawberries are ready, purée them with a mixer (If you are in no hurry, put the mix in the fridge to chill for an hour or more).

Whip the cream relatively firmly, then blend in the crème fraîche.

Mix together the strawberry purée, the cream-crème fraîche mix and the milk.

If using, add the kirsch/hard liquor to the base.

Churn in your ice cream machine (or still-freeze using your household freezer).

Enjoy - while the ice cream remains nice also after some time in the freezer, I personally think that it is at its very best freshly churned!