Lemon Ice Cream (the easy way)
"If life hands you lemons, make lemon ice cream"
– If you find this piece of advice to be easier said than done, you have obviously not seen this super-easy recipe: only three ingredients (including one lemon) and no need for any ice cream machine either!
Sweetened condensed milk: a sure-fire way to nice, easy ice cream
Avid readers might remember the recent post on delicious Mango Cinnamon ice cream. Like that one, today's lemon recipe is based largely on sweetened condensed milk. I won't repeat what I wrote about this peculiar form of milk (usually sold in cans) there, but it suffices to say that it is perfectly fit for ice cream-making.
Two good friends, Nisse and Gunilla, were kind enough to share this recipe with me. Following their enthusiastic praise, I just had to try it!
Today's recipe is a minimalist gem – all it takes is three ingredients: the sweetened condensed milk, a lemon and some cream. In other words – if you are able to open a tin can, squeeze a lemon and pour some cream, you should have no problems whatsoever to make this ice cream.
Take the three ingredients, mix them and freeze: Finished!
While it really is that easy, we will actually grate the lemon in order to add the zest to the mix, along with the lemon juice.
When the lemon-part is ready, we only need to add the sweetened condensed milk and the cream.
Finally, the cream! Just add it, and whisk it all together.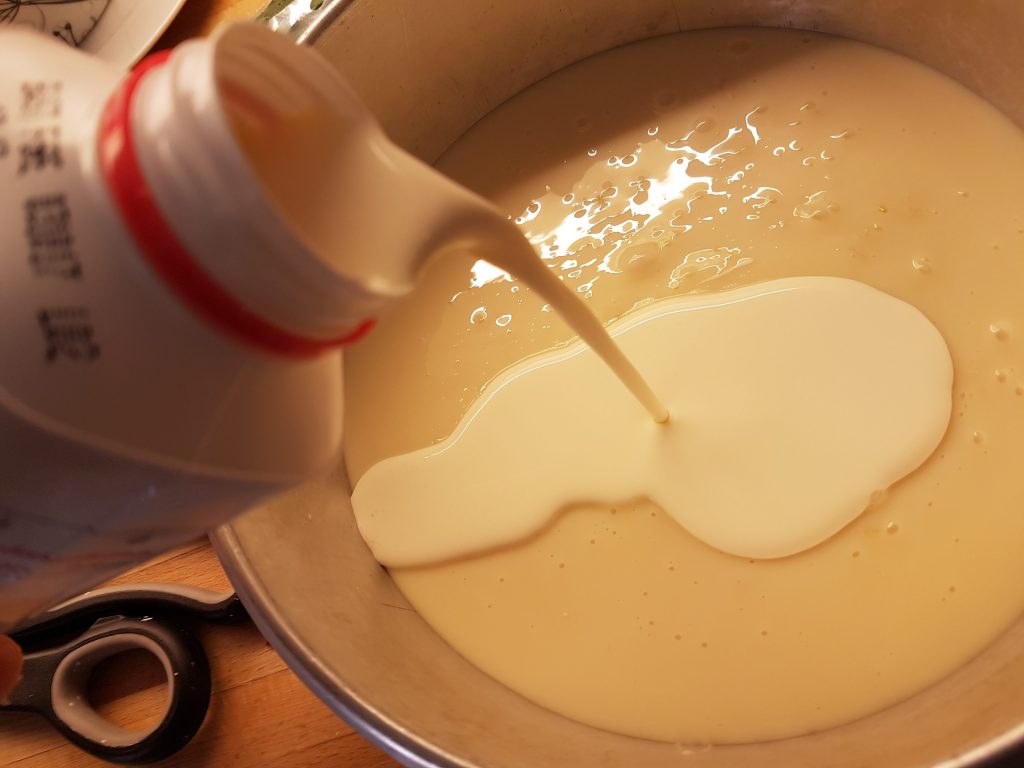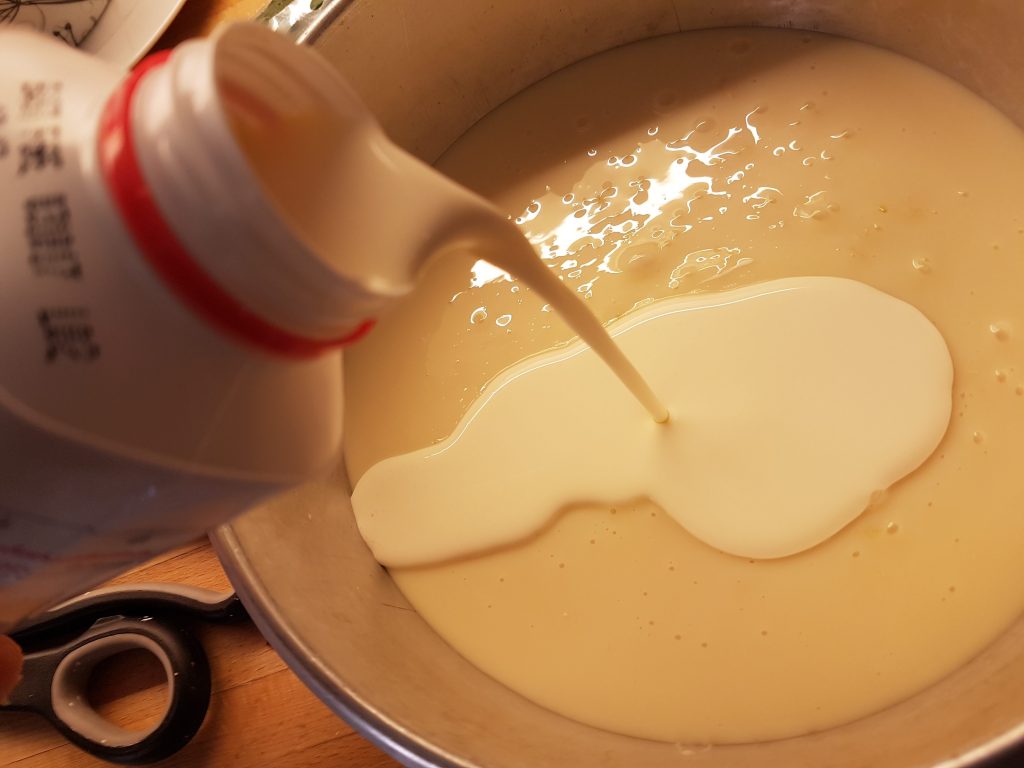 As mentioned, there is very little "free-roaming" water in this mix. This is perfect for those who want to make an ice cream without an ice cream machine. Still-freezing this ice cream in your ordinary kitchen freezer will still give you an ice cream relatively free from unpleasantly large ice crystals (otherwise one of the more difficult things to avoid when operating without an ice cream machine).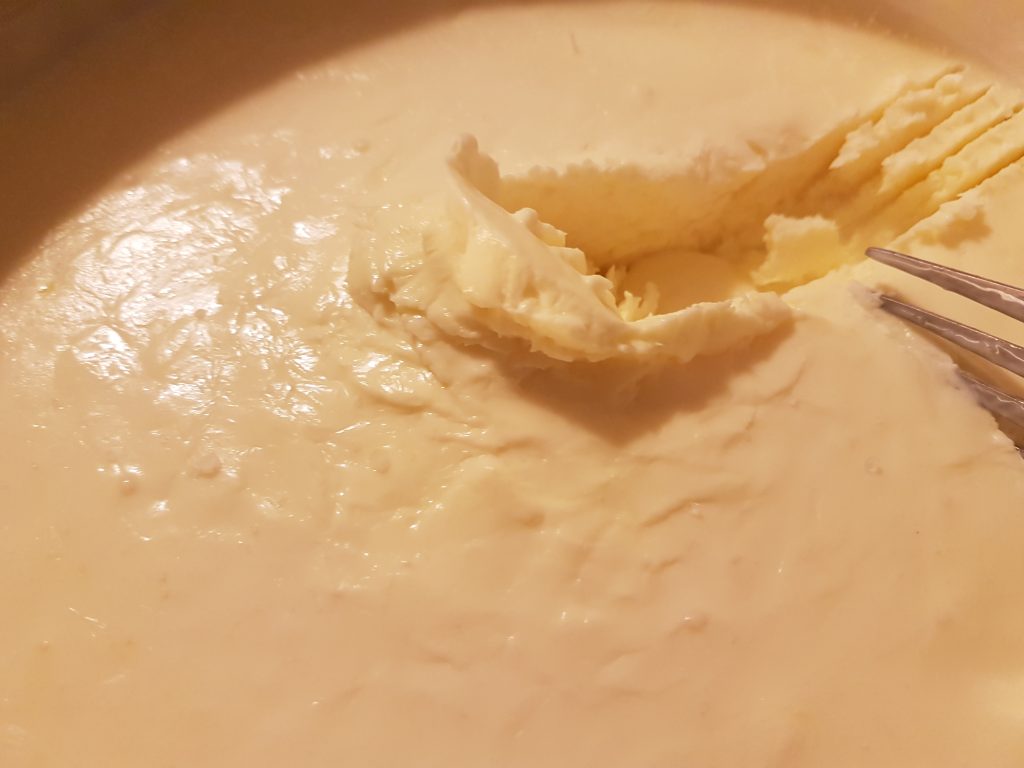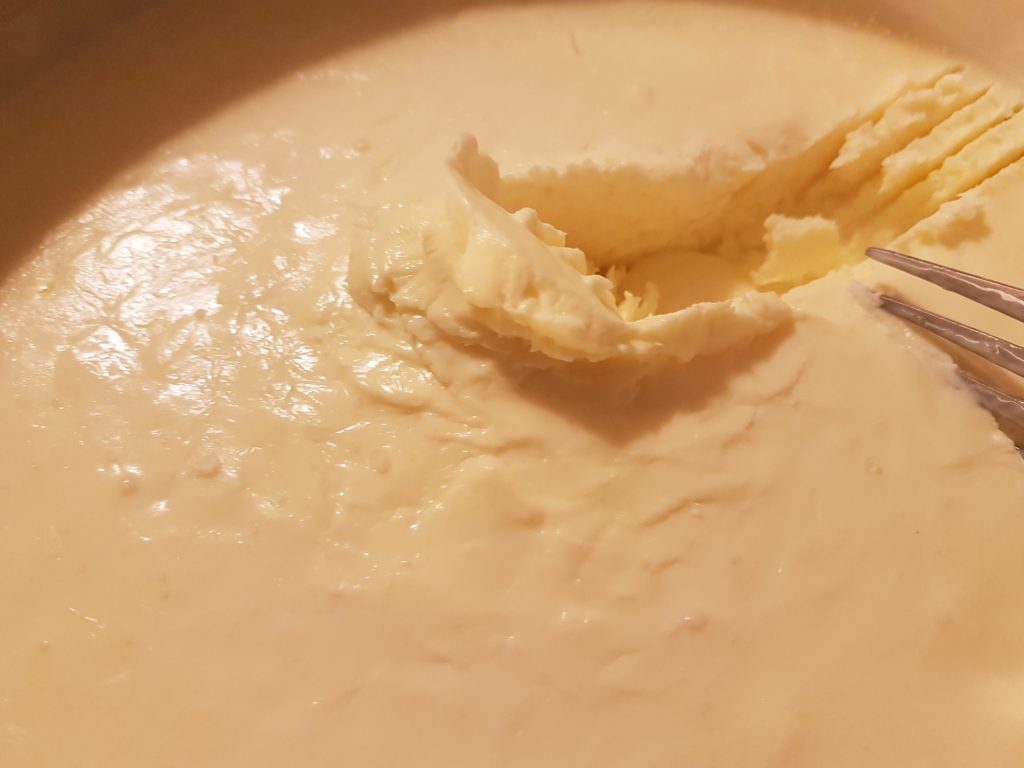 After a few hours in the household freezer, the ice cream base has frozen quite a bit. If you are like me, you probably still want to take a fork or something and churn the ice cream by hand – this base should probably work quite well even without any manual churning, but it should still speed up the freezing process somewhat and also possibly improve the final consistency a little.
The final ice cream has a nice consistency, and (as you can see) even looks very nice!
Simple lemony pleasures
My friends considered the sweet and slightly understated lemon flavour one of the summer's ice cream highlights. I tend to agree that the limited amount of lemon juice and zest creates a more interesting, less obvious tasting experience than if more lemon had been used. Add to this a great consistency, thanks to the particular base with sweetened condensed milk and cream, and this even if no ice cream machine is used in the making.
So – why not give it a try? It is difficult to find an easier ice cream to make … and a delicate lemony experience to be gained!
Lemon Ice Cream (super-easy)
By:
Anders@icecreamnation.org
Courtesy of two of my good friends comes a super-easy recipe for delectable lemon ice cream. Thanks to the base of sweetened condensed milk, this one is really good when you have no access to an ice cream machine, since it will turn out well even in a normal household freezer!
Ingredients
1 can of sweetened condensed milk
500 ml (about 2.1 cups) cream
1 lemon (juice and zest)
Instructions
Take the lemon, grate the zest and squeeze the juice.
Mix the cream and the sweetened condensed milk, add the lemon juice and the zest.
Churn in your ice cream machine, or still-freeze in your home-freezer.