Quick Stracciatella
"Stracciare" means  "to shred" or "to tear up" in Italian. And in Italy, the birthplace of the famous ice cream flavour, 'stracciatella' can also refer to a cheese, or a Roman soup-like dish  (where the shreds come from eggs). But most fans of ice cream probably think about vanilla ice cream with small, delicious shreds of dark chocolate!
Stracciatella is not just your ordinary "vanilla and chocolate chips ice cream". The method of "drizzling in" the (melted) chocolate creates the characteristic shreds – when the melted chocolate hits the cold vanilla ice cream base it immediately hardens and  breaks into small, brittle shreds – which then are dispersed throughout the ice cream during the churning.
Choosing a suitable ice cream base … and taking the fast lane  
Any ice cream base would do fine for this flavour – if you want to be true to the Italian origins, I would recommend an Italian gelato base, or  Sicilian gelato (egg-less, and made with crema rinforzata based on corn starch).
These two make for excellent bases, but I wanted to see if a quick Philadelphia-style (American style) vanilla base also could do the trick. After all, at times when you are overcome with a sudden desire for ice cream, you may not be in the most patient mood. Going through the motions of first cooking a base that needs to cool down and preferably spend hours in the refrigerator before churning might require more patience than you have. This was at least my feeling when I made my way to the fridge, hoping for results within the hour.
So – without further ado: Let us take out some cold cream, milk and (preferably) a couple of eggs from the fridge and prepare a quick vanilla ice cream base.
On this particular day, I was not only impatient but also very much in the mood for chocolate. Hence, instead of a pure vanilla base, I decided to added some cocoa powder (and even some coffee liquor) and ended up with vanilla-with-a-hint-of-chocolate as a base flavour. Of course, if you prefer the more classic pure vanilla-only, just omit those extras:-) .
Melting the chocolate
Melting chocolate can be a bit of a hassle – for example, you do not want to end up with burned chocolate. In order to avoid such unpleasantries,  many advocate melting chocolate by using a  bain-marie (water bath). In my experience, access to a micro-wave oven also produces excellent results.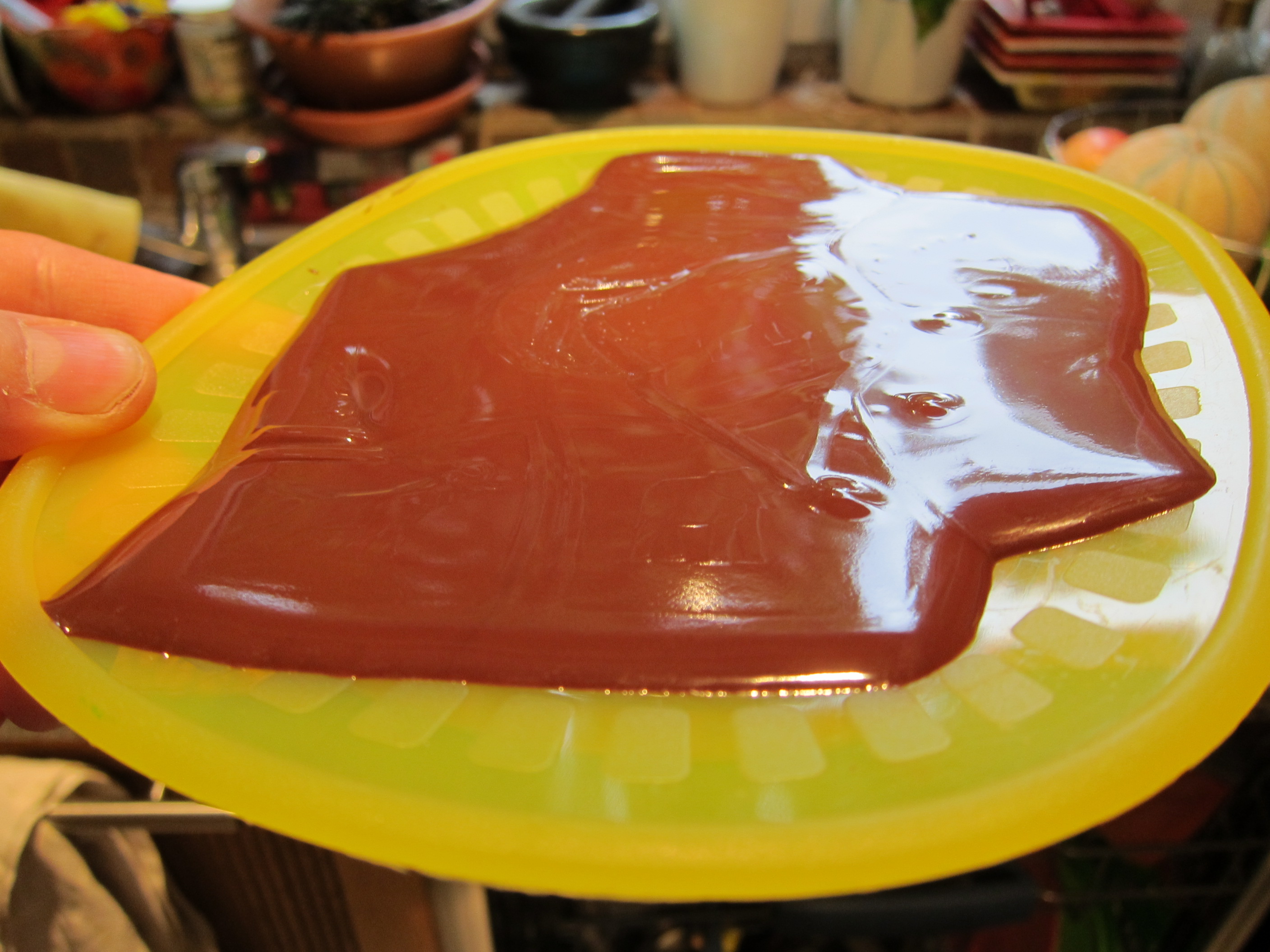 The finale – drizzling in the chocolate!
With the ice cream base almost churned, I drizzled in the melted chocolate. Watching the thin (and sometimes not so thin …) stream of chocolate hit the freezing ice cream, solidify and break up into shreds gave quick assurances that things were going exactly as they were supposed to.  In case you want to experiment with different sizes, just remember that the thinner the stream of melted chocolate, the smaller the shreds (and vice versa).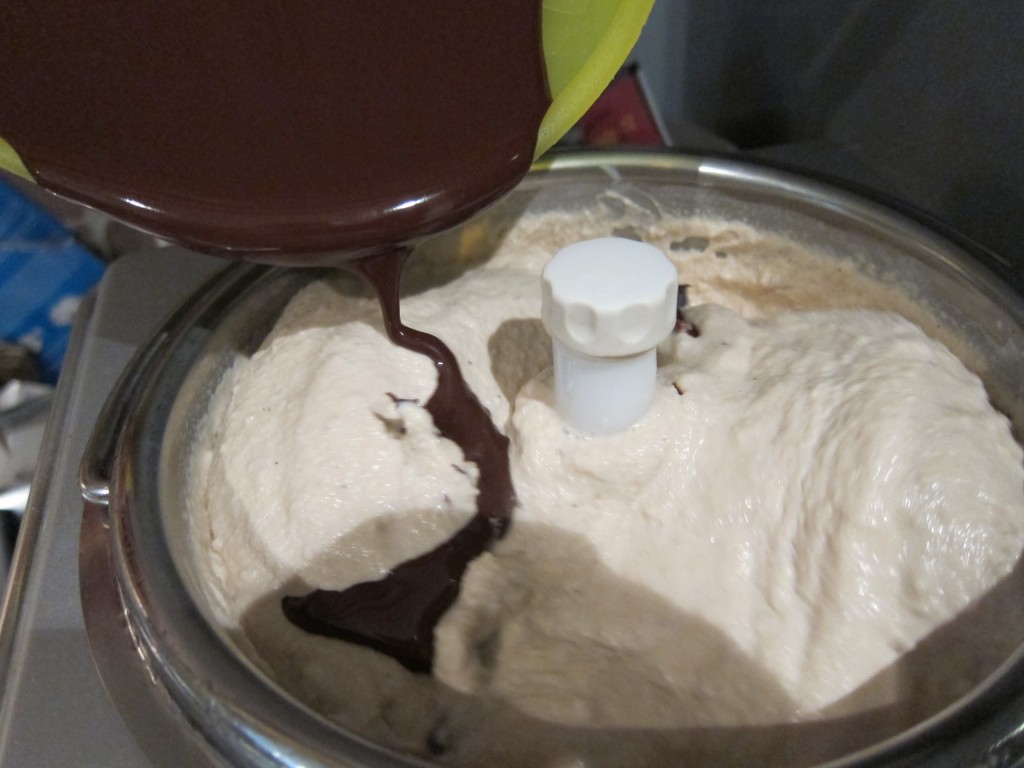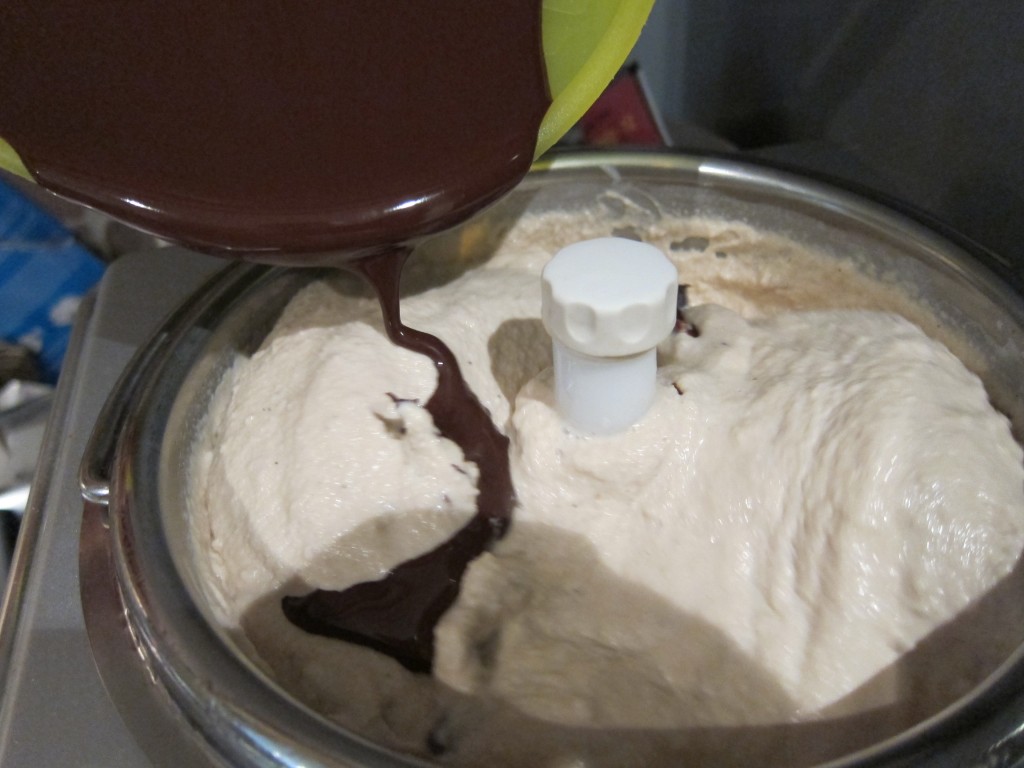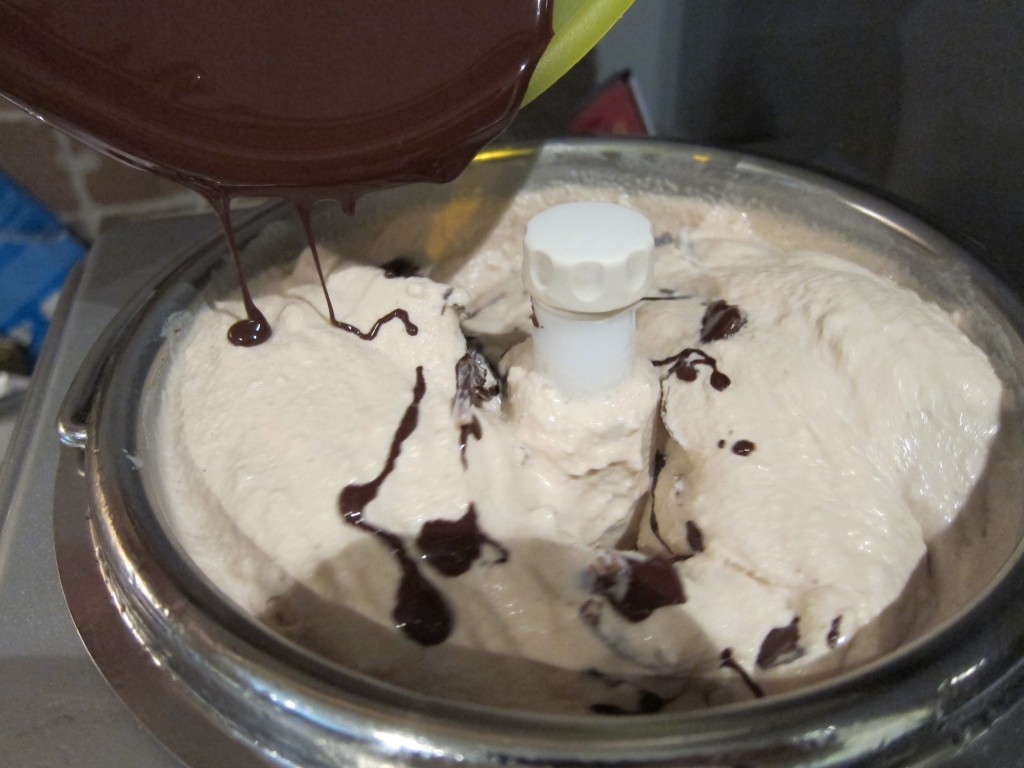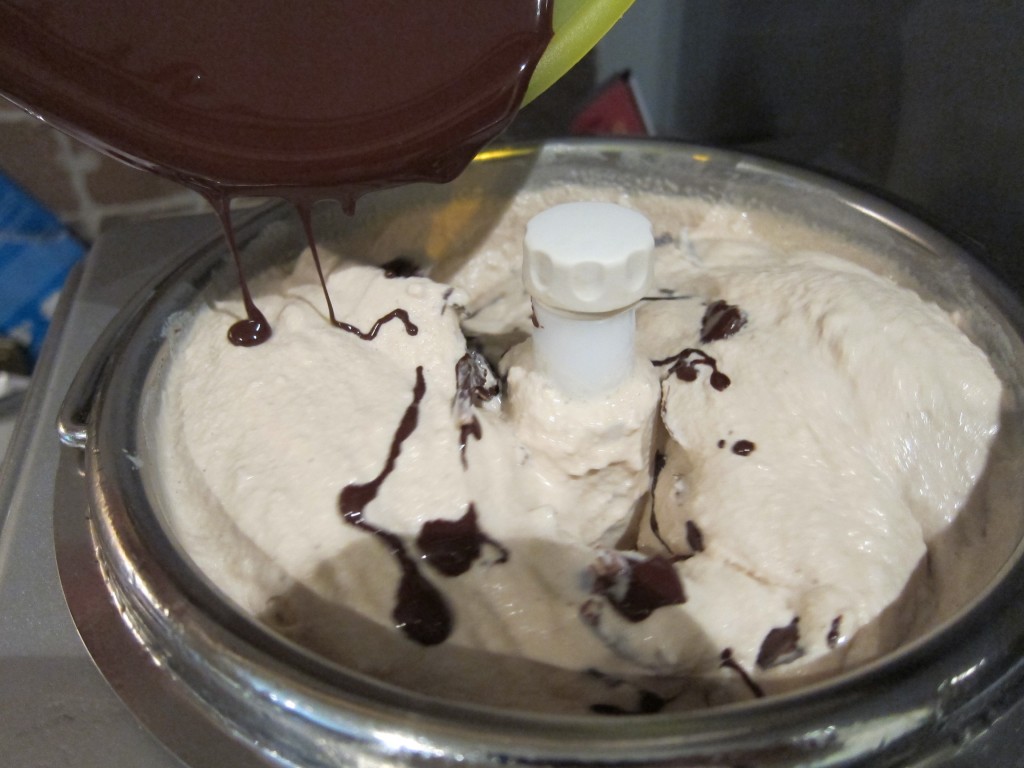 Philadelphia-style ice cream usually tastes best when enjoyed fresh – luckily also what you normally would be looking for when choosing to do a quick ice cream!
A quick kitchen-survey confirmed that others than myself also liked the result … good to know for those hot days when fast access to fresh ice cream becomes essential:-)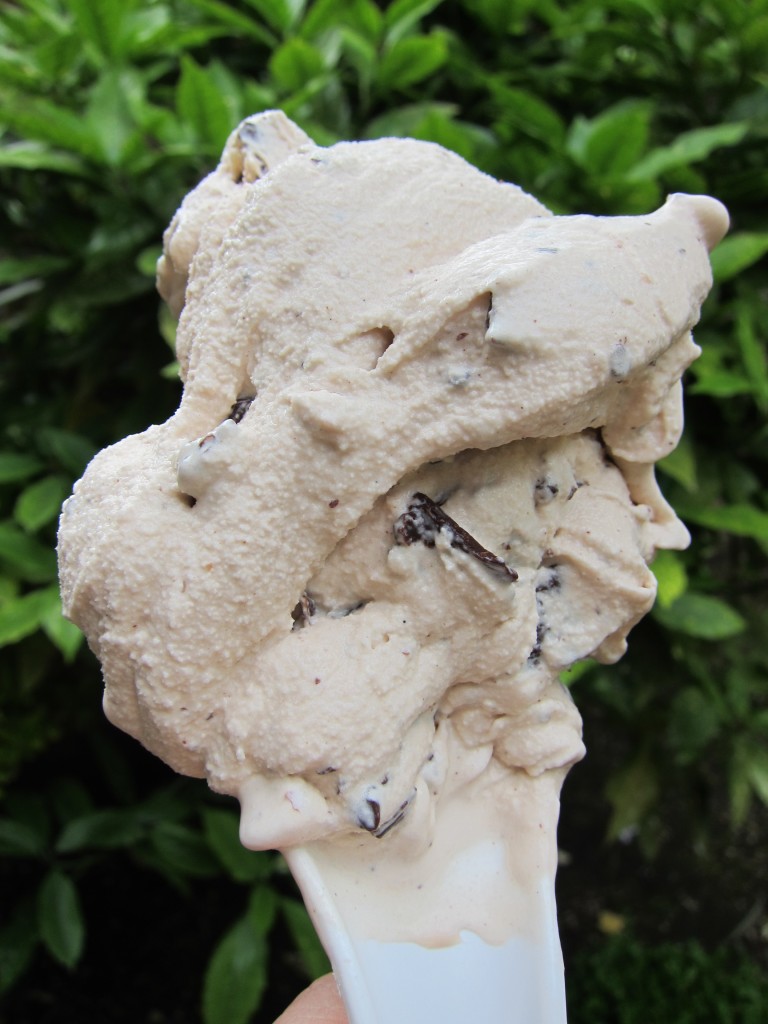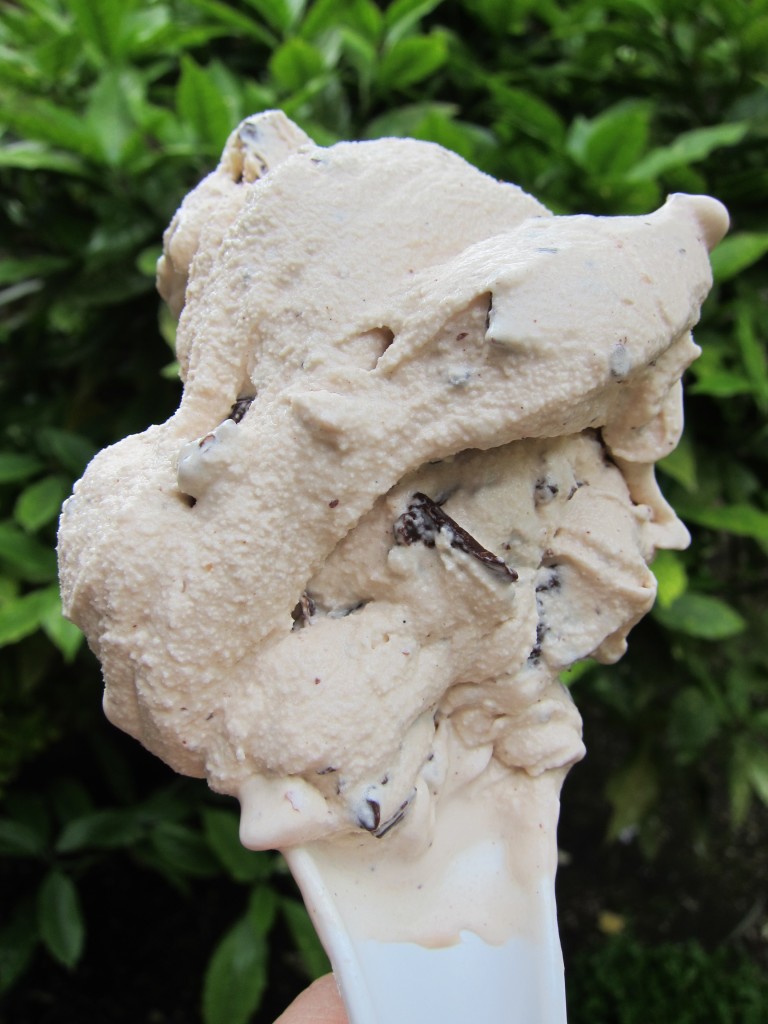 Quick Philadelphia-style Stracciatella based on cocoa-tinted vanilla
Ingredients
400 ml (a little less than 2 cups) cream
200 ml (a little less than 1 cup) milk
125-150 gram sugar
2 eggs
100 gram dark chocolate, melted (70 % cocoa, preferably)
Pinch of salt
(optional) 1 tablespoon cocoa powder of good quality
1 teaspoon genuine vanilla powder of good quality
(optional) 1-2 tablespoons of Kahlua coffee liquor or equivalent
Instructions
Whisk the eggs and whip together with the sugar.
Add the milk and the cream, the salt, the vanilla powder (and the cocoa powder and the coffee liquor, if using).
Churn in your ice cream machine until almost ready.
Melt the chocolate and drizzle it (in a slow, thin stream) into the (still churning) vanilla ice cream. Watch the chocolate solidify break up in brittle shreds.
Enjoy fresh, or store in a freezer-safe container, covering the ice cream with plastic film before putting on the lid.
Notes
Unlike "classic" Philadelphia-style ice cream, this recipe contains eggs. If you do not want to use raw eggs (or any eggs), feel free to omit them - that will, however, affect the consistency of the ice cream, making it all the more recommended to enjoy the final ice cream as fresh as possible. As noted, if you prefer a "pure" vanilla base, do exclude the cocoa-powder and the coffee liquor, and instead add another teaspoon of vanilla powder. If you still would like to use some alcohol to make the ice cream softer (in case you plan on saving it in the freezer for later eating), you could instead use some neutral alcohol, like vodka.