White House Cherry ice cream
No need to wait for a Presidential invitation!  Grab some Maraschino cherries, and we'll make our own White House Cherry.
The White House  is clearly one of the emblematic landmarks of the United States. Somewhat surprisingly, however, there does not seem to be any particular links between the Presidential residence and White House Cherry ice cream. So, sorry! No exciting stories to tell here about former US Presidents inventing, or craving, this ice cream.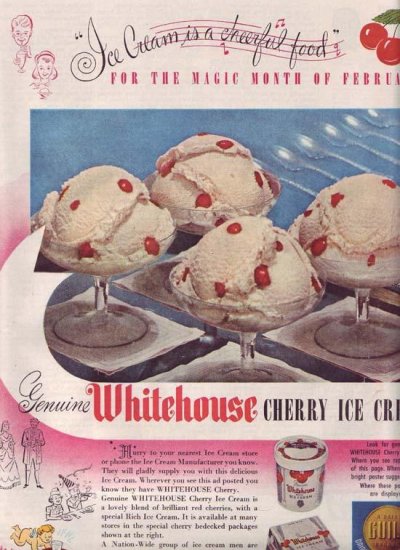 Still,  White House Cherry clearly qualifies as an American classic anyway, being advertised in US newspaper as early as 1929  (according to Lynne Olver at the  foodtimeline.org).
Presently, however, White House Cherry seems to have fallen somewhat out of fashion in the U.S.  According to fellow ice cream aficionado Michelle (better known as The Ice Cream Empress over at the Ice Cream Forum) who kindly helped out on the topic, this may have something to do with an American preference for fresh, rather than candied, cherries these days.  Be that as it may, the flavour has not been totally forgotten.  For example, Jeni's Splendid Ice creams recently picked it up (with added chocolate), so it cannot have lost all its pull. In Europe, however, I have never seen it for sale so it is indeed a good thing that we can make our own!
White House Cherry is basically vanilla ice cream mixed with Maraschino cherries. Let us start with the vanilla base. 
We have plenty to choose between on this front! Since we are dealing with a classic American ice cream, we could of course always use a simple Philadelphia style base. If you would like to cook the base, however, you could still avoid using eggs by going for a starch based ice cream (Sicilian gelato).  But personally, I wanted to test the Italian gelato base recently posted here.
Onwards to the Maraschino cherries!  These sweetened cherries are popular as emblematic toppings on cupcakes. But they are also found in many drinks, and were originally prepared by immersion in Maraschino liquor (thereby the name).
But already in the 1920's, American production began to replace the liquor with a non-alcoholic brining liquid and sugary syrup. Today, I would wager that almost all commercially available Maraschino cherries are produced without alcohol.
Taking the easy route, I used such prefabricated cherries, but you can of course also make your own (I found what appears to be helpful instructions here).  Once the vanilla base ice cream has been churned, the (whole, and well-drained) Maraschino cherries  should gently be added to the ice cream and blended in before freezing.
White House Cherry is a delicate flavour, very pleasing to those of us who like Maraschino cherries. It is also a very good looking ice cream, thanks to the highly decorative whole Maraschino cherries. And no, there is really no need to cut the Maraschino cherries to pieces before blending them into the vanilla: pitted and very sweetened, the cherries will offer no resistance to scooping anyway – and they look gorgeous!  Just make sure that the cherries are well drained before blending them into the vanilla ice cream.
Since we are dealing with highly sweet ingredients here, a word of caution might be appropriate. My first batch actually turned out to be overly sweet, partly also because of me using way too many cherries. That said, several friends still professed a liking, proving once again that taste is a very personal matter:-)
In the recipe below, however, the suggested sugar amount has been somewhat reduced, in order to better take account of the added sweetness from the cherries. And the overall amount of cherries have been somewhat reduced too.  If you are as sweet-toothed as the friends I just mentioned, however, you might want to tinker further with both the sugar- and the cherry amounts.  If so, I  happily leave it to you to find your personal favourite ratios;-)