Exotically spiced Almond ice cream
Like almonds? Like cinnamon and cardamom? Me to – let's combine these delicious flavours into one ice cream!
Avid readers already know about my love for all things almondy. As I also happen to love cinnamon and cardamom, I guess the creation of this recipe was just a matter of time!
 Simple and delicious
Catering to all of us with less time than we would like to our disposal, this recipe is one of those valuable "put all ingredients in a saucepan and it'll be ready in less than ten minutes"-ones.
The ingredients are also pretty straightforward – milk, cream, sugar, almonds, the spices and some agar-agar for improved consistency
(No agar-agar? Consider increasing the proportion of cream, or ponder adding 1-2 egg yolks; if so, do check out the posts covering custard-based ice creams for some good advise on how to best handle custard bases).
First, put all ingredients except for the Agar-agar in a sauce pan. Don't forget the spices!
When the base is hot and close to a boil, add the Agar agar.
Whisk, bring to a boil, then let simmer for about four minutes. 
This is not only to make sure that the spices release their flavours well, but also to ensure that the Agar agar "activates" properly. Once the temperature has been reduced, the Agar agar will begin to settle, thus improving the overall consistency and texture of the final ice cream.
Cool down the base as quickly as you can. Preferably, let it then chill overnight in your fridge.
Once chilled, remove the cinnamon stick(s) and churn the base in your ice cream machine.
If you have no ice cream machine, still-freeze in line with the instructions in this helpful post.
Spicy almond treat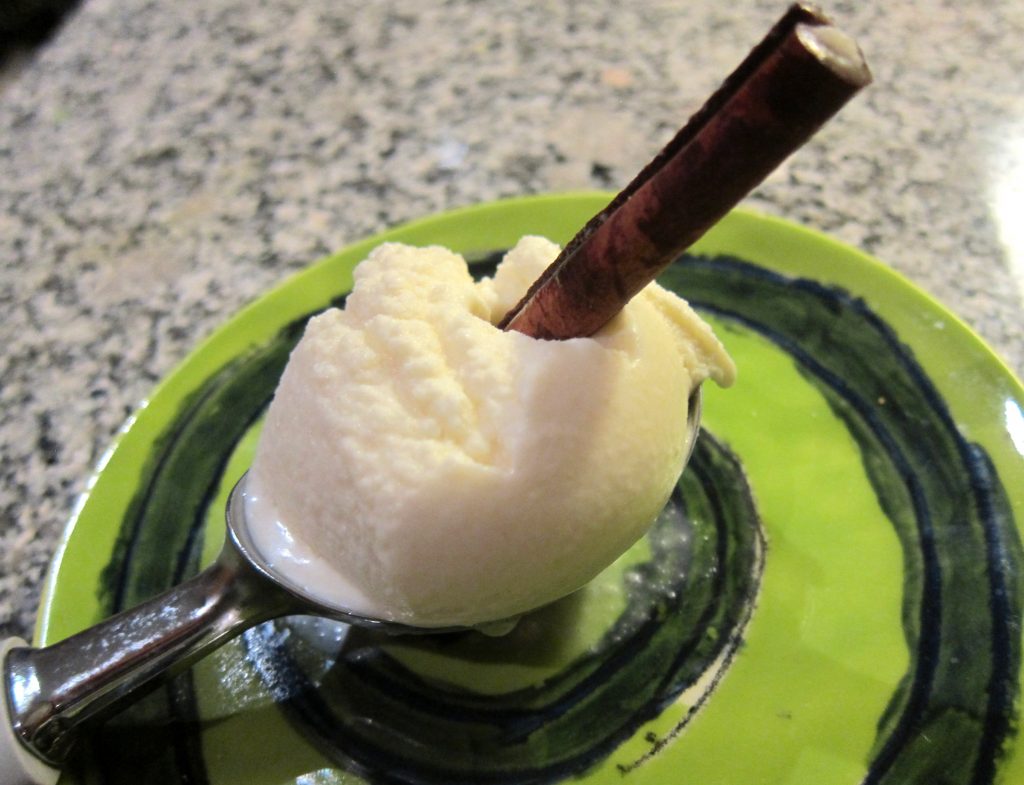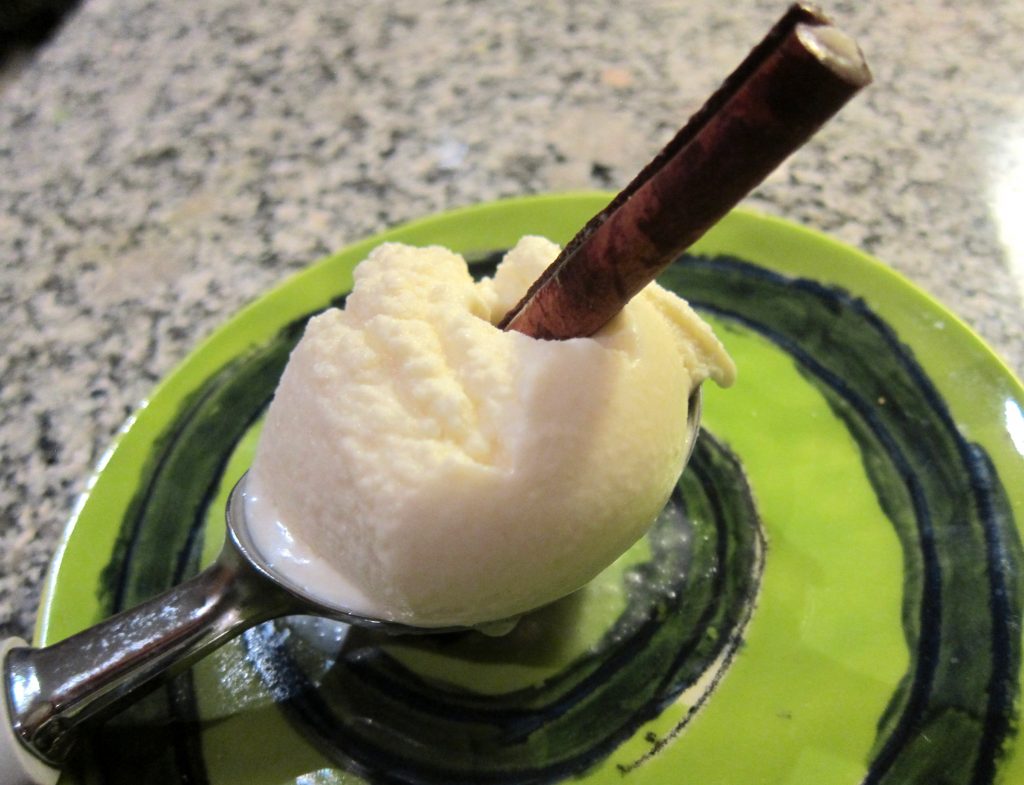 Almond remains the undisputed overall flavour here, with the exotic spices adding flavour contrast in a surprisingly discreet way. I thought the end-result delicious as it was, but if you prefer less discreet sensations, do experiment with adding more spices to the mixture. As always – feel free to go for the result which will please your and your loved ones' tongues the most 😀
Exotically spiced almond ice cream
By:
Anders@icecreamnation.org
Almonds meet up with "exotic spices" cinnamon and cardamom in this delicious ice cream, sure to please every lover of almond and/or marzipan!
Ingredients
400 ml (about 2½ cup) whole milk
330 ml (about 1.4 cup) sugar
About ½ gram Agar agar (about 1 teaspoons)
200 ml (about ¾ cup) ground blanched sweet almonds
200 ml (about 0.4 cup) cream
1-2 cinnamon sticks
2-4 cardamom pods' worth of cardamom
Instructions
Add milk, sugar, the spices and the ground sweet almonds in a saucepan and heat until warm/hot. Then add the Agar agar and whisk.
Bring to a boil, then turn down the heat to a simmer for about 4 minutes.
Take off from the heat and let cool down, possibly even chill.
Once cooled/chilled down, remove the cinnamon stick(s), whisk, churn the ice cream base in your ice cream machine (or still-freeze, using your freezer).
Towards the end of the (machine-)churning, add the cream and let the churning finish.
Once ready, enjoy the ice cream fresh on the spot or store in freezer-safe container (with plastic film and lid over) in the freezer.
Notes
Note that the Agar agar should be added to warm liquid and be brought to a boil in order to properly "activate" its gelling qualities. The gelling will begin once the temperature has dropped, which should pose no problems at all since we will do our best to cool down and chill the base as quickly as possible.