Strawberry Mascarpone ice cream
Imagine my happiness when I got hold of a case of fresh strawberries the other day! A sign of early spring or of globalisation? Possibly both, but in any case, I decided to transform some of the 'red gold' into a royal treat – Strawberry Mascarpone ice cream! 
Fresh berries deserve a fresh ice cream and in my view, the Philadelphia-style (American style) ice cream base is, in all its simplicity, a perfect choice. There is no cooking involved, no eggs – only the fresh berries, sugar and cream. And in this case a couple of other, noble ingredients: Mascarpone cheese and (optionally) some balsamic vinegar.
Mascarpone is an Italian cheese from the area close to Milan, in the Lombardy region. It is made by curdling milk cream with citric acid or similar, and has a very high fat content. Dessert enthusiasts probably know it as an essential ingredient in certain Italian recipes such as Tiramisu.
Some have characterised Mascarpone as being "thickened cream on its way to becoming butter", which makes it perfect as an ice cream ingredient. As we all know, fat is an essential part of most ice creams, ensuring both richness in flavour and a good, nice texture. As we will see, the Mascarpone delivers on both counts!
(Leaving aside the fact that "real" Mascarpone should come from Italy, many people actually do their own Mascarpone at home. So, if you can't find "the real thing" where you live, why not follow their example? It is supposed to be quite easy – check out this link for some straightforward guidance!).
Once the strawberries have been macerated, it is time to purée them (a hand-held mixer will do splendidly) and mix in all the other ingredients: cream, lemon juice and the mascarpone (if you are a fan of balsamic vinegar, you'll add that now too).
Make sure to whisk well, so that the clotty Mascarpone ends up well distributed!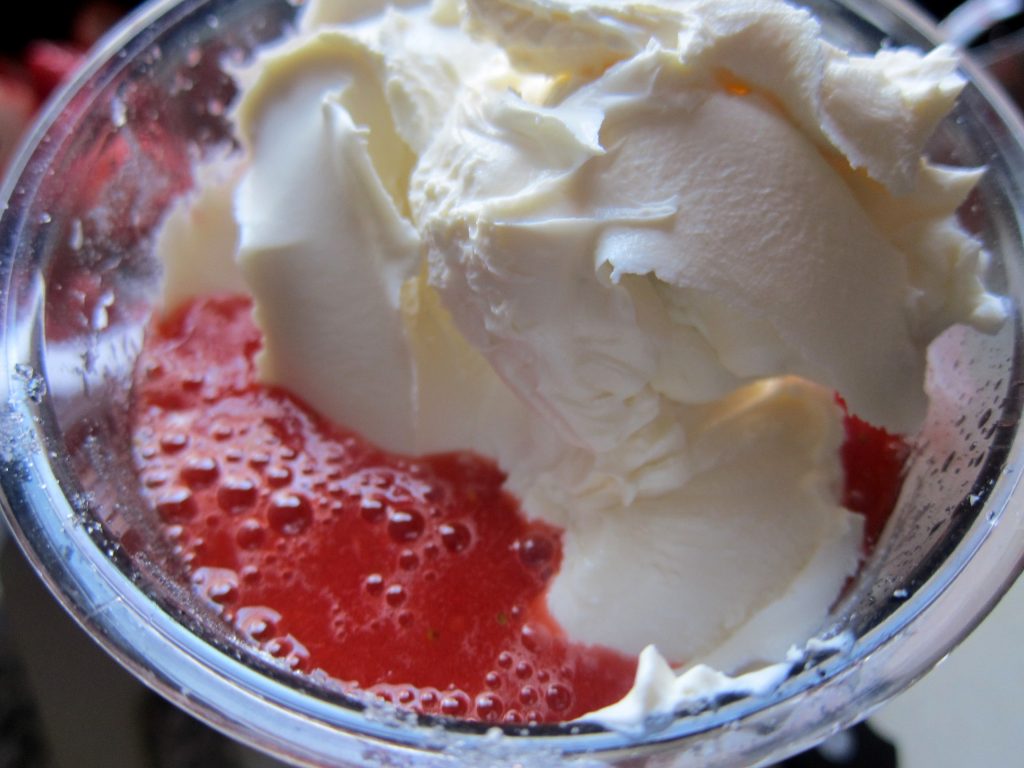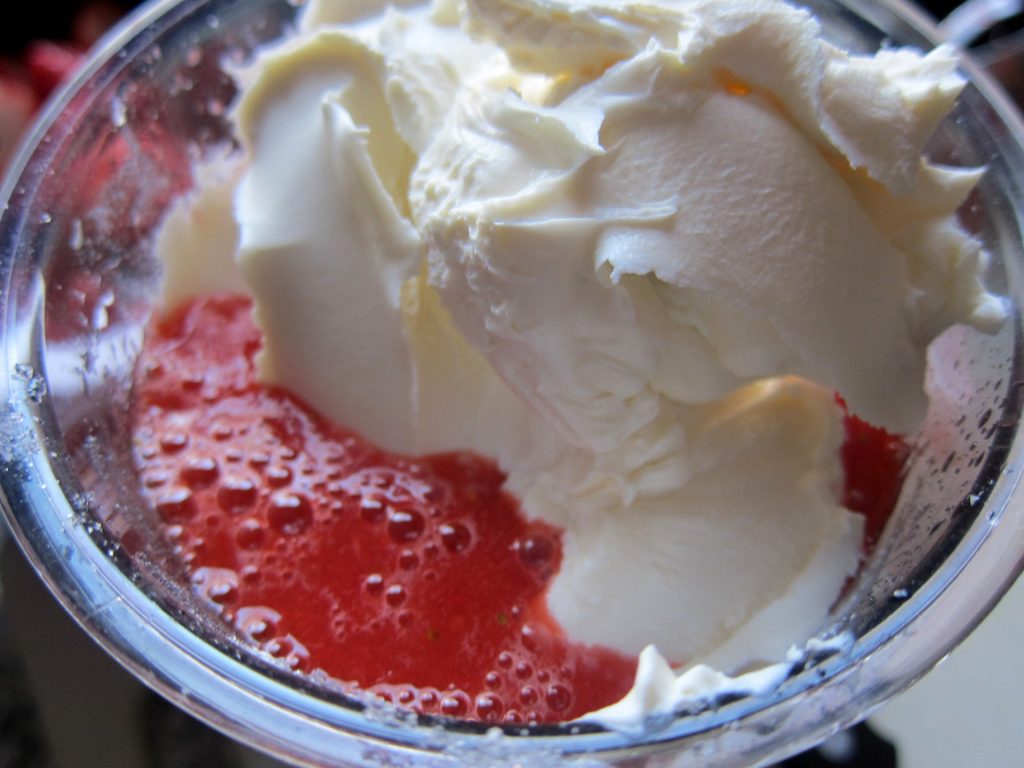 Churn the ice cream in your ice cream machine according to instructions. Soon, you will have a delicious batch of fresh ice cream at your disposal!
And – if you have no ice cream machine: still-freeze the base using your ordinary freezer! Go here for helpful advise on the process.
Some would say that nothing really compares to enjoying ice cream fresh out of the churning. There is a lot of truth to that, and this ice cream is a good example!
The ice cream is delicious already now, but we are going to take things even further!
For an exquisite finish, we will drizzle over some balsamic vinegar – another Italian speciality.
The balsamic vinegar complements and enhances the natural flavour of the strawberries: Avid readers may remember that I have used it before in another strawberry ice cream recipe.  The vinegar adds a certain elegant adult touch to the dessert, propelling it into the division of "fine dining". How much should you use? I'd say you should go according to your and your guests' preferences – start with about one tablespoon, and be ready to add some more to enthusiasts and new-found fans 🙂
Rich, simple and delicious
The strawberry mascarpone, especially when served with a generous drizzle of noble balsamic vinegar, is a truly exquisite flavour: luxuriously rich and spoon-licking delicious. Despite being so very easy to make, the ice cream tastes great and easily comes off as being more sophisticated than it is.
Or is it more correct perhaps to say that true sophistication sometimes lies in simplicity? If that's the case, this ice cream is a fantastic example!

Strawberry Mascarpone ice cream, drizzled with balsamic vinegar
By:
Anders@icecreamnation.org
Noble Italian ingredients unite to form a truly delicious, rich strawberry ice cream!
Ingredients
About 450 gram strawberries (about 2 good cups puréed, or about 500 ml)
150 gram sugar
1-2 tablespoon(s) inverted sugar
250 gram Mascarpone cream cheese
150 ml cream
(Optionally) about 4 tablespoons red balsamic vinegar of good quality: Note - the vinegar can also be drizzled over the ice cream at the time of serving, should you prefer to make the ice cream without.
juice of 1 lemon
Instructions
Cut the strawberries in large pieces, add the sugar, shake well and let macerate for at least 30 minutes (in the refrigerator, preferably).
Purée the strawberries (a hand mixer would do fine) and mix with the cream, the Mascarpone cream cheese, the inverted sugar, and the lemon juice (and, if incorporated from the start, the balsamic vinegar). Whisk well, to ensure that the Mascarpone cheese is well distributed.
Churn in your ice cream machine according to instructions, or (without a machine) still-freeze in your freezer (see the post on making ice cream without an ice cream machine for good advise on how best to do this).
Store in a freezer-safe container and cover with plastic film and a lid.
When serving, splash about 1 tablespoon (or according to taste) additional balsamic vinegar over the scoop(s): if you already added vinegar to your ice cream base, this will significantly highlight the balsamic vinegar-touch (which otherwise would remain rather low-key, and more boost the strawberry flavour as such). If you did not add any before, you will notice that some balsamic vinegar drizzled over the scoops is a wonderful addition, guaranteed to make at least any adult tasters enthusiastic.