Malaga Raisin ice cream
Today's post is delicious and still very easy to make: Malaga raisin is a close, but distinct, sibling to classic Rhum raisin ice cream. All you need is some vanilla ice cream, to which you add raisins soaked in a sweet, fortified Spanish dessert wine. The resulting flavour is rich, complex and truly very satisfying – Read on!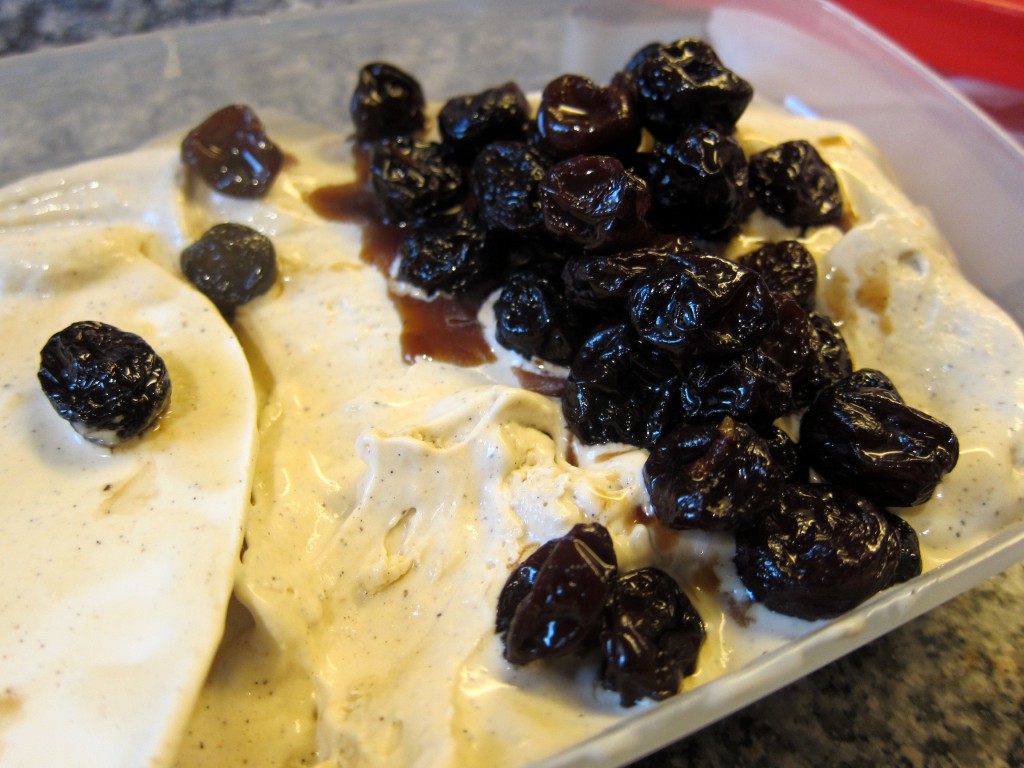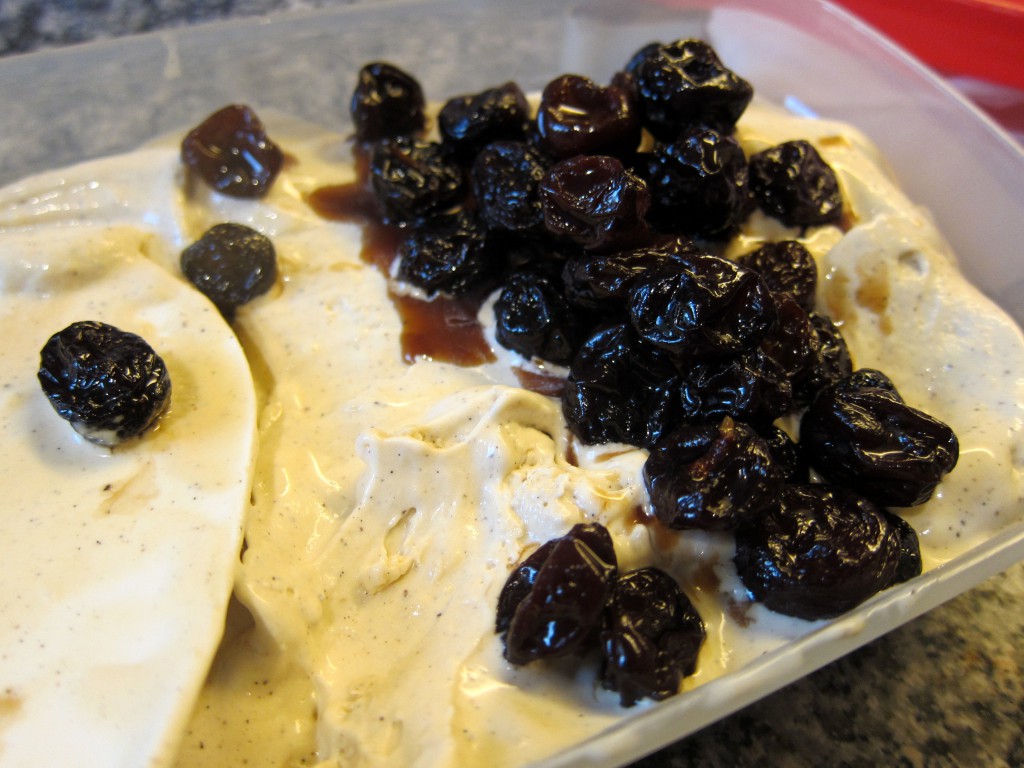 Admittedly, alcohol and ice cream is not a mix that pleases everyone – if so, just give this recipe a pass and make something else. Myself, however, am very fond of the aromatic sensations this adult combination can bring. And given how little (proportionally speaking) alcohol you will add, your ice cream shouldn't induce anyone to drunkenness.
Malaga wine is a sweet, fortified dessert wine from Spain. To give you a rough idea, it basically falls within the same category as the Portuguese Madeira and Port wines. But Malaga wine has a distinct aromatic flavour of its own, both fierce and rich and very pleasing on the palate (at least if you, like me, are fond of this kind of wines …).
For those interested in food history, it is worth noting that the Màlaga province in Andalusia in Spain counts as one of the very oldest known wine-producing parts of Europe – enjoy your Malaga wine with appropriate historic awe 😉 .
Short-cutting it: Buy vanilla ice cream – add soaked raisins
If you find it too difficult to prepare your own vanilla ice cream, feel free to buy the best commercial vanilla you can find and simply add the wine-soaked raisins yourself: this is clearly a short-cut, but well worth it!
How to (otherwise) do it, wholly by yourself
Start by making a batch of your favourite vanilla ice cream. In this post, I have used the Ben Vear-inspired Vanilla base covered in an earlier post, which I am very fond of myself.
Since the raisins add sweetness and the fortified wine will add both sweetness and (at least a little anti-freezing) alcohol, you may adjust the vanilla ice cream recipe slightly: Here, I have reduced the amount of sugar quite a bit, in order to avoid a too sweet end-result.
And yes, the alcohol will contribute a little anti-freeze, thus reducing the formation of nasty ice crystals. Still, this effect is by no means spectacular – after all, the alcohol is basically concentrated to the raisins. Secondly, since Malaga is a wine and not hard liqueur, the strength of the alcohol is relatively weak.
Why add the raisins towards the end?
Simple – if added in the beginning of the churning, the raisins will simply sink through the base and end up in the bottom of the final ice cream.
In order to avoid this, you may even wait until after the churning and only then stir in the wine-soaked raisins. This is what I did myself here.
Malaga on my mind
Malaga wine is a rich, aromatic dessert wine with a full-bodied, slightly burnt and fiery flavour: a perfect match for raisins and vanilla ice cream. I am very fond of Rum Raisin ice cream myself, but Malaga has arguably a wider, more interesting flavour-spectrum than most rhums. So, regardless of whether you take a short-cut and mix your soaked raisins with a tub of commercial, ready-made ice cream or prepare your own vanilla – Malaga raisin will deliver!

Malaga Raisin ice cream
By:
Anders@icecreamnation.org
In this close sibling flavour to classic Rhum raisin, the raisins are soaked in rich Malaga wine (a Spanish dessert wine). Mix the wine-soaked raisins to your favourite vanilla ice cream. Here, we will use a very nice custard-base, guaranteed to ensure a very vanilla fond to the raisins!
Ingredients
250 ml (1 cup) cream
200 ml (0.85 cup) milk
50 ml (about ¼ cup) yoghurt (Turkish or Greek dense type, about 10 % fat)
125 gram sugar (all or part of it vanilla sugar)
about 90-100 gram raisins
about (at least) 100 ml (about ½ cup) Malaga wine
1 teaspoon good quality vanilla extract
5 egg yolks
2 tablespoons skimmed milk powder
Instructions
Pour milk, cream, the vanilla extract and ½ of the sugar in a saucepan. Whisking every now and then, bring to a simmering almost-boil for about 4-5 minutes, then set aside.
In a separate bowl, whisk together the egg yolks and the other half of the sugar.
Little by little and while whisking constantly, stir in the heated dairy mixture into the whisked egg yolks.
Once combined, pour this base into a saucepan, put on heat and - while whisking - carefully bring the base to the nappe-stage = 82-84º Celsius (180-183 ºF). Use of a thermometer is recommended!
Take off from the heat and let cool down as quickly as possible. Then, whisk in the yoghurt.
Put in the refrigerator to chill over the night.
In the meantime, soak the raisins in a generous amount of Malaga wine. Set aside in the fridge.
Churn the chilled the ice cream base in your ice cream maker. If you do not have any, still-freeze it using your freezer.
During the end of the churning, add the soaked raisins (alternatively, add them as add-ins after the churning).
Once finished, enjoy fresh or store in a freezer-safe container: cover with plastic film and a lid.
Notes
If you so prefer, a vanilla bean can of course always be used instead of the vanilla extract! Just remember to remove it from the base before churning.

For useful advise on how to still-freeze ice cream without an ice cream machine, go here: http://www.icecreamnation.org/freezer-only-make/