Golden Milk ice cream
Spice lovers, rejoice! – we're going to India! Inspired by the classic turmeric milk drink, our Golden Milk ice cream will offer even jaded ice cream lovers new exotic culinary joys. And who knows – perhaps it even may boost your health?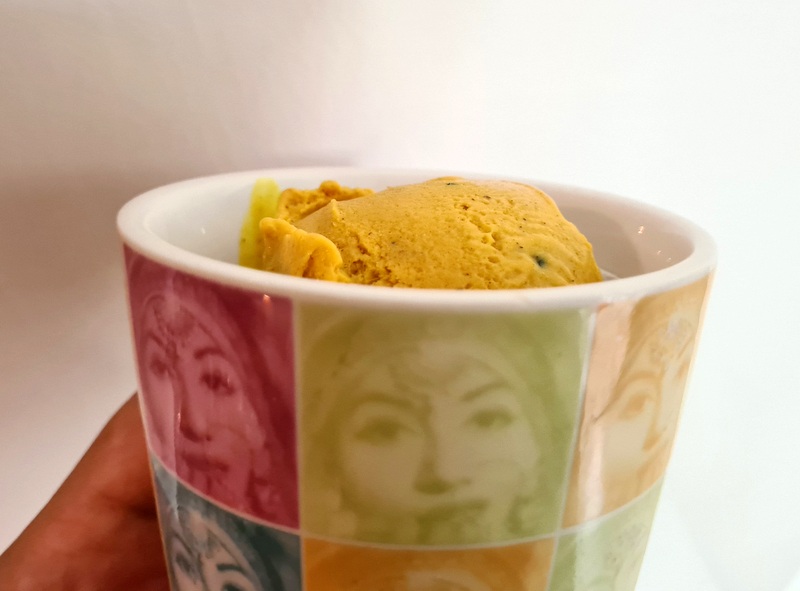 Golden milk – the ancient roots
Ayurveda is a very old alternative medicine-tradition with roots in India. The name roughly translates into "knowledge of life and longevity", and while its medical claims have been disputed, it remains very popular in India and Nepal and several other countries. It would lead too far to expand on basic principles and concepts, but the tradition generally emphasises holistic balance, moderation and puts faith in the healing properties of spices, herbs and certain food stuff.
Golden milk, or Turmeric milk, is a classic spicy drink stemming from the Ayurveda tradition. While it seems that some Ayurveda practitioners generally view ice creams (combining cold dairy with sweets) with caution, we put our faith in the spices and the arrowroot and their purported healthy and rectifying qualities :-).
The classic ingredients
Being relatively faithful to the tradition, we try to stick to the organic and natural: cow's milk, spices, raw sugar and arrowroot starch for stabilisation and consistency.
Should you prefer, it is also possible to replace the cow's milk with goat milk, almond milk, coconut milk or similar: it may not give the exact same Ayurvedic effects, but the ice cream should still be fine 🙂
In place of the more traditional ghee, I also added a small amount of butter: not a bad ingredient as far as ice creams go, since this recipe otherwise is running very low on fat (which, as we know, is important for ice creams also from a structural point of view). That said, the arrowroot starch will ensure that even milk-only versions come out with an alright consistency (even if the overall tasting experience may turn out to be a bit on the "thin" side).
You may wish to adjust the amount of arrowroot used to your personal liking: I much enjoy the effects of higher amounts (notably the stretchy and somewhat "slimy" consistency) but if you find it to be too much, go for the lower suggested amount.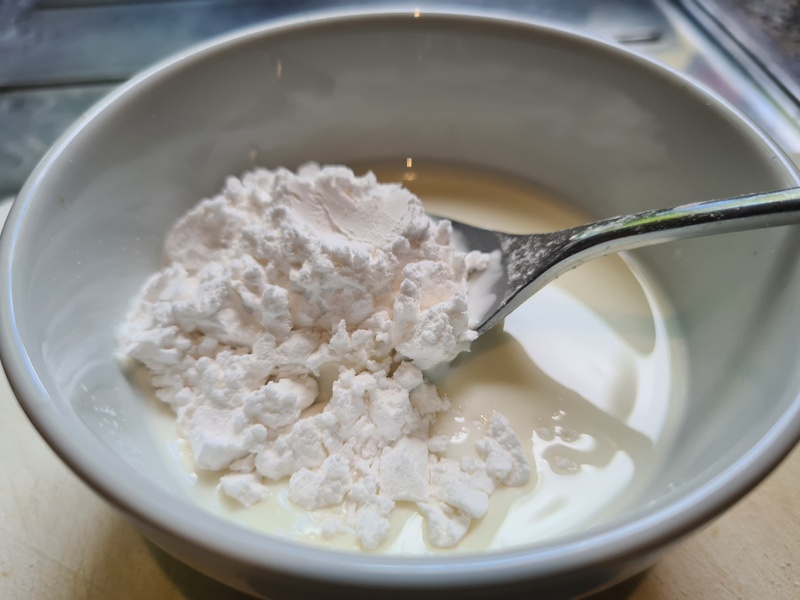 Ideally, the exact spices in Golden milk should be tailored to the individual drinker's need for balance. Leaving the medical nuances aside, this opens the door for adding many different spices beside the turmeric: saffron, cumin, cloves, nutmeg, liquorice root. vanilla … – perfect for those who wish to experiment!
Here, we'll stick to a few of the "base classics": Turmeric, ginger, black pepper, and cinnamon. Since cold dampens flavours, I opted for quite a lot of spice. The end result was also decidedly strong – I loved it, but not all members of the family were equally happy …  if you're worried about a too strong flavour, I suggest that you reduce the spices with about 1/3 and find out if that is to your liking:-)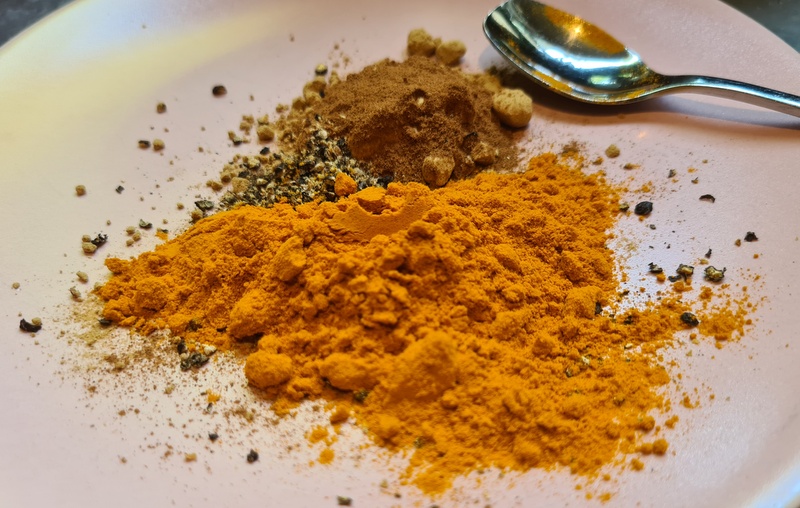 The easy ways to make the ice cream
It is indeed quite easy: start by preparing the arrowroot slurry which we'll use to stabilise the ice cream. Simply pour some of the (cold) milk in a cup and whisk in the arrowroot powder. Set aside for now.
Pour the rest of the milk together with the sugar, the butter and the spices in a sauce pan and bring the mix to an almost-boil. Keep on the heat for a few minutes, then add the arrowroot slurry and whisk.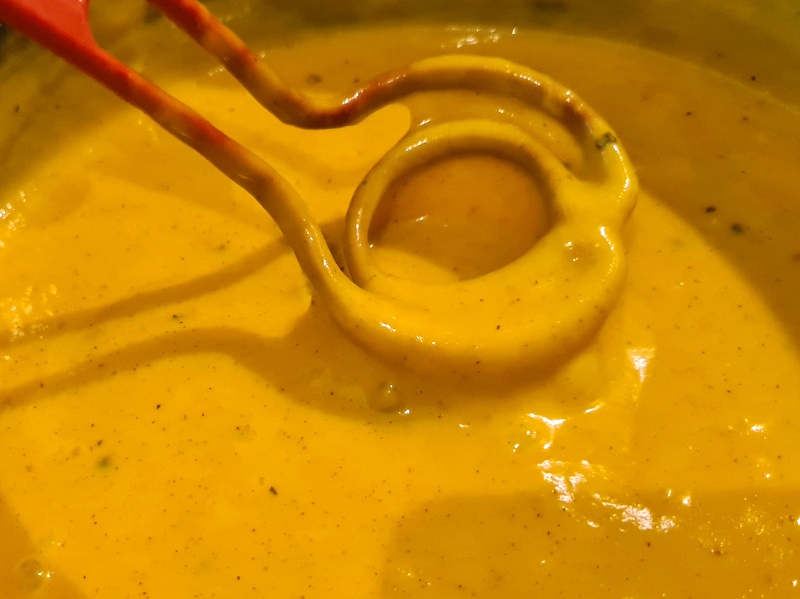 Keep the ice cream base on the (non-boiling) heat for a couple of more minutes while whisking to ensure that the arrowroot kicks in. The base will thicken very rapidly – the more arrowroot, the quicker …
Take off from the heat and let cool down, then chill the base in the refrigerator for at least a couple of hours or over night.
Pour the chilled base into your ice cream machine, or still-freeze using your household freezer.
Once finished, enjoy the freshly churned ice cream and/or store in your freezer to let it firm up: it will be quite soft so unless you like it that way (I do …), firming it up further is strongly recommended.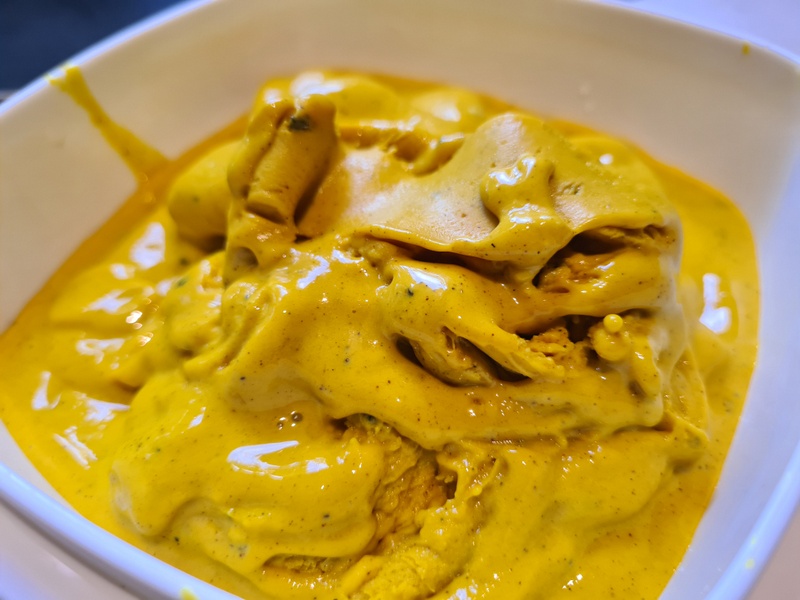 After some time in your freezer (provided you did not eat all of it freshly churned …), you will notice that the colour of the ice cream has darkened.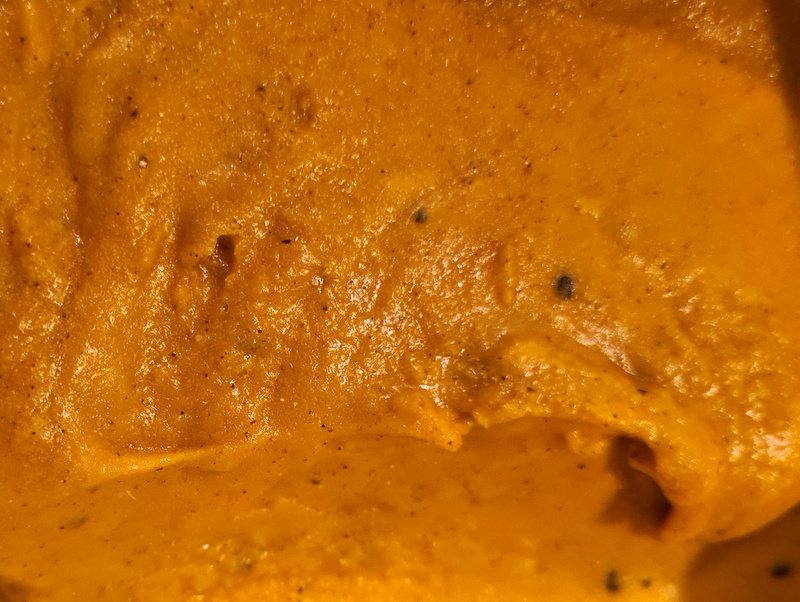 The ice cream will also appear to have frozen rather solid – but don't worry: this is temporary. Just leave the ice cream to soften outside the freezer for about 10 minutes or so, and it will quickly regain its generally very scoop-friendly consistency.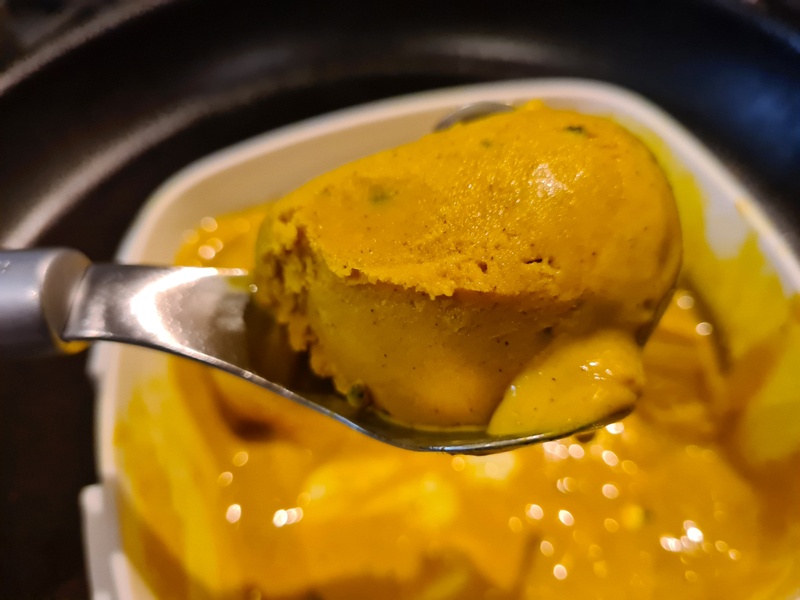 A truly exotic, strongly spicy and delicious ice cream experience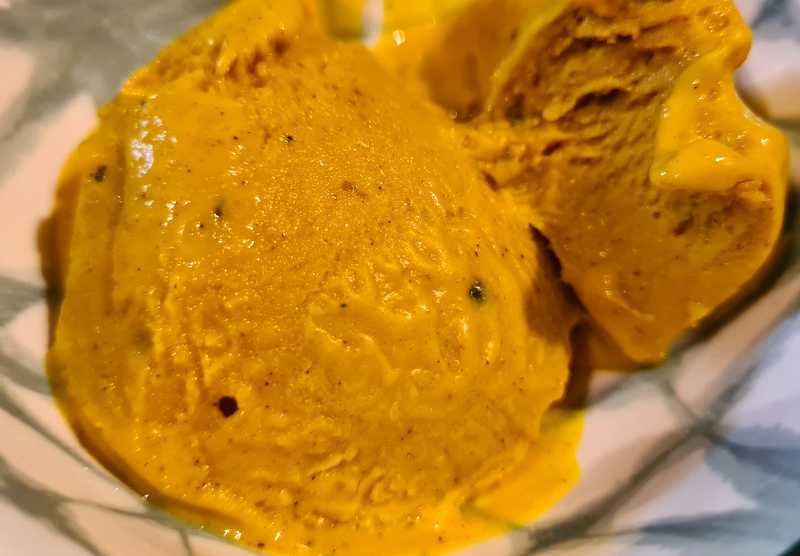 Every jaded "tried them all" ice cream fan should test the Golden milk ice cream! Seldom have I been so surprised by an "odd, yet delicious" ice cream than this one. The strong spice mix provides a rich exotic flavour with a pleasant overall sweetness – in some ways, it almost felt like eating something else than ice cream … while there is no doubt that this indeed is an ice cream, but a very special one!
All lovers of Indian spices should rejoice, and I personally loved the strong flavour impact. But if you worry about the spices being too strong, I'd suggest that you start by, say, reducing the spice amounts in the recipe by about 1/3 and see how that works out for you.
One thing is clear: regardless of whether the Golden milk ice cream actually will improve your health, it is bound to make many adventurous ice cream- and spice lovers very happy!
Golden Milk ice cream
By:
Anders@icecreamnation.org
Inspired by the Ayurvedic classic drink, this ice cream offers plenty of allegedly healthy spices, notably turmeric. Those who don't want to use ordinary dairy can replace the milk with alternatives (goat's milk, coconut milk, almond milk etcetera) and omit the butter/ghee: the result should still be fine:-)
Ingredients
700 ml (about 3 cups) whole milk
3 tablespoons of ground turmeric
1 tablespoon of ground ginger
1½ teaspoon of cinnamon
1½ teaspoon of ground black pepper
125 ml (a full ½ cup) raw sugar
about 3 tablespoons of butter (or ghee ...)
about 3-5 tablespoons of arrowroot powder
NOTE: Worried about the spice mix being too strong? Then try reducing all spices with about ⅓
Instructions
Set aside some of the (cold) milk in a cup, add the arrowroot and whisk to a slurry.
Heat the rest of the milk and the sugar in a saucepan, then add the butter and the spices.
Keep on a near-boil heat for a few minutes, then add the arrowroot slurry.
Whisk well and take off from the heat after a couple of minutes or so when the base has thickened.
Let cool down and then chill in the refrigerator for at least a couple of hours or over night.
Churn in your ice cream machine or still-freeze using your household freezer.