Strawberry Sorbet – the "fruit puree/sugar" way
Sorbets – ice cream's lighter sibling, traditionally made up of flavouring and sugar syrup (water mixed with sugar) instead of milk and cream. But what if we simply would omit the traditional sugar syrup, and just rely on the water contained in the fruits themselves? 
Sorbets without sugar syrup … but not without sugar
Sorbets are typically made up of flavouring  mixed with sugar syrup (some would argue that it is fair to also use milk, but others would rather consider that sherbets, not "genuine" sorbets). But since a lot of fruit – particularly berries – contain a lot of water in themselves, why not simply stick only with the fruit (and sugar), omitting the extra water that would have been added by using sugar syrup? The question is pertinent – after all, several "healthy" ice cream alternatives (think "nicecreams" and their likes) can best be described as frozen fruit puree.
Avid readers might recall that I once made a green apple sorbet with a reduced amount of sugar syrup. Well – this time, we'll take the full step forward and omit the sugar syrup completely, only relying on what the fruit will bring to the table! But as you also will notice, we will still add extra sugar to the fruit puree. Why? Simply because the consistency and texture of the sorbet would suffer without that extra sugar, as would the flavour: you can read more about sugar's crucial role in building ice cream structures here. It is also worth recalling that most fruits (save for bananas …) simply are not sweet enough in themselves to bring the desired sweetness to a frozen sorbet or ice cream.
As a devoted foodie, I often find myself intrigued by one or the other of the posts by Serious Eats. Imagine my excitement when I came across a post some time ago about sorbets, written by Max Falkowitz, Serious Eat's Editor Emeritius and a passionate ice cream expert. And guess what? The main thrust of his article was that fruit sorbets should NOT be prepared with any sugar syrups, but rather just combine puréed fruit and sugar.
This was the thrust I had been looking for, and I set out to test the seductive simplicity of the "Max Falkowitz" sorbet ratio of 4 to 1: No sugar syrup – only 4 units of fruit puree  mixed with 1 unit of sugar (in other words about 250 ml sugar for each litre of fruit puree, or 1 cup of sugar for 4 cups of puree).
I rushed out and got myself about a litre of strawberries: about twice the amount I normally would use for a batch of strawberry sorbet made with sugar syrup. Perceptive readers might now have concluded that one of the likely reasons for sugar syrup's enduring popularity across the ages probably is an economical one – after all, sugary water is clearly cheaper to use than strawberries, so a 100 % fruit-solution does come with an additional cost  …
The easiest sorbet making ever – yes, probably!
Preparing the sorbet base could hardly be easier: just wash and hull the strawberries and purée them. Then measure the amount of fruit puree and blend in the required amonnt of sugar (the 4:1 ratio). As noted, the omission of the (water-part of the) sugar syrup means that you need to use more fruits to make up the volume. Depending on your resources, this might be less of a problem and could also be worth it in terms of a tastier, richer tasting experience.
The 4:1 ratio can obviously be used for any amounts of sorbet: the amounts used here would typically yield about 1 litre (a bit more than 4 cups) of sorbet.
The sugar used in the recipe could simply be normal white caster sugar. I did, however, replace a bit less than half of it with xylitol (birch sugar), the best "I can't believe it isn't sugar"-alternative that I know of. You could also replace some of the caster sugar with inverted sugar(s), which also would serve to improve scoopability by preventing the sorbet from freezing too solid in the freezer. 
In order to enhance the overall flavour-thrust and also avoid a too sweet end-result, we will add a pinch of salt and a couple of teaspoons of citrus fruit juice: lemon or lime juice work equally well – the amount is too small to leave any distinct flavour mark of the citrus fruits themselves anyway.
Once the base has been blended well together, let it chill in the refrigerator for a couple of hours or so before churning it in your ice cream machine: as usual, the cooler the base, the quicker the process and the smoother the end result.
The sorbet can obviously be enjoyed immediately after the churning, but will typically tend to melt very quickly. You might want to allow it an hour or so in the freezer before serving it: that way, the sorbet will be able to firm up a bit and still be "fresh".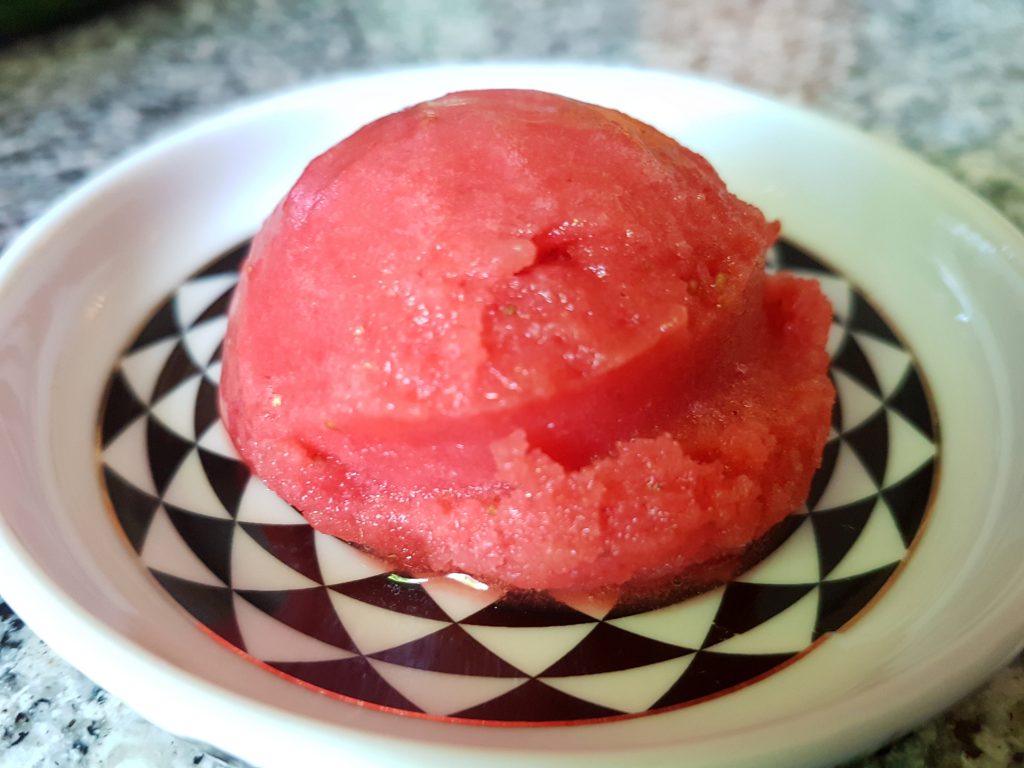 The strawberry sorbet made without sugar syrup turned out to be a delicious treat! Compared to a "traditional" sorbet, the delightful strawberry flavour felt richer and the whole sorbet more solid (in a good way!): no wonder, since the recipe basically replaces what otherwise would have been plain water with more solid-bringing fruit elements. The Falkowitz 4:1 ratio of fruit puree to sugar clearly proved to be a perfect formula for strawberries.
Strictly speaking, serious sorbet making should take particular account of the exact type of flavouring/fruit and tailor the sugar content to match these specifics: not all fruits are created equal when it comes to sweetness and texture. As Falkowitz himself cautioned, a lime sorbet made this way would be a truly souring experience (and would need more – or other types of – added sugar). For that reason, the 4:1 ratio should clearly be treated as a rule of thumb – and a a very good one too, when it comes to strawberries! I did not bother to measure the exact sugar content in the final sorbet base, but I can truly confess that this well might have been one of the nicest strawberry sorbets I've ever enjoyed! This recipe is a must for all lovers of delicious fruit sorbets!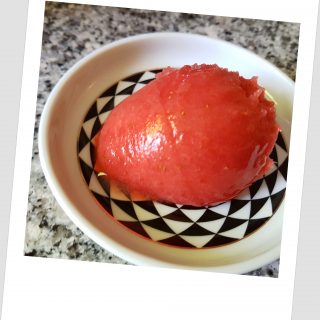 Strawberry Sorbet - the "fruit puree/sugar" way
Following the "magic 4:1 ratio" prescribed by Max Falkowitz, we forego the usual sugar syrup and make our strawberry sorbet solely on fruit puree and some added sugar. Could it be easier? Or tastier?
Ingredients
about 950

ml

(4 cups) strawberry purée [requires about the same amount of whole strawberries in gram!)

about 240

ml

(1 cup) sugar (optionally, replace 100 ml/ 2/5 cup of the caster sugar with xylitol or inverted sugar)

pinch

of salt

about 2

teaspoons

lemon or lime juice
Instructions
Hull the strawberries and purée in a blender or food processor until smooth.

Add the sugar and blend well until wholly dispersed.

Add lemon/lime juice and salt, blend and (possibly) adjust to taste.

Put the base in the refrigerator and for about 2-3 hours until cold.

Churn the sorbet in your ice cream maker, and - should you like a firmer sorbet - put the sorbet in your freezer to firm up for a couple of hours or so before serving.