Nutella ice cream, or Sicilian gelato in a micro!
Nutella may not be the world's most healthy breakfast ingredient but guess what? You can make a very nice Nutella ice cream with just a few teaspoons of the famous chocolate-hazelnut spread! The base? A nice, egg-free Sicilian gelato! And to make it all even more interesting, we will skip the stove and the saucepan: instead, we will be using a microwave oven to prepare it!
On Nutella, gianduja and Italian hazelnut spreads
They say that war is the mother of invention, and that certainly applies to the family of Italian chocolate-hazelnut spreads from which Nutella originates. During the Napoleonic wars, the British blockaded the Mediterranean, and chocolate became a scarce commodity. An inventive chocolatier in Turin decided to extend his dwindling supply of cocoa by mixing the chocolate with readily available hazelnut paste: Gianduja was born!
Nutella is an extremely popular version of gianduja, composed and marketed globally from the 1960's. Critics tend to point out that the relatively few hazelnuts used per jar of Nutella makes for little complexity: instead of its ancestors' multifaceted flavour depths, the consumer is left with a broad, crowd-pleasing chocolate flavour with a slight touch of the nuts that once made gianduja so famous.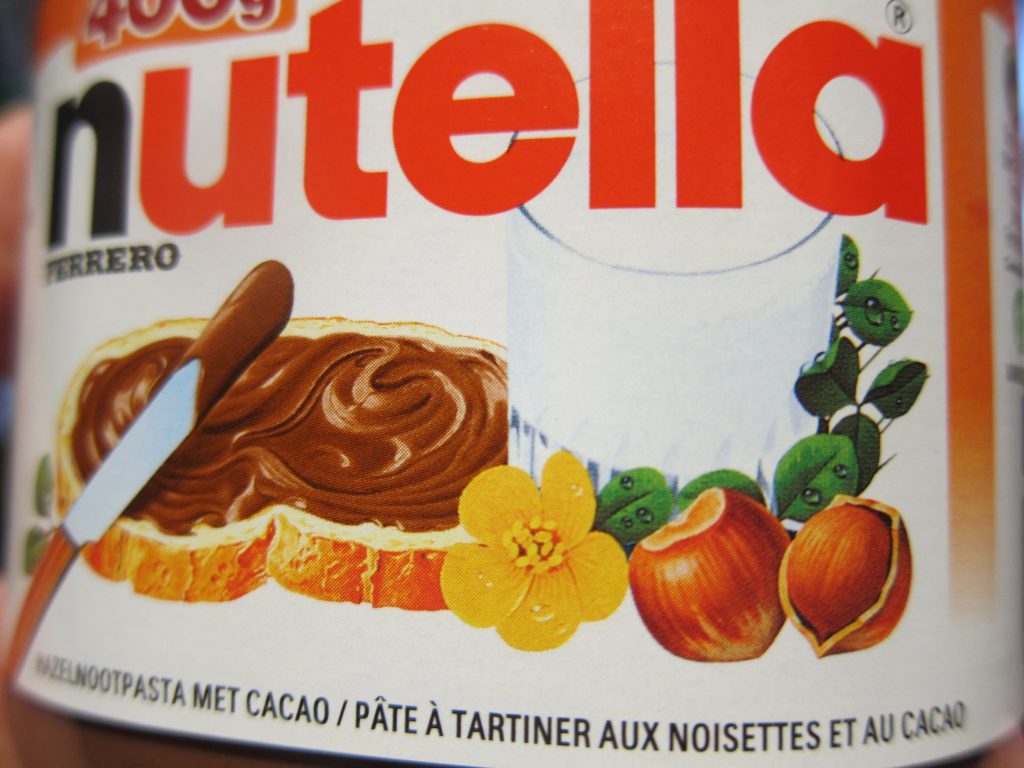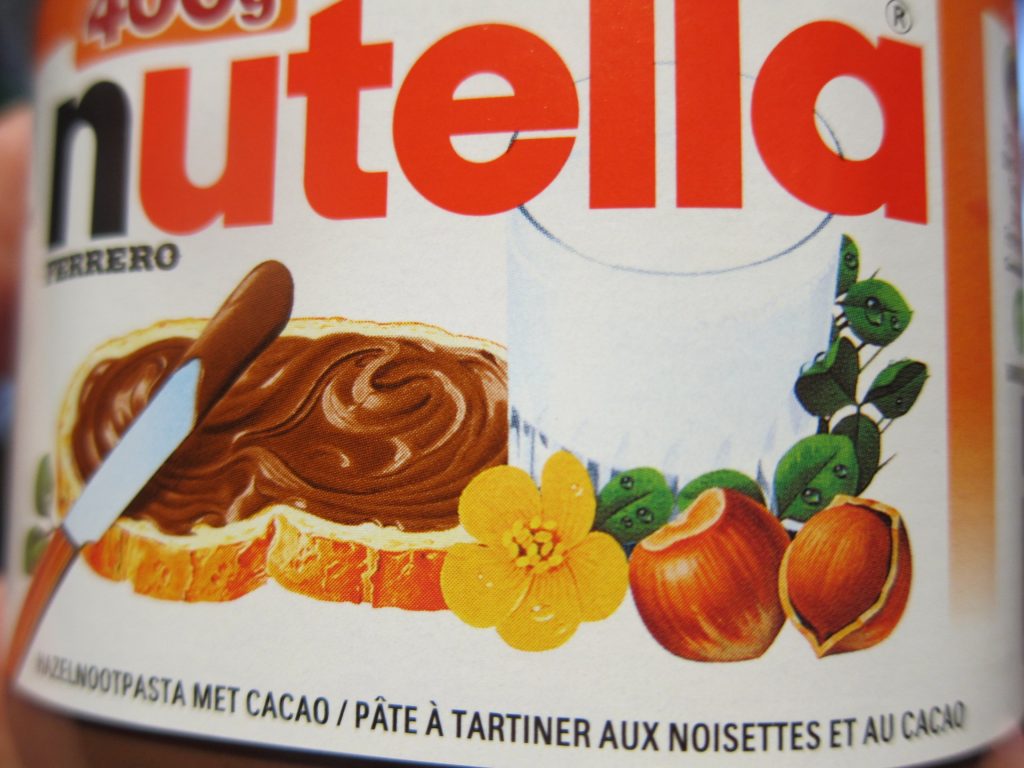 And still, they must be doing something right – I am certainly not the only one who have pondered what kind of addictive stuff they slip into the jars 🙂 .
Nutella may certainly not be classified as "health food": Luckily, we will only need about a couple of hearty teaspoons of the stuff to flavour our ice cream!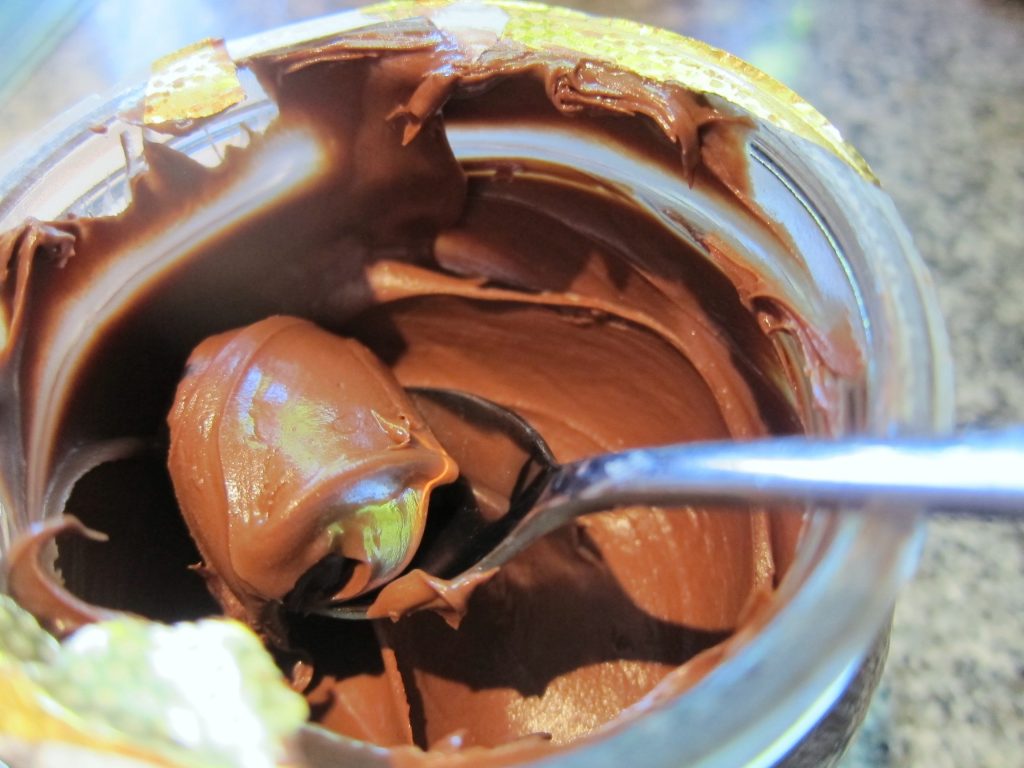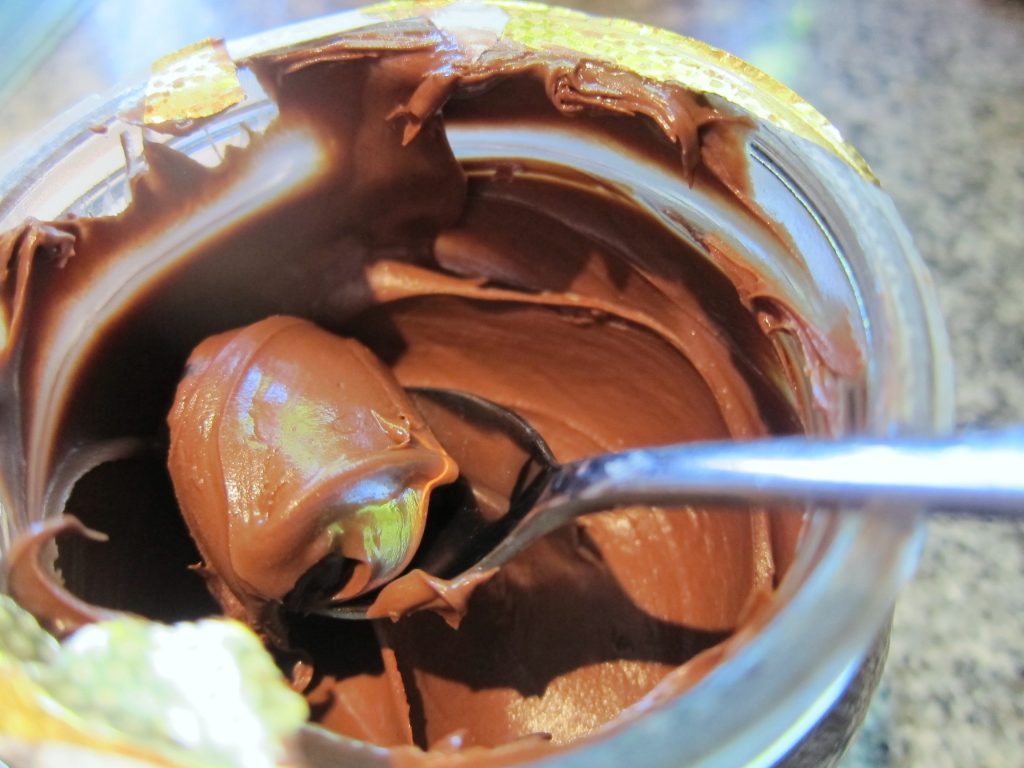 Sicilian gelato – a most suitable companion base to Nutella
Always interested in finding ways to do things differently, I decided to go for the versatile Sicilian gelato-base: As avid readers know, this is one of my absolute favourite ice cream traditions, and will yield nice results without eggs, excessive amounts of cream or other stabilisers. Normally, it is done by cooking a dairy base with some added starch until the starch has reacted and began to stabilize the base.
This time, however, I decided to test if I could make the ice cream in the micro wave oven! Both inspired and guided by Caroline and Robin Weir, I got hold of my kitchen thermometer and set forth!
Preparing the Sicilian gelato base … and micro-waving it!
The basic ingredients should be familiar to those of you who like Sicilian gelato: This time, I opted for a dairy mix with slightly more milk than cream, corn starch (Maizena) and sugar. Since the cooking will take place in the micro, we will prepare the base slightly differently than when cooking it on the stove.
First, mix sugar and the corn starch in a micro-safe bowl. Add 2-3 tablespoons of milk, and work it all to a paste-like consistency.
Now, add the rest of the dairy.
You are ready to micro the base!
The first aim is to heat our dairy/starch-sugar paste-mix to, roughly, a temperature of 55° C/130° F. All micro-wave ovens are different and have different effects, so how long the process takes will vary. Still – it is a rather quick (for me, with a 750W micro, it took only about 7 minutes of combined microwaving).
While there are more or less elaborate ways of calculating how long it will take you (the Weirs present one method, where you basically get to know your micro better by making test-runs on water …), I would suggest that you start by micro-waving for about 2-2 1/2 minutes, check the temperature and then adjust by adding shorter increments (say, +30 seconds at a time) or shorten the suggested starting time for the following phase below.
Once you get to the desired 55° C/130° F, stir well, and add the salt and vanilla (if using) and whisk in about 2-3 hearty teaspoons of Nutella.
Return the base to the micro. Now aim for a final temperature of about 85° C/185° F (suggestively start out with another 2-2 1/2 minutes of microing and, if necessary, add a few more intervals, checking every 30 seconds or so, until you get there): Finished!
Whisk well, and cool down the ice cream base as quickly as you can. When cooled down, let it chill in a refrigerator for a couple of hours or so before churning it.
No ice cream machine? – don't worry: Sicilian gelato might well be the very best ice cream base there is for still-freezing: make the ice cream in your freezer!
A final word on the desired temperature
Don't be too worried if you don't manage to hit the exact range of temperatures: Exact temperatures are really more important when dealing with egg-based custards: Starch is much more "forgiving" than egg yolks and as long as you don't bring your base to a boil, things should be quite fine even if you shoot over 85° C/185° F. Also, since there are no eggs in the base, we do not really need to worry about having temperatures high enough for pasteurization either. However, corn starch can leave a floury tinge if under-cooked, and the heat in this recipe should take care also of that concern.
The Nutella ice cream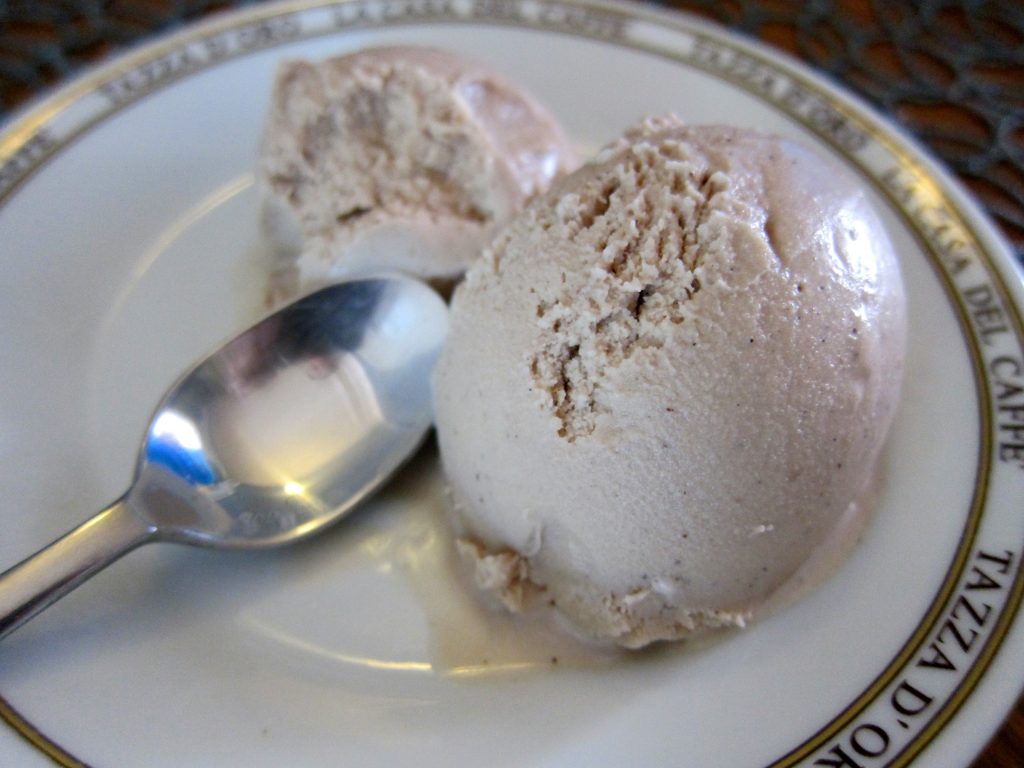 It is surprising that just a couple of hearty teaspoons of Nutella can flavour a whole batch of delicious ice cream so well. But it really works!  Using the micro wave was also a pleasant experience: taking the temperature of the ice cream base-bowl at certain intervals was much less taxing than standing by the stove and stirring the base in a saucepan, watching so that it would not begin to boil.
I must confess that the base seemed worryingly 'un-thickened' after the time in the micro wave. However, the end result spoke for itself – it was perfect! The ice cream itself turned out smooth, with a very nice consistency and a pleasant, mild flavour ready to seduce most tasters: when tested on friends and family, there was universal acclaim and frequent demands for more!
All friends of chocolate in general and Nutella in particular should certainly check out this delicious crowd-pleaser! 
Nutella ice cream (Sicilian gelato-style in a micro)
By:
Anders@icecreamnation.org
A deliciously smooth and tasty Nutella ice cream, based on a very simple-to-make base of Sicilian gelato prepared in less than ten minutes in a micro wave oven! Arm yourself with a kitchen thermometer and set out!
Ingredients
400 ml (about 1.7 cup) whole milk
400 ml (about 1.7 cup) cream
125 ml (about ½ cup) sugar
2-3 tablespoons corn starch (like Maizena)
(optional) 1 teaspoon genuine vanilla powder of good quality
pinch of salt
2-3 hearty teaspoons of Nutella
Instructions
Mix the sugar and the corn starch in a micro-safe bowl. Add 2-3 tablespoons of milk, and work it all to a paste-like consistency.
Add the rest of the dairy.
Put the bowl with the jar into the micro wave oven: the aim is to heat your mix to, roughly, a temperature of 55 degrees C/130 F. All micro-wave ovens are different and have different effects, so how long the process takes will vary. Test starting out with 2-2½ minutes on full effect, then check the temperature and - if necesssary - add shorter increments (say, +30 seconds at a time) until you are there.
Once at the desired 55°C/130° F, stir well, add the salt and vanilla (if using) and whisk in about 2-3 teaspoons of Nutella.
Return the base to the micro: now aim for a final temperature of about 85° C/185° F. (suggestively start out with another 2-2½ minutes of microing and, if necessary, add a few more intervals, checking every 30 seconds or so, until you get there)
The base is now finished, and should be cooled down and chilled as quickly as you can managed. Let the cooled down base chill in the refrigerator for at least a couple of hours before churning it.
No ice cream machine? Don't worry - still-freeze the Nutella ice cream in your freezer! (check the post on how to do that best!)
Notes
Here is the link to the post on how to make ice creams without an ice cream machine (still-freezeing): http://www.icecreamnation.org/freezer-only-make/