Tofu strawberry banana ice cream
Tofu, or soy bean curd, has long been a staple in Chinese and Japanese cooking. But did you also know that it works perfectly as a base for ice cream? Not being a big fan of  soy milk-flavour myself, I had my doubts about this ice cream. But guess what? I was blown away by the delicious results! Who would have guessed that tofu and strawberries make such a splendid combination?
Tofu – the versatile soy bean curd
Tofu is made of coagulated soy bean juice, has an ancient history that dates back to Asia to at least about 160 BC, and contains a lot of vegetable protein. Always quite popular in the East, tofu only started to be more well-known in the West during the 60's.
While the perception probably has begun to change a lot in these days of international travelling and cultural exchange, tofu is – for many people – still associated with hippie-style vegetarianism. But tofu is versatile, and even though it often is dismissed as a kind of "substitute meat" for vegetarians, it can be prepared in a myriad of different ways and enjoyed by all.  And regardless of what you normally might tend to think about tofu, the ice cream combo with strawberries is really great!
Tofu comes in many different varieties but the main types are two – firm tofu (the type most people probably think about) and soft ("silken") tofu. To improve the final smoothness, I would recommend using silken tofu (i e the soft type) for this recipe.
No special preparations – just mix and mash it all together
Yes, all you have to do is mix and mash all the ingredients together (use a handheld mixer or a blender).  Since the strawberries I used could have been somewhat more ripe, I decided to macerate them in sugar for some time before turning them into purée. Maceration? Here, it just means that you chop up the strawberries roughly, sprinkle sugar over them and let them soften for at least half an hour, possibly longer.  If you like, you might also add some lemon juice to balance the overall sweetness a little. The process will make the berries more flavourful, and is a trusted way of improving flavour particularly when you deal with less-than-perfectly ripe fruit.
So, why add a banana? I did it partly because it adds some banana-flavour, and partly because it also adds some sweetness and improved consistency to the final ice cream. And in case you decide to add a second banana to the recipe (which of course also would strengthen the banana-flavour even further), you could try reducing the added sugar with about 1-2  good tablespoons or so (and possibly also reduce the amount of tofu with about 100 gram).
Once your blend is smooth, freeze it in your ice cream machine according to instructions (or, if you have no machine, still-freeze the ice cream in your freezer; go here for more advise on how best to do that).
Storing and serving the ice cream
While the ice cream certainly could be frozen, it will unfortunately freeze very firmly: allow ample time for softening before serving  (about 15-20 minutes outside the freezer, or a few short 5-second bursts or so in the micro wave oven).
Those who would like a less solidly frozen consistency could experiment by adding more banana to the recipe, adding or replacing some of the sugar with inverted sugar (like agave nectar, corn syrup and their likes),  and/or add 1-2 tablespoons of liquor (alcohol) to the base. Kirsch tend to enhance the flavour of strawberries and should work well.  Or just use neutral vodka or similar in case you would prefer that the alcohol leaves no flavour-trace.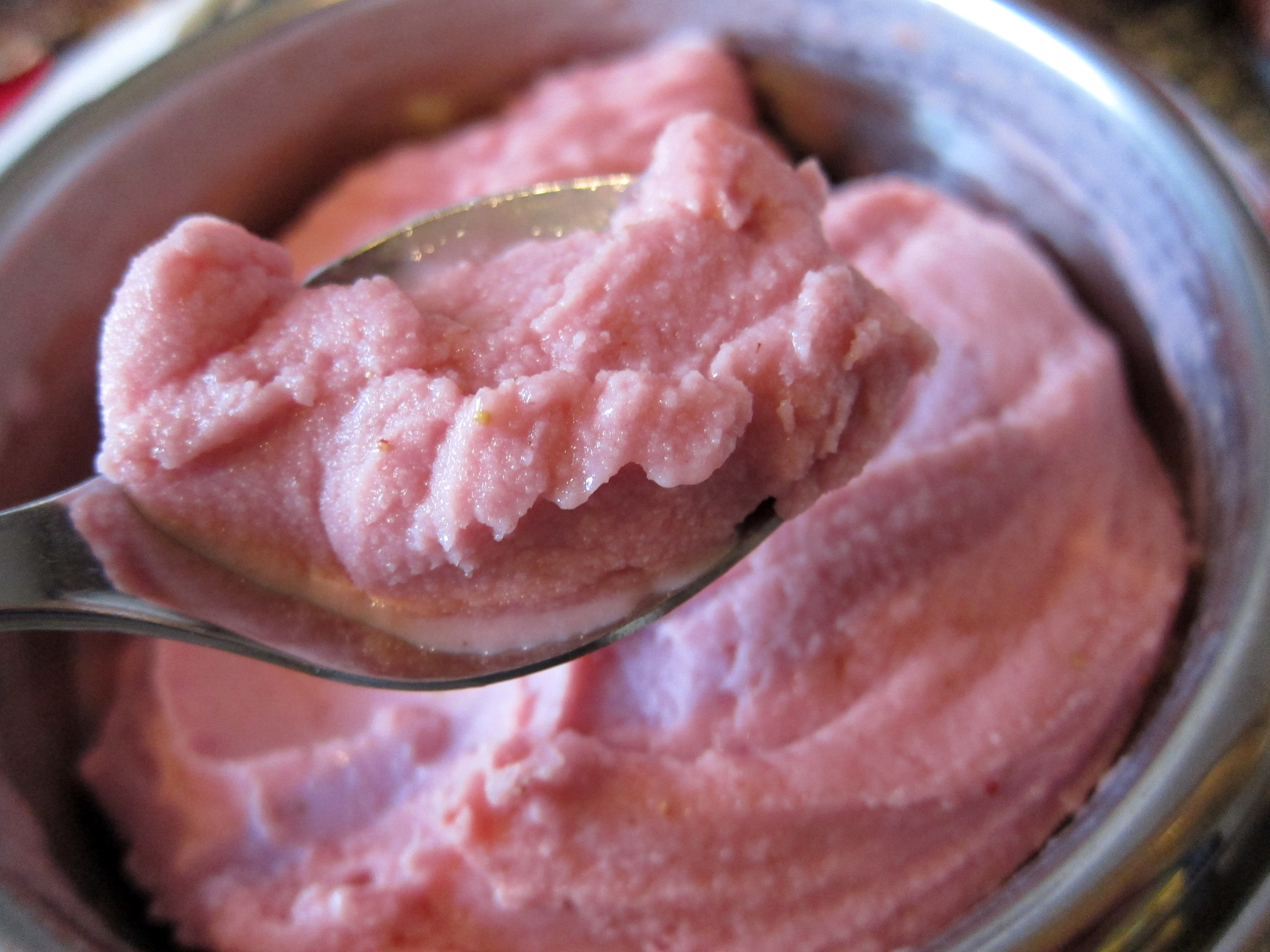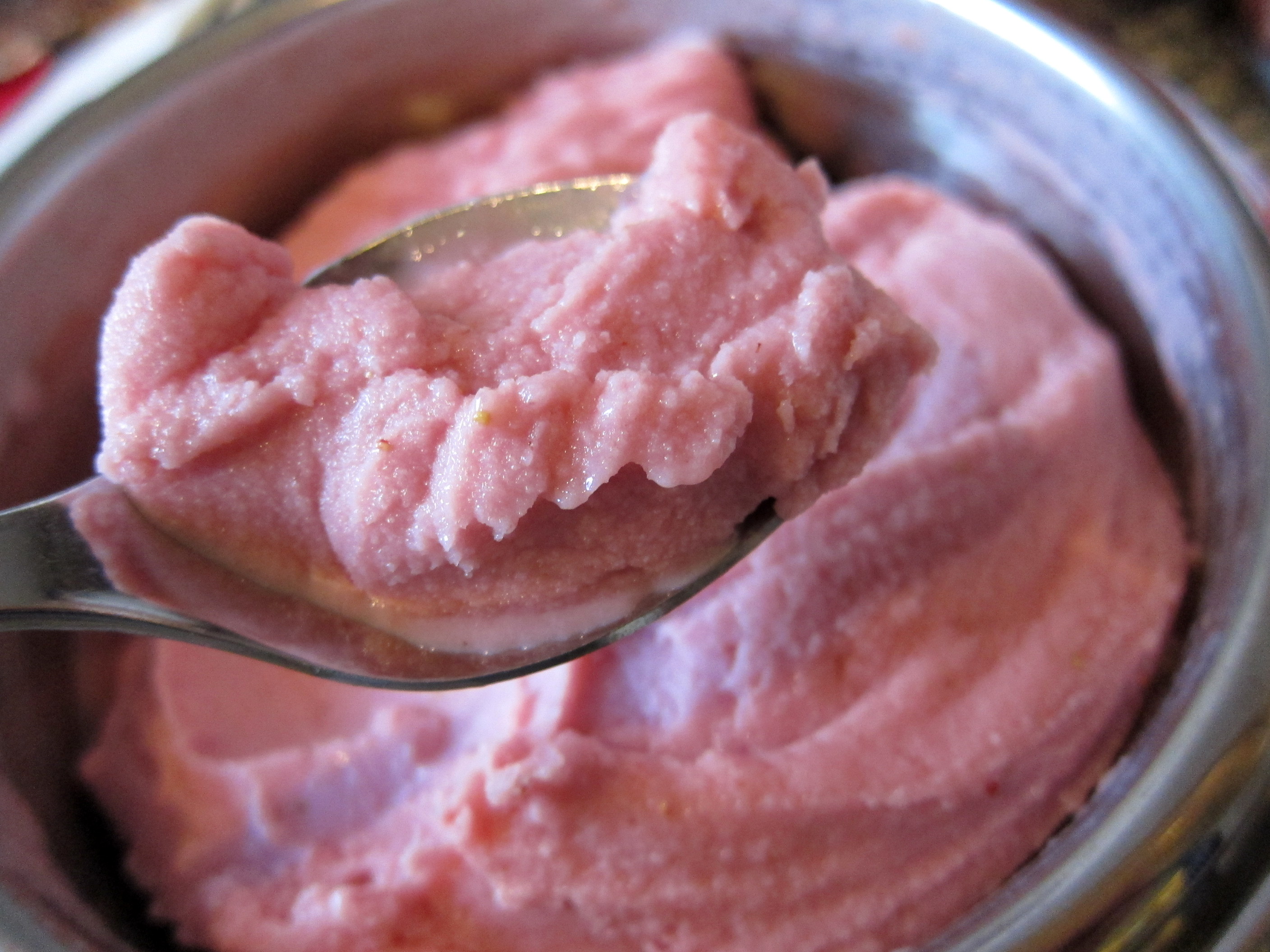 Tofu ice cream – it might not sound too appetizing, but let me tell you: it really is!
Personally, I am no great fan of soy milk's particular flavour and therefore had my misgivings about this ice cream. But how wrong I was!  Tofu and strawberries turned out to be a great match.  This is definitely an ice cream that deserves to be enjoyed far beyond the circles of already devoted  soy bean lovers. Actually, the particular soy-flavour was so minor that it only added a trace to the overall flavour.  
And the flavour … ah, truly delicious! : Fresh, sweet strawberries with a touch of banana (and that minor, almost not detectable, hint of soy).  Myself and all the testers (who only afterwards learned that the ice cream they so praised was based on soy bean curd) were equally delighted, young and old alike.  
Granted, because of the ingredients used, the tofu ice cream will freeze quite firmly when stored in the freezer. But then again – that is a good reason to prepare some and enjoy relatively right away! So what are you waiting for? 
Tofu strawberry banana ice cream
By:
Anders@icecreamnation.org
The all-vegetarian choice: Sweet strawberry ice cream (with a hint of banana) without any dairy, eggs or what-have-you. It is nothing but a frozen blend of fruits, tofu and some sugar - and totally delicious.
Ingredients
400 gram silken tofu
About 300 gram strawberries
1 ripe banana
About 100 ml (about 0.4 cup) sugar
(optionally; juice of about ½ lemon)
Instructions
Macerate the strawberries (wash them, cut them in rough slices and mix them well with the sugar (and, optionally, the lemon juice). Set aside for at least about 30 minutes).
Once the strawberries are well macerated, turn them into purée in a blender or with a hand mixer.
Add the tofu and the (preferably cut into pieces) banana. Continue to churn in the blender or the handmixer until all has been turned into purée.
Churn in your ice cream machine according to instructions.
Enjoy the tofu ice cream fresh and straight from the churning. Or put it in a freezer-safe container, cover the surface with plastic film and lid and store in the freezer for later use (allow ample time for the ice cream to soften up before serving if you opt for saving it for later in the freezer).