Lavender Honey ice cream
Honey is universally beloved, and lavender is pretty popular too! Unlike the ancient Greeks and Romans, however, we won't use it to make our baths fragrant. We will use its unique, beckoning flavour in a delicious honey ice cream!
On lavender and its many uses
The Lavender plant (or Lavandula, which is its proper botanical name) is actually a subshrub. It is believed to have originated in Persia and the Spanish Canary island and centuries and centuries of human cultivation have resulted in the various lavender plants of today. The name "Lavender" is derived from the latin word "lavare", which means "wash": both the ancient Greeks and the Romans used lavender to scent their baths and washed-up linen.
Highly priced for its pleasant fragrance, lavender is also purported to have medical qualities: while the scientific jury still might be out on that claim, many swear by its capacity to alleviate anxiety and sleep disturbances (historically, people have even tied lavender to themselves as protection against the plague … something which unfortunately probably did not help much).
Since the flowers yield a lot of nectar, the marketing of premium mono-floral lavender honey has also become a thing. Particularly Provence in France and Tuscany in Italy have longstanding stakes as prime producers.
On honey, lavender honey and the basics of our ice cream
Honey has been used, enjoyed and collected by humans for at least 8000 years, judging by pre-historic cave paintings in Spain.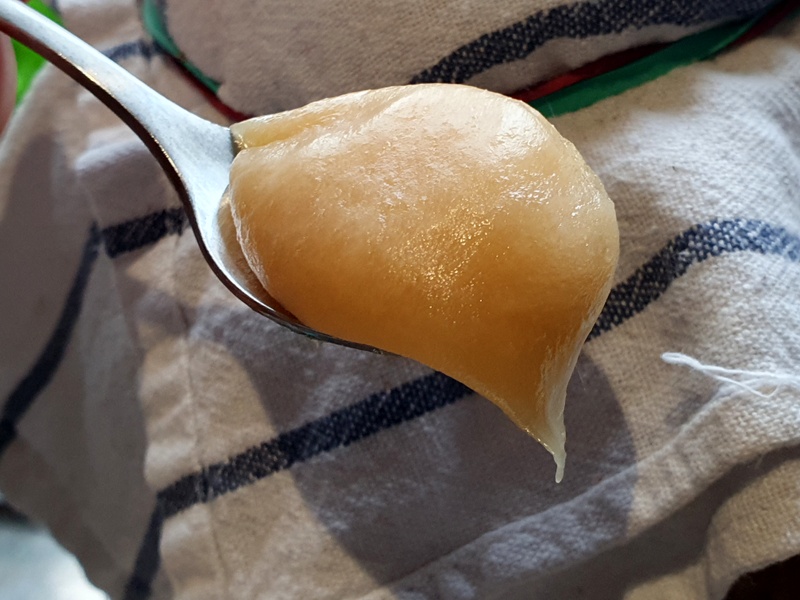 The first written records of beekeeping come from the ancient Egypt and honey has even held religious significance in several religions. Honey is not only sweet but many also swear by its many positive health qualities: claims which unfortunately not always seem to be backed up by science. Since honey mainly is composed of sugar (notably about 38 % fructose and 32 % glucose), it should – as most sweet things – best be enjoyed in moderation. 
Few of our are fortunate enough to live next to a lavender field, and fewer still probably have an easy access to premium lavender honey. But fear not! For this recipe, we will use good "normal" (non-lavender) honey and infuse the base with dried lavender flowers.
[If you do have access to lavender honey, feel free to use it of course! In that case, you should exclude the dried lavender, increase the amount of honey 1-2 tablespoons and consider adding another egg yolk to your base.]
While you may choose your own favourite base, I opted for a custard base in order to give a pleasant and rich body to the ice cream!
Making the ice cream is therefore quite simple: (1) gather some dried lavender, some good honey, milk, cream, eggs, sugar and a pinch of salt, and (2) prepare the custard base. For some added complexity, I actually also put in a little vanilla: however, while recommended (it won't turn the ice cream into vanilla), the vanilla is by no means necessary.
The easy steps
Start by gathering some good quality honey (and not of the liquid sort), and some dried lavender flowers.
Once we have these two key ingredients, all we need to do is to add them to a classic custard base made up of egg yolks, cream, milk and – in this case –  a little vanilla and a pinch of salt..
As avid readers know, I favour the faster, "Modernista" way of preparing the custard base: instead of tempering the egg yolks separately and do things in stage, I simply put the egg yolks together with the dairy (and here, the other ingredients) from the very start.
While whisking, bring the ice cream base to the so-called nappe stage (approximately in the 82-84º C /180-183ºF-bracket): at this point, the consistency-giving qualities of the egg yolks should have fully triggered, and the base should also have been pasteurised.
How to know if you've reached the Nappe stage? Personally, I tend to use a handy kitchen thermometer but if you don't have any, try the Spoon test (a classic rule of thumb-estimation).
Once the Nappe stage has been reached, take the base off the heat and let it cool down. Once cooled down, let it chill further in your kitchen refrigerator for a few hours or over night.
When it is time to churn the chilled base, remember to first sieve off the lavender flowers. Then churn the base in your ice cream machine (or still-freeze using your household freezer).
The Honey Lavender ice cream
Honey and lavender go extremely well together and this pleasant creation should be pleasing to all ice cream fans regardless of age! In fact, having enjoyed this, you might be forgiven for believing that lavender flowers were edible and sweet on their own. Alas, that is not the case, but our sweet ice cream will provide all the consolation you may need! 
Worried about the lavender flavour being overwhelming? Don't fret too much about that. While dried lavender – like most dried flowers, herbs and spices – can differ in strength, the recipe should provide a harmonious, rather subtle, blend that should be cherished by most palates! The consistency is also very good. The custard base provides a pleasantly rich body, and the texture remains excellent and scopable even after several days in the freezer (no doubt largely thanks to the amount of honey).   
So – send a thankful thought to the industrious honey bees and get going! After all, they did all the hard work. Get hold of a jar on good honey,  do your thing and treat yourself and your loved ones to a delicious honey lavender ice cream experience!

Lavender Honey ice cream
By:
Anders@icecreamnation.org
A tasty and very pleasant combination of sweet honey and aromatic lavender!
Ingredients
350 ml (about 1⅓ cup) whole milk
300 ml (about 1¼ cup) cream
4-5 tablespoons (about 80 gram) of honey
4-6 grams of dried lavender flower
4 egg yolks
about 70 ml sugar (60 gram or about ⅓ cup)
½ teaspoon good quality vanilla extract
pinch of salt
Instructions
Mix all ingredients in a sauce pan.
Heat the mixture and, while whisking, bring the base to the so-called Nappe stage (in the 82-84º C /180-183ºF-bracket).
Take the base off the heat and let cool down, then preferably chill in your refrigerator for a few hours or over night.
Sieve off the lavender flowers.
Churn the base in your ice cream machine (or still-freeze, using your household freezer)