Apple sauce sorbet – quick and great in trying times!
Making ice cream can help keep up the spirit at home in these pandemic times. But as many of us are struggling to cope with worries, quarantines, and social distancing, lengthy searches for exotic ingredients probably rank low on the priority list.  So here comes a really tasty, yet simple and quick recipe to take your mind off the pandemic – the basic ingredient being trusty ol' apple sauce!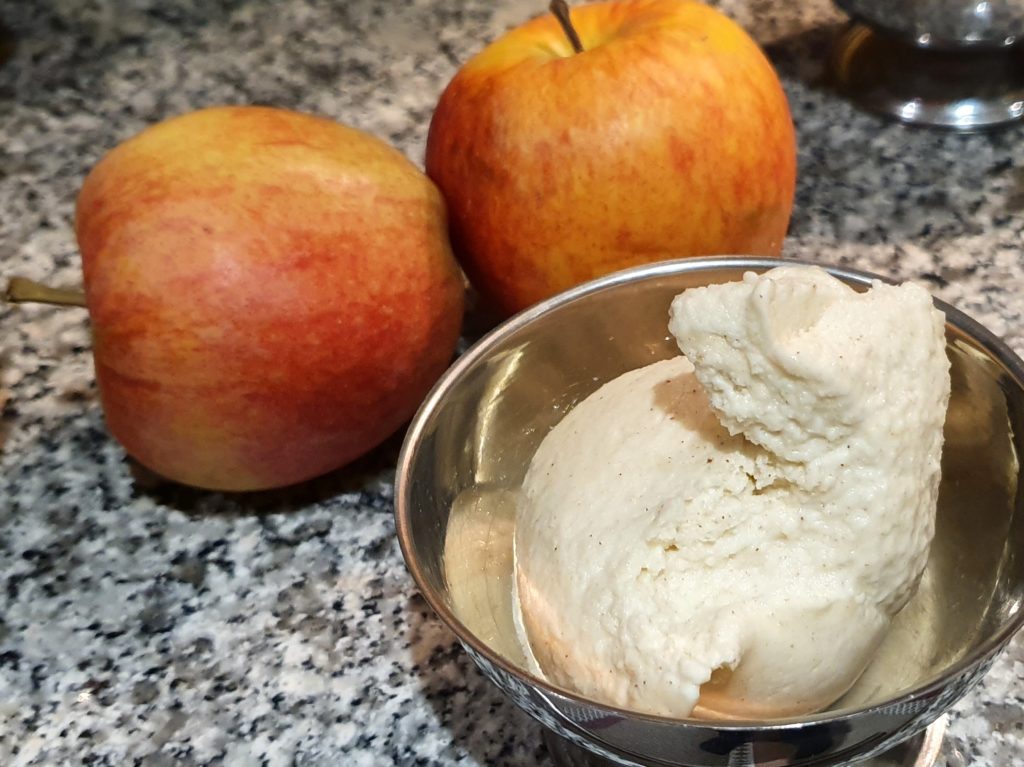 Yes – Apple sauce! Is that not one of those tasty things many of us fall in love with already during childhood? Let's rekindle the love by making a super-easy and quick-to-make apple sauce sorbet which  will lift your spirits in no time!  And while it is a sorbet, strictly speaking, there is no need to bother with any sugar syrup:  the apple sauce is sweet enough, and the nice consistency assured with the help of our secret vegan ingredient: aquafaba!
The direct inspiration for this easy and delicious recipe comes from the guys at Serious Eats, who once contemplated what could be done with left-over apple sauce. Save for a little tweaking, we'll closely follow in their footsteps. Not a fan of sorbets? – Well, give it a try anyway! Even my wife who normally harbours little love for sorbets is very fond of this one!
What you need: very little, apart from apple sauce, actually
The mandatory ingredients are few: apple sauce, sugar, a little spice … and finally aquafaba for the perfect consistency. In a pinch (although it wouldn't be as good) you could even exclude the spice and/or the aquafaba.
Now, simply put the apple sauce, the sugar (but save about 50 ml or 1/5 cup for the aquafaba later), and some cinnamon in a bowl and mix well. Set aside for a few minutes  – or, for even better results, let the mix chill in the fridge for an hour or two. When you are ready to proceed, we will start by preparing the aquafaba …
Preparing the Aquafaba
This great vegan alternative to Italian meringue will ensure a great consistency to your final sorbet. All you need are some chickpeas, and canned ones work great!
If you cook your chickpeas yourself, you should ideally be able to use the liquid you soaked and boiled them in (= the aquafaba). As for water amounts and such, your mileage may vary and I would recommend further studies of aquafaba cookers' pages to seek more exact advise.
For a quick fix (which I use myself all the time): Simply open a can of cooked chickpeas and use the bean liquid therein (= the aquafaba)!
Now all we have to do is to whip the aquafaba-liquid hard, adding the sugar we saved as we go!
Combine everything – and churn
The moment has come – blend the aquafaba in the apple sauce-mix! (If not already done, ensure that the sugar has dissolved first). Then start churning!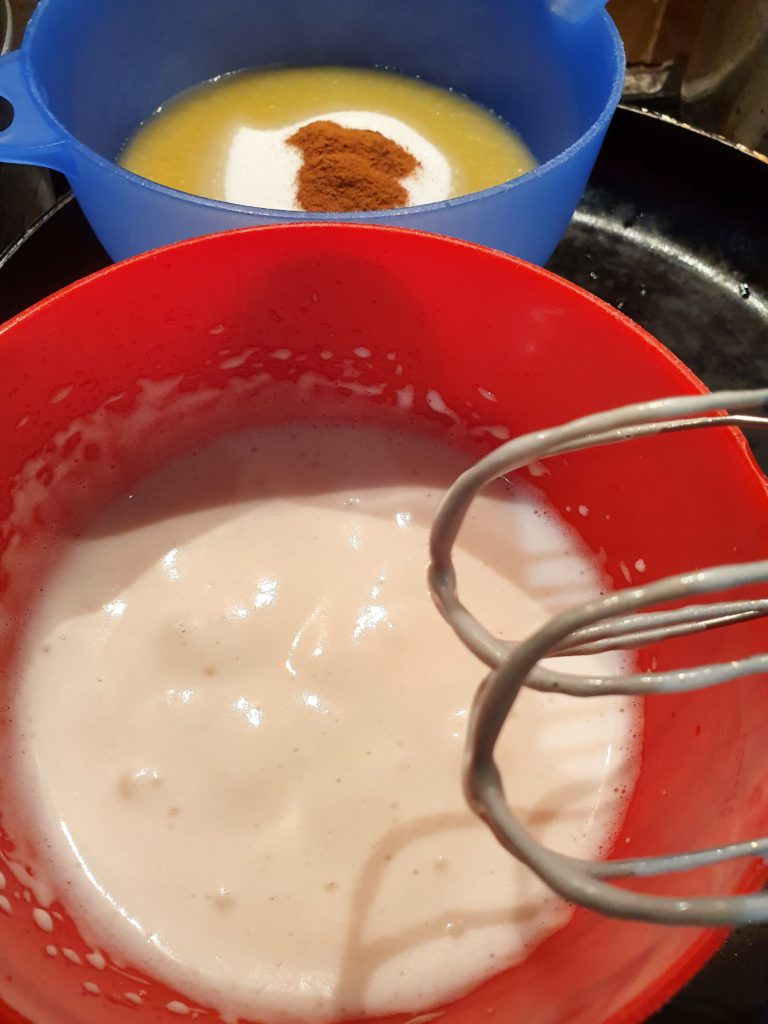 The verdict: An easy, delicious sorbet to really cheer you up!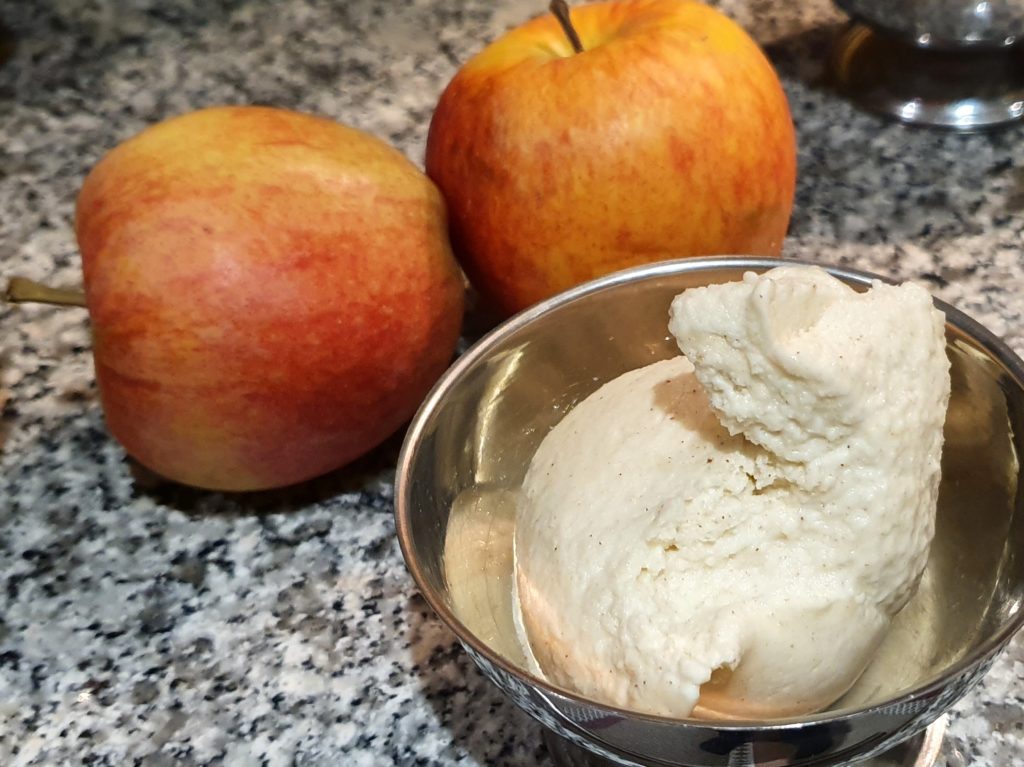 They say that "an apple a day keeps the doctor away". This might not be enough these days, but keeping up the spirit will certainly help. And this sorbet delivers, without putting too much strain on you in terms of ingredients or efforts. I have not clocked myself, but guess that a focused effort could give you the base ready for churning in less than ten minutes. 
Do not make the mistake to dismiss this recipe as being "too simple to be any good": nothing could be further from the truth.
Provided  that you like apple (sauce), this sorbet is truly delicious! As with most sorbets, the flavours come across very clearly in the dairy-free environment. The cinnamon adds a little tinge of pleasant complexity to the seductive apple flavour. The consistency of the sorbet is also great, thanks to both the added sugar and to the aquafaba. Indeed, the sorbet's impressive body and stability even border on those normally associated with ice creams. As for storage, the sorbet also keeps very well in the freezer. 
Enjoy … and stay safe out there!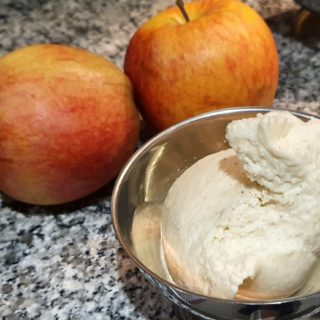 Apple sauce sorbet
Could this be the quickest and easiest apple sauce sorbet ever? Building on a splendid idea from the guys over at Serious Eats, we will be channeling a classic childhood favourite in no time!
Ingredients
About 500

ml

(2 cups) apple sauce

About 125

ml

(about 1/2 cup) sugar

Optional but recommended: about 1 teaspoon ground cinnamon

Optional but recommended: about 3-4 tablespoons of aquafaba
Instructions
Mix the ingredients in a bowl, whisking well and saving the aquafaba for last.

Pour the mix into your ice cream machine and churn: done!

PS: for best effect, use already cold apple sauce. If not, consider letting it chill for an hour or so in the fridge before churning (in such a case, add the aquafaba only just before the churning)