Blueberry Lemon Mascarpone ice cream
Say hello to my new favourite! Who could have guessed that blueberries and lemon would turn out to be so great together! My new favourite frozen treat is also extremely easy to prepare: if you can mix together a few cold ingredients in a bowl, you're almost there!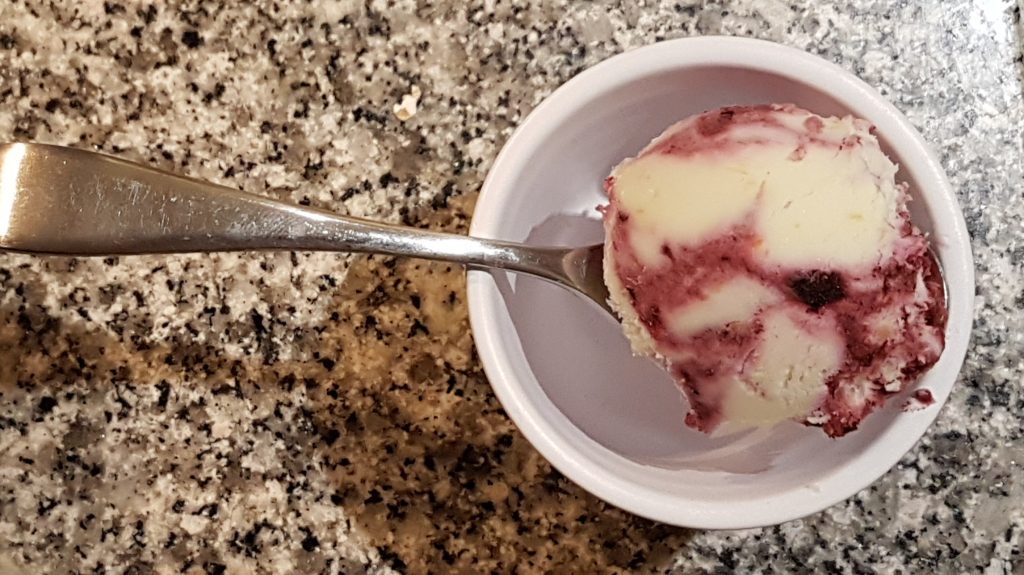 Mascarpone, blueberries and lemons – stunning ingredients for a stunning ice cream
The healthy virtues of blueberries and lemons are plentiful – to name a few, blueberries a highly nutritious and brimming with anti-oxidants. They also contain a lot of pectin – nature's own vegetable version of gelatin – which will help to give our ice cream a nice consistency. Lemons contain a lot of vitamin C and is thus also a good source of anti-oxidants. Most people have probably heard the story about how the British Navy introduced citrus rations to combat scurvy which used to plague long-haul sailors of older times (and leading to the establishment of the nickname "Limeys" for Brits).
For the blueberries, I opted for a good-quality jam. The use of jam in ice creams has been described in an earlier post, and I deemed it perfect for this occasion: as the blueberries will be rippled into the ice cream, they need a certain fluidity. If using fresh berries, you would therefore need to mash and mix them with a sugar syrup and cook it all together somewhat – in other words, you would basically end up with (some kind of) jam anyway.
When choosing suitable ice cream base frame for these flavours, I decided on a Mascarpone base which I figured would go nicely with particularly the lemon.  This Italian cream cheese is also extremely well suited for ice cream making, and has figured here on Ice Cream Nation before (then with strawberries).
The Preparation: start by making a lemon mascarpone base!
As noted, making this ice cream is extremely easy – all it takes is basically mixing a number of cold ingredients together. For the lemon mascarpone base, all you need to do is to put the mascarpone in a bowl and add all the lemon zest, the juice of one of the lemons, the sugar(s). To add some extra air to the ice cream, I would suggest that you whip the cream before adding it (soft tops should do).
As for the caster sugar, you need to calibrate the amount based on how much sugar your blueberry jam will provide: the total amount should be around 225 gram (excluding the inverted sugar which we'll add to improve the consistency and sweeten things a bit further).
In my case, the amount of jam I used contained about 100 gram sugar: as the total amount for this recipe should land around 225 gram, I therefore (225-100 = 125) added 125 gram caster sugar  to the mascarpone base.
By the way: if you would like to reduce the total amount of caster sugar, consider replacing parts or all of it with xylitol (Birch sugar) – if anything, your ice cream will be turn out even better for it!
Once the lemon mascarpone base has been mixed together, we will churn it firmer but not fully finished: use your ice cream machine or still-freeze using your freezer. We stop the freezing a little earlier than usual in order to keep the ice cream soft and ready for the blueberry jam ripple! (see below)
Add the blueberry, ripple and finish!
Since we use a ready-made jam, preparing the blueberry ripple is super-simple: just take the jam and add the lemon juice (1 lemon's worth)!
When the lemon mascarpone base has firmed up but not quite finished churning, place it in a freezer-safe container and pour over the blueberry jam-mix.
To create a ripple effect – take a fork or a knife and move through the ice cream-jam a few times.
Just don't overdo the swirling as you might risk to whisk the jam "too well" together with the ice cream base – the "blueberry lines" should still be clearly visible in the final ice cream.
The verdict – a truly great ice cream!
Yes – a new rippled favourite! Even if I had high expectations for this ice cream, the final result exceeded them!
The yummy blueberries rippled into the smooth, rich lemony mascarpone base combined into an ice cream that turned out to be incredibly delicious. The rest of the family (by now very discerning when it comes to ice creams) also loved it and offered their highest mark of approval. 
Since this frozen treasure is so extremely easy to make, just grab some Mascarpone, a couple of lemons and a jar of blueberry jam and go boldly ahead: You won't regret it, and neither will your soon-to-be bedazzled loved ones!
Blueberry Lemon Mascarpone ice cream
By:
Anders@icecreamnation.org
The Mascarpone lemon base provides a smooth and perfect frame for the blueberry ripple, establishing a truly delicious ice cream combination guaranteed to please!
Ingredients
about 340 gram Mascarpone cream cheese
300 ml (about 1⅓ cup) cream (slightly whipped)
about 225 gram caster sugar [Note: this is the total amount - reduce the sugar coming with your jam below!]
2-3 tablespoon(s) inverted sugar (such as Agave nectar, honey or glucose syrup)
zest and juice of three lemons (for an even zestier tilt, add zest of yet another lemon)
about 300 gram blueberry jam of good quality (preferably at least 50 % fruit)
Instructions
Mix the cream, the Mascarpone cream cheese, the inverted sugar, and all the lemon zest, and juice of 2 of the lemons. Also add the caster sugar (making sure to reduce the amount with the sugar which the jam below will add to the ice cream later ...)
Whisk well, to ensure that the Mascarpone cheese is well distributed.
Churn in your ice cream machine according to instructions, or (without a machine) still-freeze in your freezer (see the post on making ice cream without an ice cream machine for good advise on how best to do this) until firmed up but still not finished.
While waiting for this (or earlier still) prepare the blueberry jam for rippling: add the remaining lemon juice (1 lemon's worth) to the jam and mix well.
When the ice cream base is firm but not fully finished, put the base in a freezer-proof container.
Ripple in the blueberry jam-mix, cover the ice cream with plastic film and lid and store in your freezer until firmed up (about 1-2 hours or so).
Notes
In case you consider the amounts of total sugar too high for you, consider replacing at least half of the sugar with xylitol (birch sugar).