Key lime pie ice cream
Key lime pie is a beloved dessert classic from Florida. But why limit ourselves to pies? Grab a few lime fruits and let's make Key lime pie ice cream!
The origins – a Florida fisherman's pie made to last without refrigeration
The history of Key lime pies dates back to Florida in the early 20th century. Some believe that the early versions probably catered to fishermen, often gone to sea for several days in an era without refrigerators. In order to stay fresh, the filling of these pies originally consisted of an uncooked mix of egg yolks, lime and  sweetened condensed milk (if you try, you will find that even a cold mix of these ingredients still thickens on its own, due to the chemical reactions involved).
These days, the health hazards of eating raw eggs have probably put an end to most such uncooked Key lime pies.
Our ice cream-version will not be using any raw eggs either. In fact, by omitting the eggs we will still be able to avoid cooking the base – a base largely composed of sweetened condensed milk. This peculiar type of milk is a longstanding favourite when it comes to creating a quick, yet convincing ice cream base with minimum efforts – it feels good to know, though, that its use in Key lime pie is dictated by the pie-tradition itself.
Don't feel like buying commercial sweetened condensed milk? – Make some yourself from scratch!
Feeling traditional and/or curious about adding eggs too? By all means – go ahead and put an egg yolk into the base!  Just make sure to properly heat and pasteurise the mixture before churning, much like you would when preparing a custard-based ice cream!
Five minutes (!) to make the base
Yes, that's right! Just mix the sweetened condensed milk with cream and the plain yoghurt (or just cream, if you want further simplifications). Then add the zest of half of the lime fruits and the juice of all: Finished and ready for churning! [or for still-freezing in your freezer, if you have no ice cream machine]
While you wait for the ice cream base to firm up/finish churning, you can calmly crush the Digestive biscuits (or Graham crackers, should you prefer to use those) for later use.
To simulate the pie crust, we will simply add the crumbled biscuits to the finished (or nearly finished) lime ice cream base. I used Digestive biscuits (try making them yourself if difficult to obtain), but you could also go with Graham crackers.
Exactly how you add the crumbles is up to you: You could pour all of them on top of the ice cream (like in the image above) and then simply scoop from there. Or you could mix some, most, or all of the crumbles into the ice cream, perhaps saving some for sprinkling at the time of serving (like in the image below). The mixing-in can easily be done either towards the end of the churning or right after the churning has finished.
If you decide to add the crumbles during the churning, just make sure to wait until near the end when the ice cream has firmed up:  otherwise, the crumbles are likely to sink and end up at the bottom of your ice cream.
A frozen – and delicious – kind of pie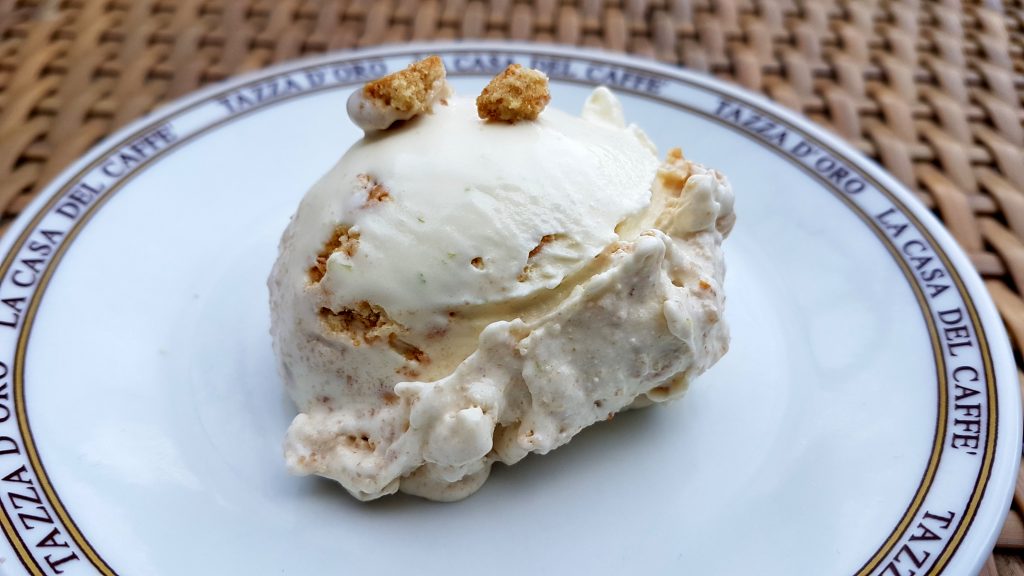 In my household, everyone who has tried this ice cream has fallen for it – me included.
Regardless of whether you decide to serve it as a piece of pseudo-pie or by traditional scoop, it remains delightfully sweet and tasty. If you're only after lime ice cream, that part is good enough to stand on its own. Yet, it is remarkable how the addition of the crumbled biscuits elevates the ice cream flavour to match the famous pie-origins.  The consistency and texture is also great, and the sweetened condensed milk once again proves its versatility as a base, with the ice cream remaining pleasantly scoop-friendly even after some time in the freezer.
Given the extreme ease of preparations, I warmly encourage you to get hold of the very few things you need and try for yourself. Popping over to the Florida Keys to eat the classic pie may be difficult for most of us, but enjoying this great ice cream sure is good consolation 😉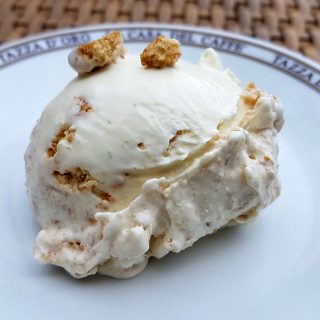 Key Lime Pie ice cream
The classic American dessert inspires a tasty ice cream that keeps true to the original flavours. No eggs required, speedy preparations and general acclaim almost guaranteed.
Ingredients
1

can

(about 395 gram) sweetened condensed milk

300

ml

(1 1/4 cup) cream

50

ml

(1/5 cup) plain yoghurt

zest of 3 lime fruits

juice of about 6 lime fruits

about 5-6 crumbled Digestive biscuits or Graham crackers
Instructions
Whisk all ingredients except for the crumbled biscuits together.

Churn in your ice cream machine or still-freeze in your freezer until nearly finished.

Add the crumbled biscuits and finish the churning.

ALTERNATIVELY:

Churn the ice cream, then add the crumbled biscuits to the finished result - either as an add-on when serving, or as a mix-in, or a combination of the two.