Turkish delight ice cream
If you like candy, you may have heard about the Ottoman confectioner Bekir Effendi. He came from a small mountain town in Anatolia, in present day Turkey, but was going to make candy history! Bekir Effendi arrived in Istanbul in 1776,  set up shop and invented lokum – the sweet known to many today as 'Turkish delight'.
At the time, lokum was a wholly new type of candy  – soft and sweet, and open to a number of flavour variations. Lokum (originally rahat lokum – "comfortable morsel") quickly set new standards for candy and became very popular –  not least with the Ottoman Sultan and his court. After his hajj to Mecca, Bekir became known as Haci Bekir, and his candy shop  ("Ali Muhiddin Haci Bekir Confectioners") is actually still there in Istanbul.
As the story goes, the Western introduction to lokum came about in the 19th century, and is often credited to a now unknown Briton. Apparently, he became so infatuated with lokum that he had several crates of it sent to London, where it made great success. Soon it had become THE preferred fashionable sweet also in the West, favoured by the rich and the mighty all over the continent. But in Europe,  the special candy became better known as  … you guessed it –  Turkish delight.
Getting hold of the lokum
So, what is lokum actually made of?  Some kind of jelly? Actually, while they may be flavoured with a lot of different things, they are mainly made up of starch and sugar. Which also means that you can actually try to make them yourself, for instance by using a micro-wave oven. Go here for instructions that I personally can vouch for, courtesy of the Nestor of modern food science, Harold Mc Gee.
For this recipe, however, I went to my local neighbourhood friendly Turkish corner shop and bought my lokums ready-made (rose water-flavoured).
Choosing a good ice cream base
Any base (such as one of the oriental ones here) can, of course, be combined with Turkish delight.
But I happened to read a highly enjoyable (but now, sadly gone) post by Catherine Turnbull, describing her quest to recreate her particularly pleasant childhood ice cream memories of Turkish delight ice cream in Scotland. Instantly filled with admiration for such a worthy and dedicated project, I also noted that her ice cream custard base was slightly different from how I normally would have done it.  Not having tried that before (milk-only custard with added whipped cream), this felt like another good reason to go ahead!
Putting it all together
It might be a good idea to start with the lokum.
Cutting the cubes into smaller pieces might be a bit tricky, given that they are so sticky. I would recommend that you use confectionery's sugar to separate the pieces from each other (after all, that is what lokum often comes dusted in … for good reason). Because of this stickiness, I would also suggest that you do NOT add the lokum pieces while churning the ice cream in your ice cream machine. Instead, blend them into the (almost) finished ice cream when the churning is over.  Since lokum basically consists of sugar and starch, the pieces will not freeze solid in the ice cream. They may, however, tend to stick to your teeth – another good reason to cut them small.
When you have cut the lokum into small pieces, place it in the refrigerator to chill. Now, it is time to prepare the ice cream custard.
Making the custard base starts out in the traditional way – by whipping together sugar and egg yolks. Then, the steaming hot milk is poured into the mixture ("the tempering stage") under constant whisking. On low-medium heat, the ice cream custard is then brought to pasteurising temperatures, taken off the stove and cooled down.
Having chilled further in the refrigerator for a few hours, the custard base is then combined with softly whipped cream. To ensure a typically oriental overall flavour, add rose water in personally satisfying quantities to the mixture (exercise caution – too much is likely to be unpleasantly overpowering …).
Churn the ice cream base in your ice cream machine according to instructions. When almost finished, pour the ice cream in a freezer-safe container, add and blend in the small pieces of  lokum you have prepared. Let the ice cream spend another hour or two in the freezer before serving,  in case you want it to stabilise somewhat further.
And yes – the ice cream base turned out to be a very adequate, well-performing custard foundation, which I am happy to recommend.  Since the base recipe uses whipped cream, I also guess that this is a base that could work  well
even in the absence of an ice cream machine
.
The final result is clearly worthy a Sultan!  As you can see, the ice cream is quite beautiful to behold.
Still, I would suggest that you close your eyes, smell the rosy fragrance and savour a spoonful of the ice cream. Who knows? With a bit of imagination, you may even find yourself in some nice Arabian Nights dream setting  …
🙂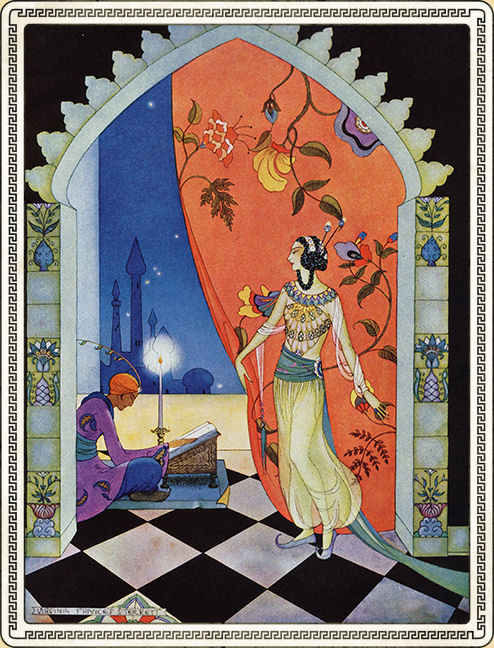 Ps. Let me also add that even without any lokum, the ice cream is pleasantly oriental in its own right, thanks to the rose water –  something to consider if you lack lokum but still long for an oriental ice cream flavour! 
Turkish delight (Lokum) ice cream
Oriental-flavoured ice cream on custard base, after a recipe by Catherine Turnbull
Ingredients
3 egg yolks
70 gram sugar
300 ml (1¼ cup) milk
300 ml (1¼ cup) cream
about 25 ml (about 2 tablespoons) rose water (or more, depending on taste)
100 gram Turkish delight (lokum), finely chopped into small pieces
Instructions
Whisk together the sugar and the egg yolks.
Heat the milk, then carefully pour a thin stream into the sugar-eggs mixture ("the tempering stage") while whisking constantly.
On low heat, continue to whisk, ultimately bringing the mixture up to about 82-84º Celsius (189-183 ºF); the stage when you should be able to draw a line through the custard on the back of a spoon (or equivalent) that stays. For added security, use a thermometer! And remember to whisk all the time – you don't want to end up with scrambled eggs!
Cool down the mixture and let chill further at least a few hours in the fridge.
Whip the cream soft.
Take out the chilled custard from the fridge and blend in the cream.
Add the rose water, checking the taste as you go along.
Churn in an ice cream machine according to instructions (or still-freeze in your freezer; see separate post on how to best do that!).
When almost finished, fold in the small-cut pieces of Turkish delights into the ice cream base.
When the churning is finished, put the ice cream in a freezer-safe container, cover with plastic film and a lid. Store in the freezer.
Notes
When cutting the Turkish delight, it will likely help if you make use of confectioner's sugar (often already present in packages with Turkish delight) - otherwise, the pieces are very likely to stick together. For the same reason, add the pieces to the (almost) finished ice cream, and not to the ice cream machine during churning. While the amount of sugar might seem low, this is made up for with the inclusion of the Turkish deligths (which, to a large extent, consist of sugar).