Energy Drink Sorbet
Time and energy always in short supply? If you have no qualms about seeking your re-energizing solutions from a canned mixture of concentrated caffeine and taurine, this sorbet might be just what you seek.  But actually, you might want to try it even if you feel cautious about energy drinks – read on!
Red Bull and all the other energy drinks  – love them  or hate them.  The original precursor to Red Bull (Krating Daeng) helped dead-tired lorry drivers in Thailand to stay awake during excessively long working hours  on the roads.  It is clearly questionable whether relaying on energy drinks to stay awake really makes much sense from a traffic security perspective but one thing is clear:  When introduced to the rest of the world in the late 80′s,  Red Bull quickly established itself as the quintessential quick and canned energy-fix , always ready to pick you up, give you wings and see you through the day.
Other similarly charged energy drinks quickly followed suit. In some countries, however, the  cans loaded with caffeine and taurine were deemed so potentially detrimental to health that they were banned (bans that eventually often came to be lifted, however).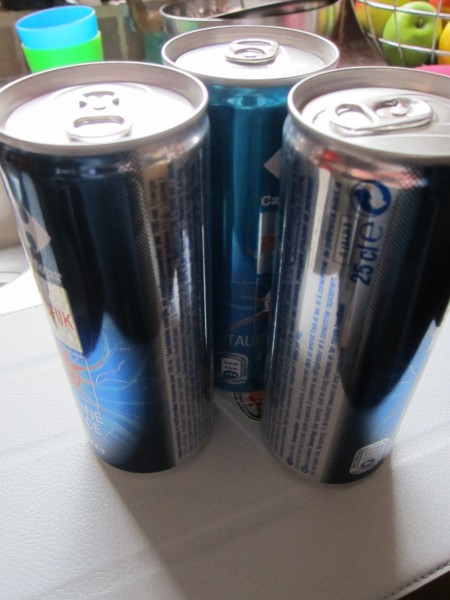 So, how unhealthy are the energy drinks?
While there are conflicting studies about the health-effects of energy drinks, the experienced boost in energy mainly comes from two ingredients – caffeine and sugar.  Most would probably agree that  overdosing on any of these two substances is  not to be recommended. Then again, this also applies to heavy consumption of coffee  or sweetened soft drinks in general.
It may well be that the claims about both negative and positive effects of energy drinks per se are exaggerated. The European Food Safety Authority (EFSA) has for instance  concluded that taurine levels normally found in energy drinks could  not be considered a health concern. What about the level of caffeine? Often, a can of energy drink does not contain more than roughly the equivalent of a cup of coffee (80 mg / 250 ml)!
Given the suggestive way energy drinks generally are marketed and perceived, it would not be too surprising if another contributing factor to any energy rush you might experience simply could be caused by the placebo effect! Disappointed? Don't be  – because  this means that our  Energy sorbet will be healthier than expected, yet still have a great potential to actually affect your guests when you tell them what it is made of!
The making of Energy sorbet
Difficult to make? Not really – just combine the energy drink with a simple sugar syrup and freeze!  Since we are dealing solely with liquids here, I added a lightly whipped egg white to help maintain a nice consistency. Also, some inverted sugar was added to help reduce ice crystallisation somewhat and make the sorbet slightly easier to scoop.
If you wonder about the bubbles in the photo below, I used sparkling water for that batch (but ordinary still-water works as well!).  If you wonder about the Egg test (for getting the right concentration of sugar in a sorbet), follow this link!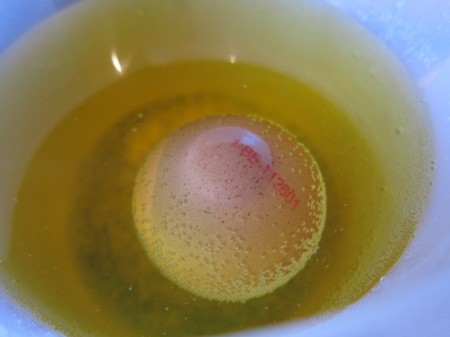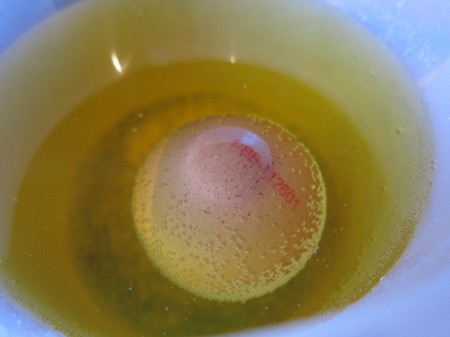 Even if you feel cautious about energy drinks, this Energy sorbet could still be interesting!  One single can of energy drink goes quite a long way in the recipe, so the actual amounts of caffeine and taurine per serving will be markedly lower than if you would drink a can.  And you will still be able to enjoy the particular flavour of the energy drink.
Combine that with the highly probable placebo effect caused by the words "Energy drink", and your guests may actually leave the dessert table feeling much more energized than they – objectively speaking – should!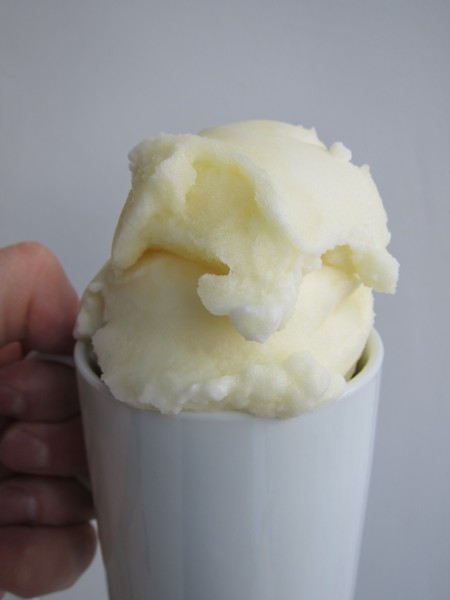 Ingredients
250 ml Red Bull or equivalent Energy drink
250 ml water
5 tablespoons Agave nectar (or other inverted sugar, i e corn syrup or honey)
5 tablespoons (50 ml) sugar
1 egg white
Instructions
Combine the water and the sugar(s) to a simple sugar syrup (either by heating the mixture for a few minutes until all the sugar has dissolved or by shaking them until this has happened). If heated, allow the sugar syrup to cool down, preferably in the fridge.
Once the sugar syrup has cooled down, combine it with the energy drink and blend.
Churn in an ice cream machine according to instructions, adding a slightly whipped egg white to the sorbet base towards the end of the churning. If still-freezing without an ice cream machine, put the sorbet base in a freezer safe-container, put it in a freezer and churn the base by hand (using a fork or equivalent) every 45 minutes or so for at least three hours (if so, add the slightly whipped egg white only when the sorbet base has begun to stabilise somewhat).
Cover the sorbet with plastic film, put on the lid to the freezer-safe container and leave to froze. Allow the sorbet some time to defrost a bit before serving.
Notes
As with many sorbets, particularly those composed almost entirely by liquids, this one is best enjoyed while fresh.