The Tears of Chios – Mastic ice cream adventures
Ever thought about pine tree as a suitable ice cream-flavour? Ever wondered about what would happen if you combined saffron with pine and tried to eat it? If so, read on!
Mastic is an aromatic, amber-like resin, and dries into hardened, brittle drops. And the taste? To me, it mainly resembles that of Pine tree. Yes, really!
Mastic is a common ingredient in several recipes for Oriental style ice cream. It is the resin from the Mastic tree (Pistacia lentiscus), traditionally produced on the Greek island of Chios. While this little tree can be found also in other places, it is seemingly only on Chios they "weep" their resin when cuts are made in the bark of the branches.
The hardened sap of the Acacia tree – Gum Arabic – looks very similar to Mastic, and is also used in some oriental ice cream recipes. While both count as natural gums, Mastic and Gum Arabic (E 414) are, however, different products (with Mastic having much more aroma and taste than Gum Arabic).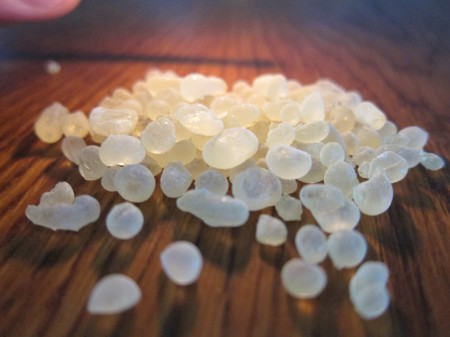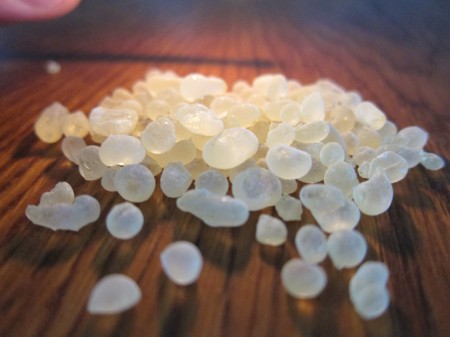 A flavour leaving no one indifferent
I have noted that Mastic as a flavour evokes quite diverging reactions. They seem to range from "euuuch … I can't take this!", to "Mmm … fantastic". Some of my Greek friends tell me that it is an acquired taste, and many suggest that a second chance be given to the flavour of Mastic if not initially pleasing.
Chez moi, the Mastic ice cream had the same dividing effect at first – some liked it a lot, whereas others did not like it at all. Myself, I was left on the fence, wondering whether it was the mastic or just my combination of flavours that made the ice cream so divisive (read more below about this, my not-so-successful, attempt, with mastic and saffron).
Deciding to give mastic a second chance, I adjusted the recipe somewhat and found a flavour-balance appreciated by all around the table! This was an ice cream I could vouch for!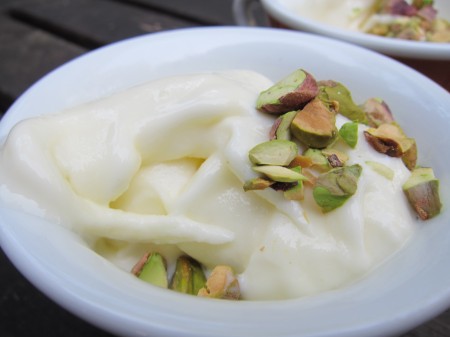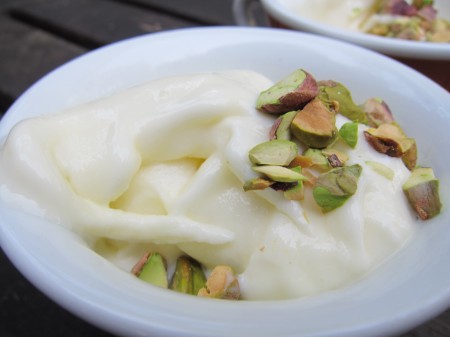 Intriguing ice cream prepared with aromatic Mastic resin - the flavour reflects this well: imagine a discreet blend of sweetness and pine!
Ingredients
600 ml (a full 2.5 cups) milk
100 ml (a full 0.4 cup) cream
125 ml (a full ½ cup) sugar
3 tablespoons of starch (I used corn starch, but other starches will also do)
½ teaspoon ground Mastica from Chios (possibly increase slightly, if you know you like the flavour!)
Optional: Sprinkle with chopped pistachio nuts and serve with sour cherry syrup (or jam) on the side.
Instructions
Pulverise the mastic (since it is a resin, it will be easier to handle if you first freeze it for 10-15 minutes and then put the resin drops together with a couple of teaspoons of sugar in the mortar).
Whisk together the corn starch and 200 ml (about 0.8 cup) of the milk, making sure that no lumps are left. Set aside.
Whisk together the pulverised mastic with the rest of the milk/cream and the sugar. Heat until steaming hot and until the mastic has dissolved.
Just before reaching a boil, add the corn starch-milk. Stir continuously on low heat to avoid any lumps for about 5-10 minutes, until the mixture has thickened sligthly.
Remove from the heat and let the ice cream base cool down.
Refrigerate for a couple of hours, then freeze according to the instructions of your ice cream machine.
Notes
Mastic sure does brings a very peculiar taste (roughly speaking, think "Pine tree"!) to the ice cream, However, the proportions above should ensure a subtly flavoured ice cream, likely to be agreeable to most people. Do be cautious if you want to have a stronger mastic flavour - in terms of strength, even a little of the "Tears of Chios" go a long way! Stick to the indicated amount, at least until you know for sure that you will like it!
Flavour combinations suitable for Mastic ice cream
1. The  purist's choice – Mastic on its own, possibly on the side of something sweet 
"Why bother with other flavours, when mastic is delightful on its own?"
I have been told that at least in Greece, Mastic ice cream (or Kaimaki, as it is called there) is often eaten "on its own". Or used in a way similar to vanilla – as a versatile ice cream that goes well with most anything sweet and baked. Given the number of different pastries, this opens up for quite a wide number of possible combinations to try!
Sprinkling some chopped pistachios on top of the ice cream, possibly also serving a sour cherry syrup (or jam) on the side, are other classical serving suggestions. And as you noted, this is the version of mastic ice cream described in my recipe above.
2. The endangered classic – Salep ice cream
Mastic and Salep (the latter a flour made from an endangered species of orchids, mainly growing wild in Turkey) is a classical oriental ice cream combination. Since the orchids necessary to produce genuine salep are endangered, however, legal trade is restricted. While waiting for successful attempts to cultivate and breed the required orchids, ethically minded people who care for the global flora should preferably stick to substitutes. I have written more about salep, salep ice cream and the search for salep-substitutes here.
3. The Oriental combinations – almonds, cinnamon, pistachio, walnuts, rosewater and their likes
There are quite a number of recipes suggesting "typical" oriental flavours to accompany the particular one of mastic. Keiko at Nordljus has written a beautiful post about when she tested mastic with rosewater and cardamom.
Unsuitable flavour combinations – My experiment with saffron
What can I say? The colour turned out beautifully. The shape-retention was superb. But the taste of it … perhaps I overdosed the mastic (using about 3/4 of a teaspoon), perhaps I should have used cream and not only milk. Or perhaps the flavours just aren't meant for each other.
Imagine crossing saffron – with its velvety-soft, complex taste – with a rather coarse pine tree or a cedar. The fusion of flavours certainly retained a part of the saffron. But instead of the soft and appealing "ending" which saffron often delivers, the palate now had to suffer a more brutish one, loaded with resin and pine. Take my word for it – this combination should be avoided!