Coppa del Nonno (Grandpa's cup) gelato
Ever wanted to feel like a famous Italian movie director? Or like an Italian rapper?
Or do you simply crave a really good, yet easy to make, Italian coffee ice cream – one that doesn't even require an ice cream machine? – Look no further!
Coppa del nonno – the origins
In Italian, I have been told that "coppa del nonno" means a sports trophy of little value. Using the name for a commercial gelato began in 1955, whereafter the Italian companies involved eventually sold the trademark to multi-national ice cream gigant  Nestlé  in the early 1990's. The coffee-infused gelato itself, however, started off as an Italian brand already back in 1955. And ever since, it seems to have racked up quite a number of fans, allegedly counting among them legendary film maker Roberto Rossellini and the more modern Italian rap singer J-Ax.
Guess what! I have actually had the pleasure of savouring Coppa del Nonno myself while visiting Italy not so long ago. So when I later stumbled upon the talented Italian food bloggers/youtubers at  CucinaPerTe, their attempt to create a home-made version of Coppa del nonno immediately caught my attention. Having struggled through enough of the Italian to grasp the essence of the making, I ended up deeply impressed! In my view, CucinaPerTe's version is so much better than the commercial version! And incredibly easy to make: freezing the gelato to a finish in your freezer will do just fine!
Coppe del nonno – the easy, home-made and superior way!
In short summary, the ingenious recipe is made up two main parts: The first one a blend of sugar, egg yolks and coffee (similar to the egg/sugar part of custard ice cream bases, but minus the dairy). The second part is whipped cream. Now, the really clever twist is to only mix these two parts once the sugar-egg yolk-coffee part has been properly pasteurised: no need to worry about tricky dairy-heavy custard bases being burnt on the stove, in other words.
Or – to put it differently – if you can whip cream and brew some coffee, you should have no problems making this gelato!
The ingredients are straightforward: Confectioner's sugar is used mainly for convenience (it will dissolve into the base much quicker and with less effort than ordinary white custard sugar), and you will fix the coffee part if you get yourself a pack of good instant espresso coffee powder!
For the coffee flavour, we will be making some seriously concentrated Italian coffee. But have no fear – the final gelato coffee flavour will be silken smooth and deliciously mellow!  
Start by making a cup of ristretto. For our practical purposes (although coffee connaisseurs might find this too crude), you can easily make a Ristretto by preparing an espresso but with only half the amount of usual water (but all the coffee). And yes, you can use instant espresso powder – just like me!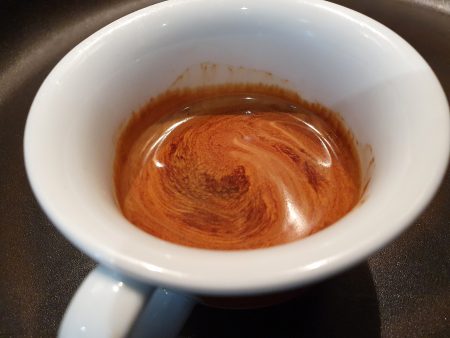 Once the Ristretto is prepared, add all that extra instant coffee powder into the cup.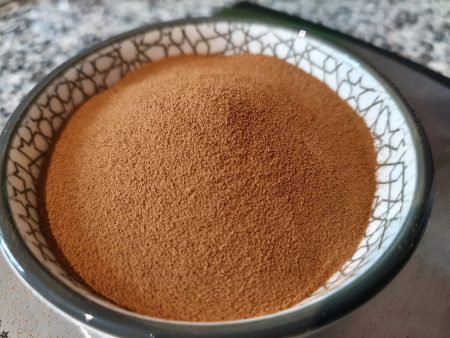 A coffee lover's dream … or nightmare? One thing is sure – a cup of this turbo coffee is likely to keep you awake for a week!
Onwards to the egg-and-sugary part! 
This should be a piece of cake for anyone who has ever made custard ice cream bases – just so much easier, since there is no dairy to worry about.
Just mix the sugar (here, confectioner's sugar, which will dissolve quicker than custard sugar) with the egg yolks. Then, on low to medium heat, bring the mix to about 82-84º Celsius /189-183 ºF.  The previously raw eggs should now have been safely pasteurised.
¨¨
The most difficult part is over – now simply whip the cream!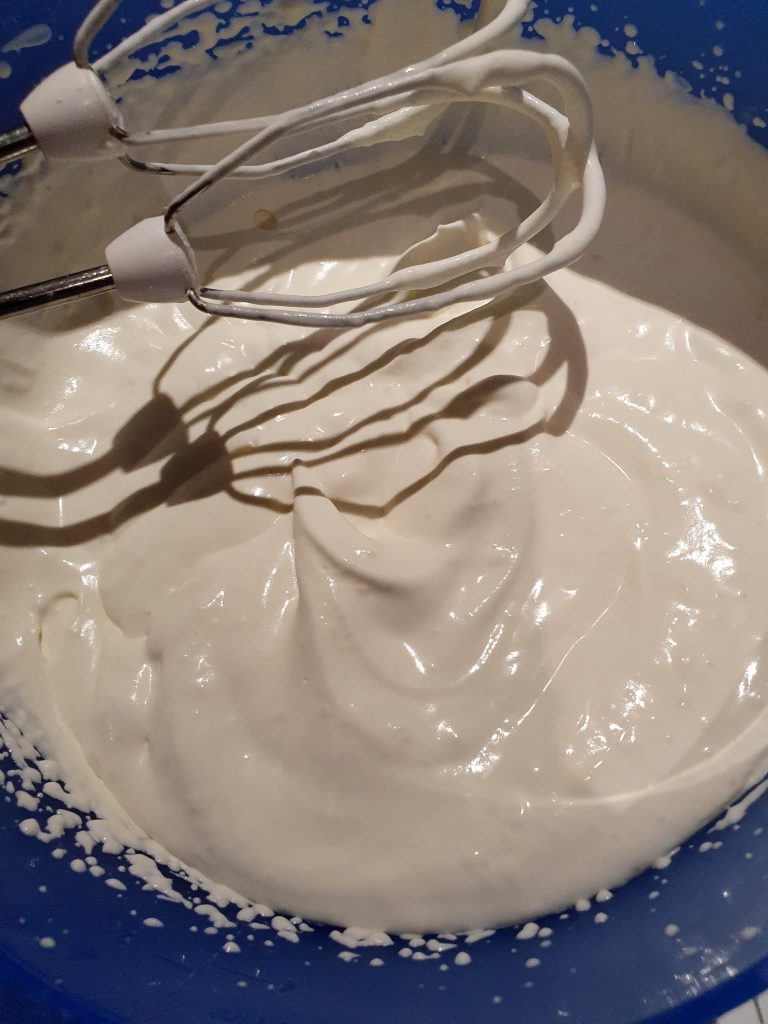 Gently whisk in the egg yolk-sugar-coffee mix into the whipped cream.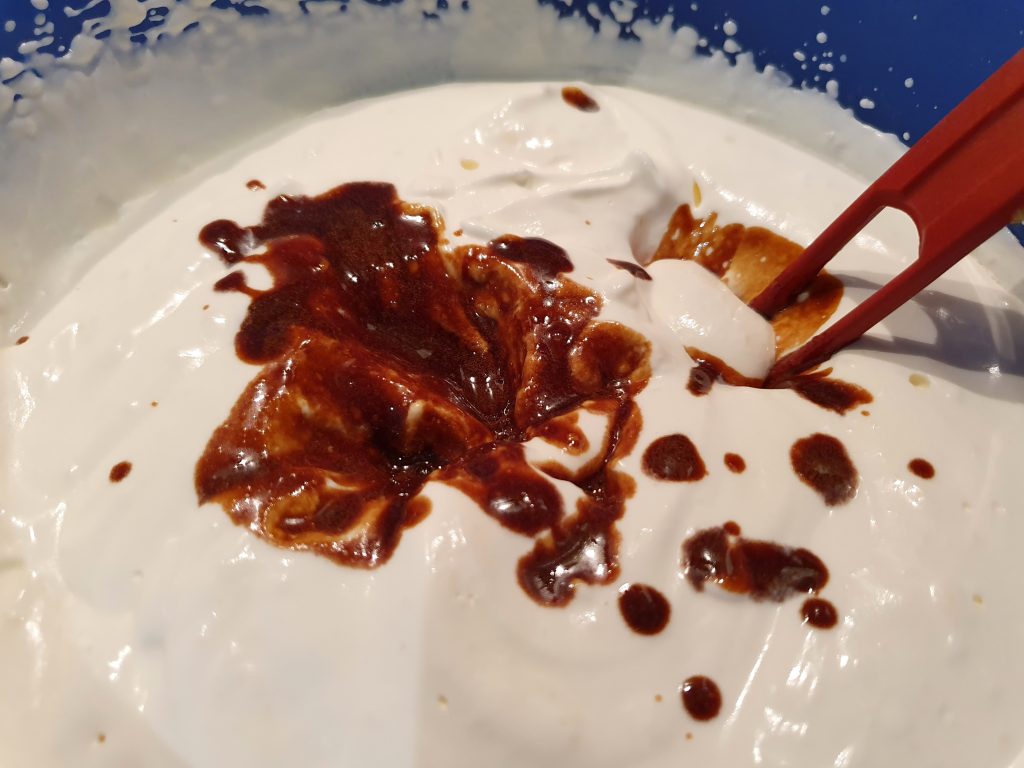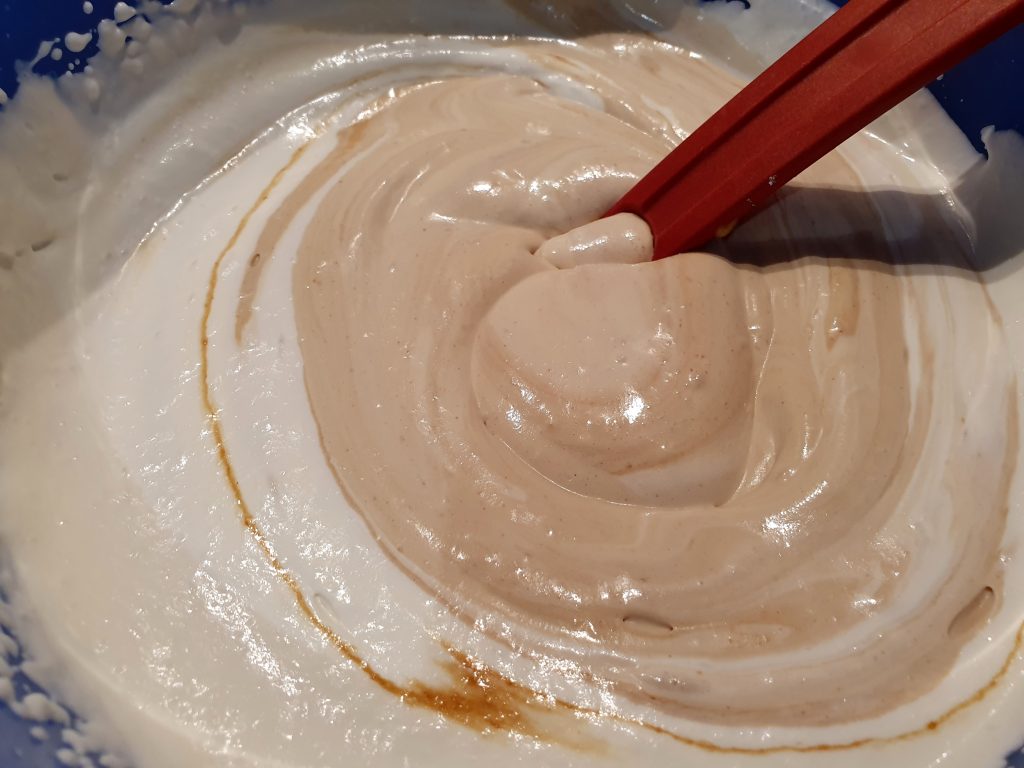 Churn in your ice cream machine, if you have one. If not – put your ice cream base in a freezer safe container and put in your freezer for at least a couple of hours. Or why not do as the Italians did when Coppa del nonno was introduced: fill up coffee-mug sized pots and put them in the freezer. After a couple of hours, serve yourself and your loved ones a true cup of grandpa's  😉 .
Home-made Coppa del nonno – so easy to make, so delicious to eat!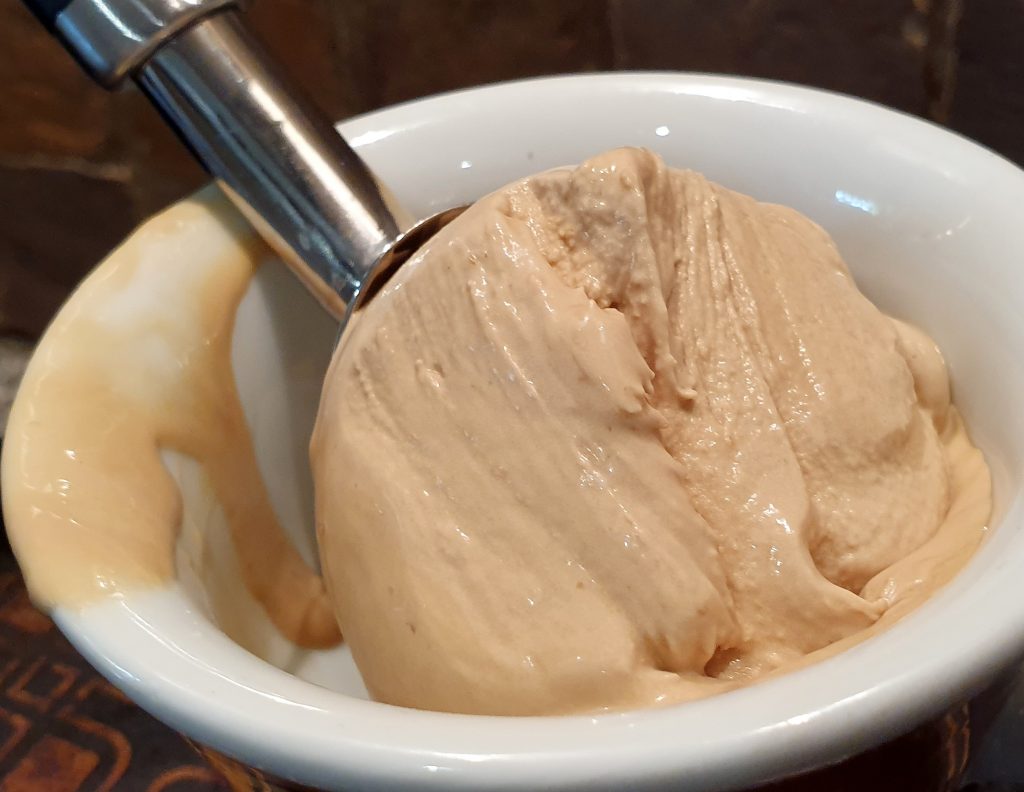 Sometimes, simplicity can be deceptive. Can an Italian ice cream made as easily as this really be any good? The short answer to this is: YES!
I could start to line up words like "delicious" and "exquisite", praise at lenght how surprisingly fresh the soft, sweet coffee flavour feels on the palate, how such a lovely ice cream probably even could convince a non-coffee drinker about the goodness of coffee … Yes, I could write all those nice things and they would all be true. But why waste more time – take my word for it: if you have any love for ice cream and coffee, this is one great experience you simply should not miss! Now, run out and get hold of that instant espresso powder – Grandpa's cup is waiting for you!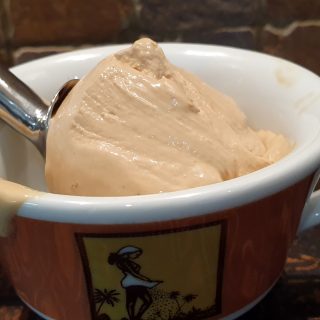 Coppa del Nonno (Grandpa's cup) gelato
Following in the steps of the talented Italian food bloggers/youtubers at CucinaPerTe, we'll prepare a classic Italian coffee ice cream which you can make even without an ice cream machine.
Ingredients
500

ml

(about 2,1 cups) cream

4

egg yolks

100

ml

(about 2/5 cup) confectioner's sugar

12

gram

(should be about 100 ml - or about 2/5 cup) instant coffee powder

50

ml

(about 2/5 cup) coffee ristretto: For our practical purposes, a cup of espresso made with only half the usual amount of water but with all the coffee ...]
Instructions
Mix the ristretto coffee with the coffee powder

Whisk together the sugar and the egg yolks.

Mix the coffee with the sugar/egg yolks mix.

Whisk and, on low temperature, bring to pasteurisation temperature (about 82-84º Celsius /189-183 ºF).

Whip the cream.

Blend the sugar-egg-coffee mixture with the whipped cream.

Add in serving pots or similar.

Freeze for at least 2 hours in your freezer, unless you have an ice cream machine.