Charentais Melon sorbet
It is hard to resist a refreshing melon sorbet, especially when the melon flavour is divine. In this post, we will exploit the goodness of a particularly pleasant member of the large Cantaloupe melon-family and a personal favourite of mine: the Charentais melon.
No Charentais melons available where you live? Don't despair – this recipe should work well with most other melons (especially those of the Cantaloupe-type)! 
Melons come in many shapes and forms, and the cantaloupe melons probably originated from somewhere around South Asia and Africa. They came to Europe from Armenia long ago, and were commercially grown in the USA around 1890. The Charentais melon was cultivated in France in the 1920's, developed to be a more refined, even more fragrant version of the cantaloupe. Today, most Charentais are produced in North Africa, with some production also in the United States.
Improved sorbet consistency without egg whites or gelatin? Try Agar agar!
I have taken the cues of proportions from Swedish Master confectioner Jan Hedh for this sorbet recipe,  but in order to improve the consistency, I went with a nice vegetable stabiliser:  Agar agar! If you can get hold of this natural, vegetable gelling agent, do give it a try – it has a noticable positive effect on the final texture and consistency of the sorbet! BUT … the recipe works quite well without Agar agar too, especially if you end up eating all of it relatively soon after churning (a very likely scenario in our house).
Preparing the sorbet
As with most sorbets, preparing a simple sugar syrup is a good  starting point. Because  we have to take account of the  extra sugar we will be adding directly to the melon purée , you will notice that the proportions sugar/water for the simple sugar syrup deviate somewhat from the standard 50/50-formula.
Cut the melon, remove the seeds and purée the fruit. Now add about 50 gram of sugar – more should not be necessary, provided the melon is sufficiently ripe (you might even get away with less).
Now,  mix the fruit purée with the simple sugar syrup. If you want to check that the base is sweet enough/not overly sweet without using any particular instruments, do the Egg test.
Take some of the resulting sorbet base and use if for dissolving the agar agar.  Agar agar does not solve in cold water, so you will need to heat it up in a small quantity of the liquid. When that liquid begins to cool down again, the agar agar will begin to solidify (at 37° Celsius (98.6° F), to be exact).
This will happen relatively quickly here, since the next step is to whisk together the now dissolved agar agar-liquid with the rest of the sorbet base: in other words, work quickly!
If you like, you may add some lemon juice to the sorbet base to counter-act a possibly too sweet end-result (but since the cold tends to dull most flavours, you may well decide to live without any lemon juice – let your tastebuds and personal preferences decide!).
No ice cream machine? Do not worry!
I have successfully tried this melon recipe (without agar agar, and with other melons) still-frozen, without using any ice cream machine. You can do it, but your greatest challenge will probably be to reduce the size of the ice crystals as much as possible as the sorbet freezes. This is best done through vigorous churning by hand every now and then during the freezing process. But believe me – the end result is worth it! 
The final result
And remember –  the recipe should also work fine with other melons than the Charentais, and without any Agar agar.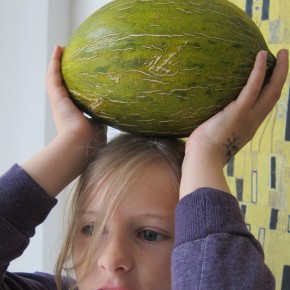 Charentais Melon sorbet
Adapted after a recipe by Swedish Master Confectioner Jan Hedh. Any melon would do, but here we will be using a fine Charentais Melon (a French-originated type of the Cantaloupe melon)
Ingredients
450

gram

melon purée

(tends to require a melon about double that weight)

about 50

gram

sugar

350

ml

(about 1.5 cup) simple sugar syrup (proportions 150 ml (2/3 cup) sugar, and 200 ml (7/8 cup) water)

optional, but recommended: about 2 gram Agar agar

optional: lemon juice from about ½ lemon, depending on taste
Instructions
Prepare the simple sugar syrup by mixing water and sugar (by heating it, or simply by shaking it). Let cool down.

Cut the melon, remove the seeds and purée the fruit, together with the 50 gram of sugar.

Mix together the sugar syrup and the fruit purée. If you want to make sure that you have the appropriate level of sweetness for sorbet, do the Egg test.

Take about 100 ml (about 0.4 cup) of the mixture, heat to about 40° Celsius (104 °F) and quickly whisk in about 2 grams of Agar agar.

When well dissolved, pour back into the rest of the mixture, whisk well and churn in your ice cream machine according to its instructions.

In case you worry that the sorbet might become too sweet for you, add lemon juice from about ½ lemon (according to your taste) to the base before churning it.