Gingerbread ice cream (a Christmas favourite)
Christmas is approaching! And perhaps you are under a lot of pressure to handle all the things that demand your attention at this time of the year?  Still, don't end up giving up on all the simple pleasures of life – grab some gingerbread cookies, set aside 30 minutes and re-vitalize yourself and your loved ones with some gingerbread ice cream!
Faithful readers may recall that I have written about gingerbread before, and I invite all interested to go here and  find out why eating them are supposed to make you kind, and some of the history behind.
So why another gingerbread ice cream recipe? Well, partly because it seemed boring to just re-post the previous one, and partly because of curiosity – Could the old recipe perhaps be improved somehow, even if the base remained the same?
And why the American-style base, you may ask? Simply because of the many time constraints so many of us live under this hectic time of the year!  With so many other things demanding one's attention, I wanted an ice cream that could be prepared and served within an hour – leaving American Philadelphia-style ice cream base as the most realistic choice. But rest assured – just because this base is fast and easy, it is in no way 'second-rate'. In fact, I find the American style particularly well suited for flavours/add-ins such as crumbled cookies!
The ginger bread cookies  – get some … then crush them!
There are many varieties of gingerbread cookies out there, somewhat differing in terms of exact ingredients, consistencies and forms. Personally, I am very fond of Belgian gingerbread cookies (which, by the way, are somewhat thicker and therefore slightly "crumblier" than my native Swedish pepparkakor). For this recipe, I assume that you will find some suitable gingerbread cookies that you like:) .
Begin by crushing the gingerbread cookies to fine crumbles (unless you want them to be more markedly present in your final ice cream). For the actual crushing, I tend to favour a method where the cookies are placed in a small plastic bag, which I then carefully go over with a baking pin (just be careful so the bag does not burst).
And by the way, talking about cookies, in case you want to make gingerbread cookies without using any actual cookies (thus instead relying directly on the typical spices found in the cookies), you will find such a recipe here.
Preparing the base – a matter of a few minutes!
This is a very speedy recipe – save for the gingerbread cookie crumbles, all the other ingredients may be put together directly in a bowl (= no need to first whisk the sugar and the (optional) egg yolk together, then mix that with the rest). Then, whisking commences until all of the sugar has dissolved and the ice cream base has turned smooth and even in consistency.
As to the ingredients and their quantities, I have made a few tweaks compared to the previous gingerbread ice cream recipe using cookies: the use of raw eggs (always a certain health hazard) has become even more optional, some sugar has been exchanged for (relatively) similar amounts of inverted sugar and somewhat more refreshing yoghurt has been added to counter any overly creamy end results.
As soon as the base has been appropriately whisked together, it should be ready to be churned right away (after all, most of the ingredients are likely to come chilled straight from the refrigerator). If you would like to speed up the churning as much as possible, make sure that this ingredients really were chilled! For instance, you could place the gingerbread crumbles in the refrigerator or the freezer while they wait to join the ice cream:) . If you have a relatively fast-working ice cream machine, the whole ice cream-making could be done in about half an hour, counting from when you first take out the dairy from the refrigerator (and ending with the freshly churned ice cream appearing on your and your loved ones' spoons).
In case you have no ice cream machine available, follow the instructions here and still-freeze your ice cream straight in your freezer instead!
The final result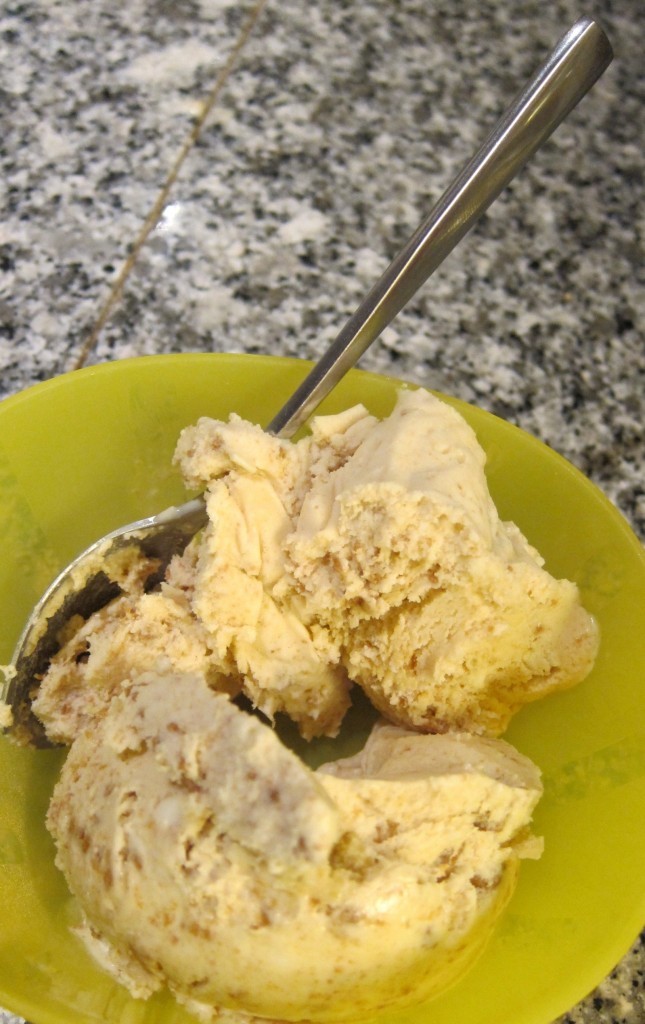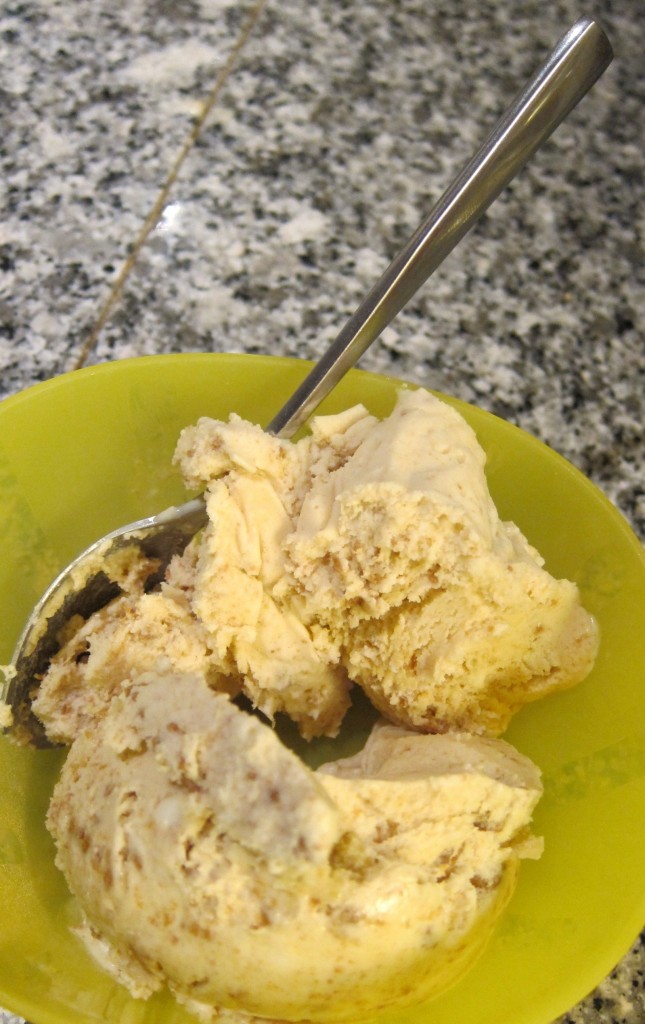 Easy and quick to make, with a strong, uncompromising and creamy gingerbread flavour – just the perfect Christmas ice cream, if you ask me! But then, if you like gingerbread, do not let the seasons stop you from enjoying this pleasant ice cream all year round. 
As to the serving, you could happily enjoy the fresh, still rather soft ice cream immediately following  the churning. But like many other ice creams made with cookies, this one actually tend to become even tastier if allowed to spend some extra hours in the freezer before you consume it. 
Gingerbread ice cream
By:
Anders@icecreamnation.org
A quickly made Philadelphia-style ice cream flavoured with bountiful amounts of (crushed) gingerbread cookies - Scandinavian Christmas galore, in other words:)
Ingredients
350 ml (about 1.5 cups) cream
about 75 ml (about 5 tablespoons) yoghurt
200 ml (0.8 cup) milk
100 ml (0.4 cup) sugar
about 3 tablespoons (inverted sugar (Agave nectar, honey, corn syrup or equivalent)
250 ml (about 1 cup) gingerbread cookies, finely crushed
pinch of salt
(optional) 1 egg yolk
Instructions
In a bowl, whisk together all ingredients except for the crushed gingerbread cookies (keep those on the side in a separate bowl for later use). Make sure that all the sugar has dissolved and that the ice cream base is whisked nice and smooth.
Pour the ice cream base into the ice cream machine and churn according to instructions OR (in case you have no machine) still-freeze the ice cream base in your freezer (see the post on that for helpful advise).
Towards the end of the churning, when the ice cream has started to settle and firm up (but still remains soft), add the crushed ginger bread cookie-crumbles.
Put the ice cream in a freezer-safe container, put on plastic film and a lid and store in the freezer.
Notes
The (optional) egg yolk will provide added consistency to the ice cream, but may not be necessary - particularly if the ice cream is likely to be consumed relatively soon after the preparation (when the amounts of cream and the inverted sugar should provide sufficient means on their own to secure the consistency).