In search of "smooth" (III) – a winner!
My struggle for smooth, home-made ice cream without an ice cream machine continues! Having tried with honey and cream in earlier attempts, I now considered it appropriate to test with some suitable stabiliser. Going with my early ambition to seek simplicity and minimum amounts of work, corn-starch became my choice.
Those following these pages already know about my great love of the so-called Sicilian gelato-type of ice cream. This egg-less, cooked ice cream base has almost never let me down, but in the past, I had always used an ice cream machine. What would be the outcome this time?
Chocolate ice cream ( Sicilian gelato-style)

Chocolate ice cream - Sicilian gelato style
Very nice and smooth chocolate ice cream, made without egg or ice cream machine, and devoid of the icy texture often associated with home-made, still-frozen ice creams
Ingredients
300 ml (about 1.3 cup) cream
400 ml (about 1.7 cup) milk
125 ml (about ½ cup) sugar
4 tablespoons corn-starch (any other starch - like rice starch, or potato flour - should also work)
1 teaspoon vanilla extract of good quality
100 gram dark chocolate of good quality (75-82 % cacao)
pinch of salt
Instructions
Mix 200 ml (0.8 cup) of the milk with the corn starch. Whip together, making sure there are no lumps left. Put aside.
Pour the rest of the milk, the cream,the sugar, the vanilla and the pinch of salt in a saucepan. While stirring occasionally, bring to a boil, then add the milk-corn starch blend.
On low-medium heat, barely reaching a boil, continue to stir for about five minutes, or until the mixture begins to thicken slightly. Add the finely chopped-up pieces of chocolate.
Continue to stir and cook until the chocolate has melted, and the base has thickened even further (about maximum 5 more minutes or so).
Take off from the heat and let cool. Then, chill thoroughly in a refrigerator.
When chilled, pour into suitable, freezer-safe container with lid and put in the freezer.
After 30-45 minutes, take out the ice cream base from the freezer and churn with a fork or other handy tool. Return the base to the freezer.
Repeat 2-3 times every 30-45 minutes, making sure to churn ever more vigorously the more stable the ice cream becomes. When the base has started to become "creamy" in consistency, remember to put a plastic film over the surface before re-applying the lid!
Before serving it, remember to take out the ice cream from the freezer at least about 20 minutes before to let it soften appropriately.
Notes
Heureka - Even without using any ice cream machine, this recipe still produces a very smooth, scoop-able chocolate ice cream. Thick, smooth and very tasty, no nasty ice crystals disturbed the idyllic eating of this delicious creation.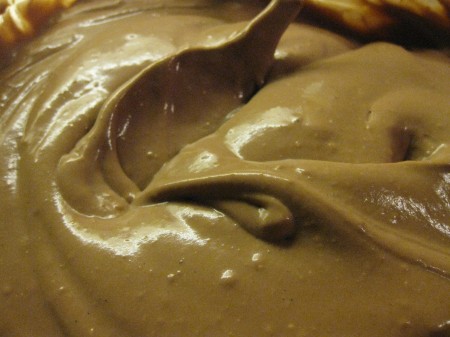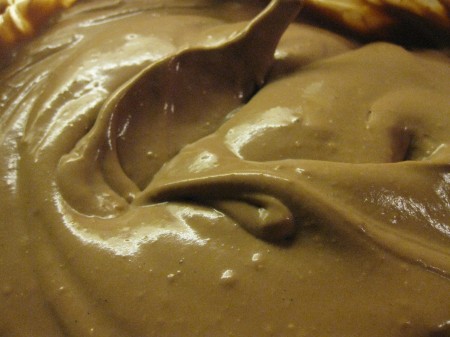 The verdict?

On the positive side … actually, there is only a positive side to this one! The recipe was a winner!
The chocolate ice cream – despite being made without an ice cream machine – turned out very rich, nicely firm and SMOOTH!
Like most ice creams, it still needed its  20 minutes outside the freezer to soften enough before serving (and yes, if you are in a hurry, you could soften it somewhat by placing it in a micro wave oven for a few seconds …  just don't re-freeze it later). Checking it even after a couple of days in the freezer, the ice cream had maintained all its positive qualities.
When serving it for the first time, all present connoisseurs of chocolate smiled happily, and praised the rich flavour and the nice, smooth texture. And so did I, glad to have found a still-frozen ice cream recipe that really produced "ice cream as we mostly know it", without having to resort to huge amounts of whipped cream (none at all, actually) or anti-freezing alcohol:-D.