American blueberry cheesecake ice cream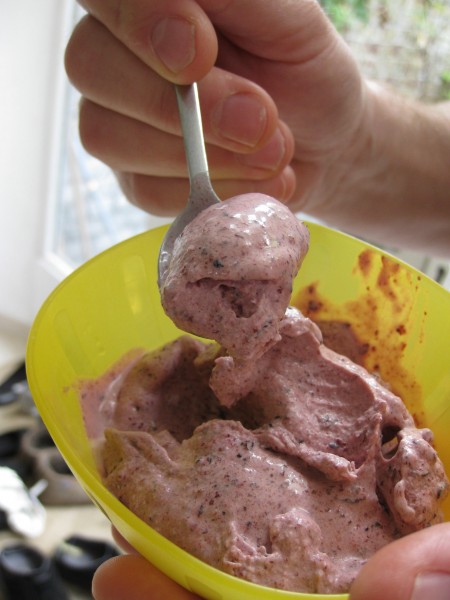 There is a time and a place for everything. At times, even trusted favourites can come to feel a bit … uninspiring.  With strawberries just having come into season, it felt like strawberry ice cream had come to completely dominate the production agenda at home. Don't get me wrong – strawberry ice cream can be really nice, and the kids sure were very happy. But that day in the kitchen,  thinking about all those batches of strawberry  and looking at the fresh blueberries in front of me, the thought of yet another "plain taste" suddenly did not seem so appealing. How to add some twist to the berries? Not being in an exceptionally original mood, I decided to go for an American cheesecake ice cream!
Searching for inspiration, I found Alex Barker's recipe for New York cheesecake ice cream, suggesting a base of whipped cream and cream cheese. Being childishly fond of blueberries, however, I decided to significantly boost their presence.  Luckily, the blueberries' new dominance still ended up in a nice, clearly recognisable "flavour frame" of American cheesecake.  Adding to my happiness, the grown-up parts of the household were very happy with the result, which met with notably high acclaim! (the kids, however, inquired about the remaining volumes of strawberry ice cream available).
On the consistency – a word of caution to those who prefer their ice cream (more typically) dense. This recipe calls for the use of whipped cream, which – particularly in combination with the churning in the ice cream machine – tend to create quite a soft and "airy" ice cream. "Delicate" was the verdict of my discerning tasters, who tried it fresh from the machine. If you prefer a denser, more solid mouth-feel, however, you should adjust how much (little) you whip the cream (the more the volume of the cream is increased through whipping= the more air is added), and also make sure the ice cream spends some time in the freezer before serving it.
On the blueberries: My preparations involved mashing the 500 gram of blueberries with about 100 ml (0.4 cup) sugar and the juice of  1/2 lemon ("maceration"), letting it saturate in the fridge in a closed-lid container overnight. Given the amount of blueberries to be added (thereby also adding quite a lot of liquid to the mix), the berries really need to be pre-sweetened in order not to ruin the consistency and texture of the ice cream.
American blueberry cheesecake ice cream (about 1,2-1.5 litres)
Ingredients:
300 gram cream cheese
grated zest and juice of 1 large lemon
About 100 ml (0.4 cup) sugar
3 egg yolks
300 ml (1.3 cup) whipping cream (whipped!)
120 gram butter (melted, unsalted)
60 gram digestive biscuit crumbs
500 gram blueberries (mashed and mixed with about 100 ml (0.4 cup) sugar and the juice of  1/2 lemon; stored in a cool place for at least 4-12 hours)
Preparations: 
Melt the butter and mix with the crumbled digestive biscuits. Put aside to cool.
Mix together all other ingredients (except for the blueberries). Check sweetness and add some more sugar if you so prefer.
Churn in an ice cream machine until the ice cream is almost frozen firm.
Next, stir in the pre-cooled, sweetened mashed blueberries. With this new influx in liquid, your ice cream is probably no longer so firm. Continue to churn for a while in the ice cream machine until firm again. When nearly finished, tip the ice cream in a freezer container, and add and disperse the crumbs with a fork or similar.
Store in the freezer; remembering to let well-frozen ice cream soften a bit in the fridge before serving.