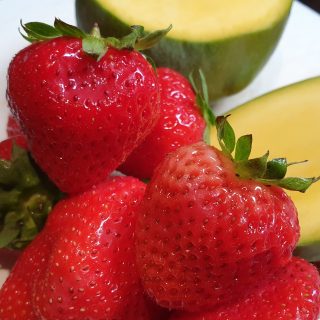 Mango Strawberry ice cream
A less typical but nevertheless delicious combination of two flavours which already tend to be great on their respective own! Will your loved ones be able to tell? I wonder ... but they'll clearly be very happy!
About 200

gram

strawberries

1

medium-sized mango, peeled and cut in pieces

125

ml

(about 1/2 cup) sugar

400

ml

(1.7 cup) cream

100

ml

(about 2/5 cup) crème fraîche

pinch

of salt

optional: 1-2 tablespoons of inverted sugar, like glucose or agave nectar
Wash, peel and cut the strawberries. Sprinkle over some of the sugar and let the berries macerate for a little while.

Peel and cut the mango.

Purée the mango and the strawberries, combining them into one purée.

Mix the cream and the crème fraîche well, then blend it with the fruit purée.

Add the remaining sugar(s) and the salt. Whisk well.

Churn in your ice cream machine or still-freeze using your freezer.