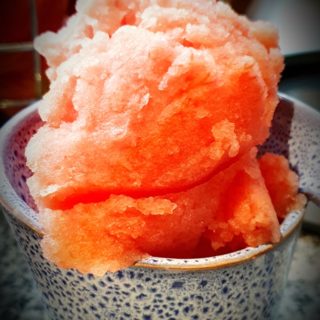 Watermelon sorbet
This perfect watermelon sorbet recipe manages to both capture the natural freshness of the watermelon and provide a very pleasant consistency and overall texture thanks to the addition of a small amount of (vegan-approved and super-simple to mak) aquafaba.
Watermelon with fruit meat enough to give you about 1 litre (4 1/4 cups) of watermelon purée

250

ml (1 cup)

sugar (or 125 ml (1/2 cup) xylitol and 100 ml (2/5 cup) caster sugar)

(optional but recommended

particularly if not using any aquafaba: 1-2 tablespoons of inverted sugar á la corn- or glucose syrup

Juice of about 1/2 lime

optional: for some added tinge, add also the zest!

optional, but strongly recommended for the PERFECT sorbet: about 150-200 ml (3/5 - 4/5 cup) of Aquafaba [see below for a link on how to make this: it is REALLY easy and only takes a few minutes
Scope out the melon fruit meat, place it in a bowl and remove any seeds (if need be, use a sieve).

Turn the fruit meat into puree using a household blender or similar, and adding the citrus juice and the sugar (and xylitol, if using) along the way.

Possibly chill the sorbet base a couple of hours or so in the refrigerator before churning it in your ice cream machine.

[if using aquafaba: Towards the end of the churning when the sorbet has begun to firm up a bit, add the aquafaba and let it blend into the sorbet.

Enjoy!
For easy instructions on how to make aquafaba (it only takes a can of chickpeas (!) and a few minutes) - go to the following post (https://www.icecreamnation.org/2016/05/aquafaba-fast-and-vegan-alternative-to-italian-meringue)