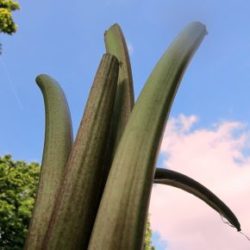 Rhubarb yoghurt ice cream - the eternal summer favourite
One of my personal all-time favourites, with proportions refined and joyfully tested over the last years, whenever rhubarb has been in season! The spices, the yoghurt and the cream in combination with the sweetened tartness of the rhubarbs all combine into one of the most delicious summer ice creams I know of!
about 450-500

gram

rhubarb

(roughly about 4 normal-sized stalks, peeled and cut in rather thin slices)

150

ml

sugar [or 120 ml sugar and about 1-2 tablespoons inverted sugar such as Agave nectar, honey, corn- or glucose syrup]

200

ml

(0,85 cup) cream, whipped rather stiff

200

ml

(0,85 cup) natural yoghurt

about ⅓

teaspoon

ground cinnamon

about 1

teaspoon

good-quality pure vanilla extract/powder
Using a micro-wave oven, mix the peeled and rather thin-cut pieces of rhubarb with the sugar(s), the vanilla, and the cinnamon in a microwave-safe bowl.

Micro-wave the mix for about 6-9 minutes, eventually whisking once or twice during the process, until the rhubarb has turned into a smooth purée.

Take out from the microwave and let the purée cool down. Then, preferably, let the purée chill in the fridge for at least a couple of hours.

Whip the cream rather stiff, and blend in the yoghurt and the (chilled) rhubarb purée.

Churn in your ice cream machine according to instructions, or - without an ice cream machine - still-freeze the ice cream using your freezer (for best results, see this site's post on how to make ice cream without an ice cream machine).
Go to this page to get some good advise on how to best freeze your ice cream without an ice cream machine ("still-freezing"): http://www.icecreamnation.org/freezer-only-make/