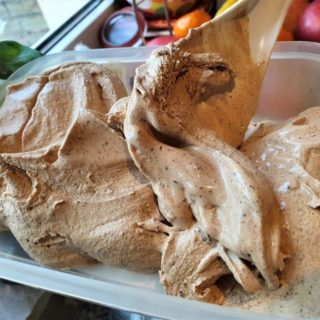 Raw Chocolate gelato à la Modica
Adapted after a recipe by Fernanda Gosetti, this variation gives us a gelato made with "cold-processed" chocolate - thus following in the footsteps of the Aztecs, the Spanish conquistadors and in the chocolate-making spirit of the Italian city of Modica!
350

ml

(1.4 cups) cream

150

ml

(3/5) cup whole milk

2/3

vanilla bean

or about 1/2 teaspoon good quality vanilla powder

4-5

egg yolks

100

gram

sugar

preferably raw brown sugar

60

gram

dark chocolate à la Modica

made of equal parts unsweetened cocoa mass and raw brown sugar

1/2

teaspoon

cardamom

[or cinnamon or and/any other nice spice you'd like to add a touch of. If you don't like any spices to your chocolate, you're of course free not to add any!]

optional but highly recommended: 1/4 teaspoon chile powder

optional: 3/4 tablespoon rhum
Pour half of the milk and half of the cream in a sauce pan. Add the vanilla, the egg yolks and the sugar.

Bring to an almost-boil (to be exact, to the so-called Nappe-stage, which means about 82-84º C /189-183ºF): the point when you can draw a line that stays on the back of a spoon you've dipped in the base).

Let cool down.

Chop the chocolate, mix with the remaining milk and melt on low heat in (another) sauce pan: put aside to cool down.

When both mixtures have turned cold, mix them with each other. Whip the remaining cream and blend it in to complete the base.

Churn, and - if using - add the rhum towards the end of the process.